Abhijeet Deshpande's Kashinath Ghanekar biopic brings the past to life with great performances
As far as being faithful to the past goes, director Abhijeet Deshpande's Ani… Dr Kashinath Ghanekar makes a decent debut.
In a scene halfway through the biopic Ani… Dr Kashinath Ghanekar, a theatre producer stands up for his best friend and erstwhile stage superstar Ghanekar. The Marathi theatre association wants him banned, but the loyal producer friend pleads that Ghanekar, ostracised for bad behaviour, should be given another chance.
The scene would seem poignant but for the excuse that the producer friend, Prabhakar Panshikar, extends. He cites Ghanekar's creative genius as the reason why the transgression should be overlooked.
In the wake of the #MeToo movement, which has been a moment of reckoning for several "creative geniuses" lately, Panshikar's line of argument makes one cringe. But then, this is a story of the past.
High on history
As far as being faithful to the past goes, director Abhijeet Deshpande's Ani… Dr Kashinath Ghanekar makes a decent debut. Deshpande is no stranger to the film industry, having scripted Bollywood fare as Shootout at Wadala (2013), David (2013), and Wazir (2016), besides the Amazon Prime original series Breathe earlier this year. His love of Marathi theatre is palpable too, from his involvement as dialogue writer and screenwriter of the 2016 film Natsamrat (the highly successful Marathi film, interestingly, starred the veteran Nana Patekar, whose career has come crashing following #MeToo allegation a couple of months back).
While Natsamrat narrated the story of a theatre star in his twilight years, Deshpande's is mainly a tale of glorious ascent. The filmmaker draws from Nath Ha Majha (He, My Lord), written by Ghanekar's widow Kanchan, to imagine Ghanekar. The protagonist is superbly brought alive by Marathi actor Subodh Bhave who is, incidentally, emerging a biopic veteran of sorts. Bhave has in the past essayed freedom fighter Bal Gangadhar Tilak in Lokmanya: Ek Yugpurush and legendary Marathi singer Bal Gandharva in Sound Of Heaven: The Story Of Balgandharva.
Story of firsts
Unlike Tilak and Bal Gandharva, who occupy an almost superhuman place in the Marathi mindspace, Ghanekar's greatness comes laced with human failings. The films portrays as much, and also highlights his life as a story of many firsts.
Dr Kashinath Ghanekar, a qualified dentist who forayed theatre, made his stage debut as Maratha ruler Sambhaji Bhosale in Raigadala Jehva Jaag Yete (When Raigad Comes Alive). The play written by Professor Vasant Kanetkar was a runaway hit. It depicted the fragile relationship Maratha king Shivaji shared with son and heir Sambhaji, and became so popular thanks to Ghanekar's explosive act that it ran for over 50 years.
The Ghanekar-Kanetkar partnership would yield many memorable plays, notably Ashroonchi Jhaali Phule (Tears Turned Into Flowers). Ghanekar gave a minor but groundbreaking performance as the rebel Laalya and was a big reason for the play's success, underlined by its multiple packed shows throughout the day.
Ashroonchi Jhaali Phule marked the birth of a youth icon, even as Ghanekar's redoubtable charm helped revive Marathi theatre at a time when it was losing ground to Rajesh Khanna-led Bollywood.
Replaying legends
Ghanekar, however, was not alone. As is often the case with periods of cultural churn, several of his contemporaries left an indelible mark. Many of them feature in Deshpande's film.
Marathi theatre and cinema lovers would be familiar with actress Sulochana (essayed by Sonali Kulkarni), noted theatre director Master Dattaram Walwaikar (Suhas Palshikar), film producer Bhalji Pendharkar (Mohan Joshi), theatre producer-actor Prabhakar 'Pant' Panshikar (Prasad Oak), Professor Vasant Kanetkar (Anand Ingale) and Dr Shriram Lagoo (Sumeet Raghavan).
These stalwarts played vital roles in Ghanekar's story, as did the women in his life — his first wife Iravati (Nandita Dhuri) and much younger second wife Kanchan (Vaidehi Parshurami), who was Sulochana's daughter. Despite Bhave's dominating screen presence, the supporting cast holds its own. Especially laudable is Raghavan as Ghanekar's arch-rival Dr Lagoo, who was an emissary of Marathi theatre's changing face.
An anguished man
The impressive cast makes up for the fact that debutant Deshpande's directorial effort is not always surefooted. The film makes for a fascinating watch as decades past come alive through vignettes of successful plays as Garambicha Bapu and Anandi Gopal.
The story derives its warmth mainly from the rise and fall of a great yet flawed artiste. The depiction of Ghanekar's troubled relationship with his father, his addiction for fame, friendship with Panshikar, estrangement from his first wife, his drinking problem and ultimate fall from grace before a lonely death make the film what Ghanekar himself would have liked it to be: theatrically memorable.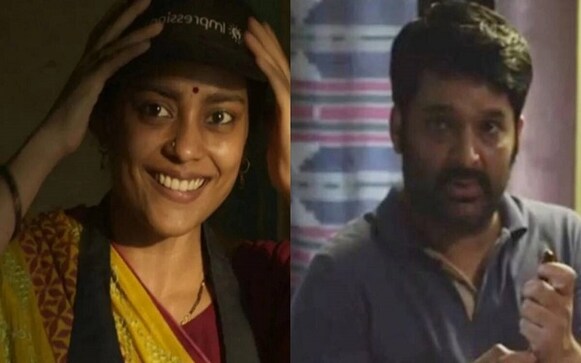 Entertainment
Nandita Das directorial Zwigato strikes a conversation on gig economy and unemployment situation of our country.
Entertainment
Thuramukham chronicles a workers' movement in Kochi with stunning cinematography, a charismatic cast but middling emotional heft
Entertainment
The latest of Scream makes the slasher franchise bloodier, gorier and brighter.