Abhijeet is back: Singer calls Ghulam Ali a 'dengue artist from a terrorist country'
As if it was not enough that Shiv Sena illogically demanded the cancellation of Ghulam Ali's concert scheduled for 9 October in Mumbai, personalities from the same fraternity have attacked the Pakistani ghazal maestro.
As if it was not enough that Shiv Sena illogically demanded the cancellation of Ghulam Ali's concert scheduled for 9 October in Mumbai, singer Abhijeet has taken the opportunity to attack the Pakistani ghazal maestro.
Singer Abhijeet Bhattacharya, in series of outrageous tweets, called the eminent singer a 'Dengue Artist' from a 'Terrorist Country.' Sample these tweets:
Feel ashamed, Country of @mangeshkarlata @rafi @Naushad @JagjitSinghG suffers from Hawala artists from terrorist country, antinational media

— abhijeet (@abhijeetsinger) October 9, 2015
Nation and patriotism 1st .. Gana bajana later, #Shameless anti national Indian Media and politicians ..

— abhijeet (@abhijeetsinger) October 9, 2015
#GhulamGigCancelled kitni baar bhagaya bt these shameless hv no self respect no work except terrorism bt we feed them along wd prestitutes

— abhijeet (@abhijeetsinger) October 8, 2015
So called Hindu political parties jst shout 4 mileage bt never tk action agnst these Dengu Artists from terrorist country

— abhijeet (@abhijeetsinger) October 8, 2015
These qawwals don't come here on their marit but due to paki Dalals #prestitute and @MaheshNBhatt

— abhijeet (@abhijeetsinger) October 8, 2015
Expectedly, the singer received backlash on social media except for some, who hailed the singer's stand on the issue. The Shiv Sena welcomed his statement 'as he speaks for the nation.'
Here are some of the responses Abhijeet got from Twitterati:
@abhijeetsinger being an artist u guys don't have respect about art,jin muddo ki samajh nahi ho us par mat bolo bhai,bas gana,bajana karo

— Amit Kumar (@theamitk) October 9, 2015
@abhijeetsinger @ @ndtv abe ooo abhineet kaam nahi mil raha to time pass mat kar.bhai.gandi harkt se tuje kam esa bi nahi milne vala

— Nawaz blt (@nawaz1077) October 9, 2015
@abhijeetsinger @farhankhan203 @ndtv tu gulam ali ka paav ka dhul bhi nahi tu kayeka singar relwy station py gaany wala ek ghatiya gawaiyya

— bawa nawab ansari (@muhammedinsaf22) October 9, 2015
@abhijeetsinger @ndtv wow such a beautiful tweet r u serious shhadi qawal r u singing in any movies now days mayb cuz of ur behaviour

— farhankhan (@farhankhan203) October 8, 2015
@abhijeetsinger You have got frustrated and Insane..! Because you have got no recognition or work left so just pouring dirt all around.

— Danish Khan (@danishdept) October 9, 2015
@abhijeetsinger Abeejit sir... I think u got mad. You forget you ar a singer and type of comments dont suit a singer like u..

— Boby K Lodhi (@BobyKLodhi) October 9, 2015
This is not the first time Abhijeet has stuck both feet firmly into his mouth. When Salman Khan was being tried for 2002 hit-and-run-case, the singer had said on Twitter that roads were meant for "cars and dogs and not for people sleeping on them".
He reached out to the film fraternity to support Khan and attacked the homeless by saying, "Kutta rd pe soyega kutte ki maut marega, roads garib ke baap ki nahi hai I ws homles an year nvr slept on rd" (If a dog sleeps on the road, he will die a dog's death). He also asked why the victims were sleeping on the Mumbai roads and not in their villages.
Indian artists like actor Shabana Azmi, designer Wendell Rodricks and filmmaker Mahesh Bhatt have expressed their displeasure towards the maestro's ban saying that music knows no boundaries, while Pakistan's censor board chief hoped that the Indian government will handle the issue 'responsibly'.
R v at war with Pakistan? Hve v severed diplomatic relations?Hve v closd down our Embassies?Den what justification is dere 2 ban Ghulam Ali?

— Azmi Shabana (@AzmiShabana) October 8, 2015
Ghulam Ali was 2 perform in commemoration of Indias beloved Jasjit Singh in gesture of goodwill.Ok 2talk tough with Pak Govt not its artists

— Azmi Shabana (@AzmiShabana) October 8, 2015
The concert was to have been a tribute to late singer Jagjit Singh on his fourth death anniversary and had been brought to India through 'Ek Ehsaas' concerts.
Incidentally, Ghulam Ali, 74, who lent voice to a number of Indian film songs, had held a concert at the famous Sankat Mochan temple in Varanasi, Prime Minister Narendra Modi's constituency in April this year.
Speaking to NDTV, Ali had said that everyone should continue to be in 'sur' (in tune) and keep listening to music, 'whether live or recorded'.
"I'm not angry, but I'm a bit hurt and sad. But there are can be sad moments in love as well. I don't know why such situations and conflicts arise. We have performed in Mumbai on several occasion before and people have always showered their love on us. Whenever such news comes out, it causes commotion in society. The programme was important for me as it marked Jagjit's death anniversary. And that's why I got tense and thought that the move was wrong. It shouldn't have happened. Jagjit was like a brother to me and whenever I met him we looked like one, not from India or Pakistan," he said.
Post the cancellation of the Mumbai concert, Aam Aadmi Party government in Delhi invited the Ghazal maestro to come and perform in the national capital. West Bengal Chief Minister Mamata Banerjee offered to host the concert of Ghulam Ali.
Find latest and upcoming tech gadgets online on Tech2 Gadgets. Get technology news, gadgets reviews & ratings. Popular gadgets including laptop, tablet and mobile specifications, features, prices, comparison.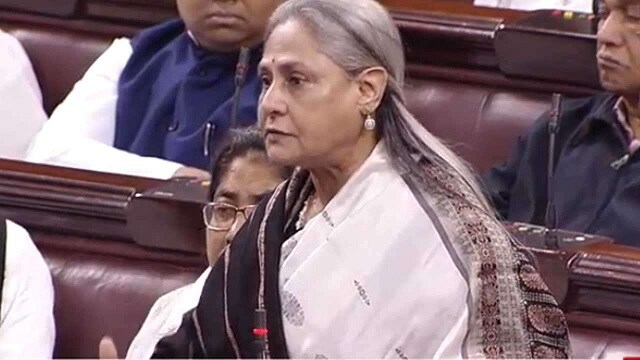 Entertainment
On Tuesday in Parliament, Jaya Bachchan criticised those tarnishing the image of the film industry through allegations of rampant drug addiction.
India
"When I was beaten up, they had levelled allegations that I am with BJP- RSS. So I am with BJP-RSS from now on," Madan Sharma, the retired officer, said
Entertainment
Kangana Ranaut, whose comments triggered a spat with Maharashtra's ruling party Shiv Sena, had come to Mumbai from her home in Manali last week for a short visit.