Abhijan: Satyajit Ray's most 'commercially inclined' film is also among his best crafted
In Abhijan, Satyajit Ray shows us that the greatest expedition that we can ever hope to embark upon is the one we are living bang in the middle of right now, right this moment
Editor's note: In a prolific career spanning nearly four decades, Satyajit Ray directed 36 films, including feature films, documentaries and shorts. His films have received worldwide critical acclaim and won him several awards, honours and recognition — both in India and elsewhere. In this column starting 25 June 2017, we discuss and dissect the films of Satyajit Ray (whose 96th birth anniversary was this May), in a bid to understand what really makes him one of the greatest filmmakers of the 20th century.
In 1962, while he was busy with the post-production work of his film Kanchenjungha, Satyajit Ray was approached by his producer friend Bijoy Chattopadhyay to help as a consultant for a film that Chattopadhyay himself was about to direct. The film was to be an adaptation of veteran Bengali author Tarashankar Bandopadhyay's 1946 novel Abhijan (The Expedition). Since Ray had already adapted Bandopadhyay's Jalsaghar (The Music Room), Chatterjee felt that his involvement in the project would be of immense value. Ray, of course, agreed to help his friend. While scouting for location, Ray fell so deeply in love with the wind-swept locales of the Birbhum district of West Bengal, that he offered to direct the entire film himself. This came as a relief for his friend, who reportedly had got cold feet even before shooting had begun. That very year, Ray's Abhijan released, and despite being one of the lesser known films of Satyajit Ray, it went on to become one of his biggest box-office successes.
The film tells the story of Narsingh, a young Rajput taxi driver living and working in Bengal. Narsingh owns a 1930 Chrysler sedan, which he uses to ferry passengers between two villages. His passion for the car is equalled — and perhaps surpassed — by that of his assistant-cum-handyman Rama, who protects the car with heart, soul and spirit. Narsingh is going through a bad phase in life, as his wife has run away with another man. A Kshatriya by caste, and a descendant of the bloodline of none other than Maharana Pratap himself, he cannot tolerate indignity, insult or defeat of any kind. To add to his woes, an impulsive bout of rash driving has left him in the bad books of the district's traffic inspector, who has not only cancelled his licence, but thrown him out of his office as well, after insulting him. Disillusioned and dejected, Narsingh decides to return to his hometown in the neighbouring district, but on the way back, he picks up a stranded middle-aged Marwari businessman named Sukhanram and his companion — a young woman named Gulabi. When Sukhanram offers to help Narsingh set up a taxi service in his village, the Rajput thinks he can find a way to reclaim the lost respect in his life. Little does he know that Sukhanram has plans to use his car for smuggling opium, or that the rustic and comely widow Gulabi is being sold by the businessman to the flesh trade. Also appearing in the story is a Christian man named Joseph who used to be a family friend, his young and educated sister Neeli who Narsingh finds himself drawn to, and her crippled lover. In the end, Narsingh finds himself standing at the crossroads, where a single decision can lead him either to a life of dignity, or to one of prosperity.
Although Abhijan is one of Ray's more 'commercially inclined' films, there are some aspects of its craft which deserve high critical commendation. For one, Abhijan has perhaps some of the best editing work that is seen in a Satyajit Ray film. The cutting is top-notch, especially in the first half of the film. The setting up of the shots, the blocking, the camerawork — everything pulls you right into the scenes. Consider the iconic opening shot of the film, for instance, where Narsingh and the owner of a local garage are having a drink in a hooch store. The camera stays on the mechanic, dwelling on the pleasure he derives in taking a dig at Narsingh's bruised pride. In a broken mirror on the wall behind him, we see half of Narsingh's face — sullen, gloomy and shattered like the mirror itself. He sulks at all of womanhood, curses his own luck, and yet has the guts to refuse an offer of partnership with the opportunistic mechanic. To him, the most important thing, above everything else, is the blood flowing in his veins, and with the two-and-a-half-minute long single shot scene, Ray successfully convinces us of this simple fact, beautifully setting up the mood for the rest of the film.
In another scene, when Gulabi (beautifully played, or shall we say, downplayed) by Waheeda Rehman pleads with Narsingh to save her from an inebriated Sukhanram by letting her stay in his room for the night, the ill-tempered driver barks at her and asks her to 'go sit in that corner over there'. Gulabi mistakes Narsingh's misogyny and apathy for his virtues, for here is a man who, for the first time in her life, hasn't lusted after her. It is this brief moment of respite in an otherwise miserable life of sexual and emotional abuse that is reason enough for her to find heaven in the company of a man who does not even like her, and to promptly decide that it is he who she would give anything to spend the rest of her life with. The scene is devastatingly tragic and beautiful at the same time, and Ray handles it with great sensitivity and a deep understanding of a woman's heart.
The film also marks the beginning of Satyajit Ray's long-term association with actor Rabi Ghosh, who continued to act in several of Ray's films, including his final one. Ghosh is absolutely spot-on in the role of Narsingh's handyman Rama, hitting all the right notes with his impeccable comic timing, beautiful expressions and perfect body language that most actors can only dream of mastering. His allegiance to his employer is unshakable, but in a beautiful scene in which Narsingh announces that he has decided to sell the Chrysler, Rama shows, with breathtakingly beautiful flair, that his love for the car, which he has nurtured and cared for with great love and affection over the years, is even greater than his loyalty for his master.
Soumitra Chatterjee once again excels as the proud, foul-mouthed, hot-tempered, blue-blooded taxi driver struggling to find his place in a world where honour and dignity stand for nothing. His bruised ego, his constant desire to be respected and his deep-seated insecurities lead him to take a few wrong turns in life, but the warrior within him knows how to find his way back. It has been said that long-time Ray admirer director Martin Scorsese took inspiration from Chatterjee's Narsingh to create the iconic character of Travis Bickle in his 1976 film Taxi Driver. While there may or may not be some truth in that claim, Chatterjee infuses the character with a never-ending conflict of emotions, a vast range of shades, effortlessly making it his own. Consider, for example, his hatred towards women — which is totally absent in the presence of Neeli, who he sees as an educated woman, one to be respected and revered. Or the conflict between his fierce desire to remain independent, and the urge to earn dignity through financial stability. Chatterjee pulls off these clashes of emotions with great skill, and makes us root for him. We want him to take Rama under his wings again. We want him to rescue Gulabi from the clutches of her oppressors. We want him to win, but not through shortcuts. But more than anything else, we want him to find peace. And that's exactly what he does in the film's climax. In Abhijan, then, Ray shows us that the greatest expedition that we can ever hope to embark upon is the one we are living bang in the middle of right now, right this moment.
Bhaskar Chattopadhyay is an author and translator. His translations include 14: Stories That Inspired Satyajit Ray, and his original works include the mystery novels Patang, Penumbra and Here Falls The Shadow.
Entertainment
The govt order said the online ticketing system was meant to ensure uniformity in rates and also to prevent black marketing
Entertainment
Jean-Paul Belmondo worked with a variety of major French directors, from Francois Truffaut to Claude Lelouch and Jean-Luc Godard, whose 1960 movie Breathless brought both men lasting acclaim.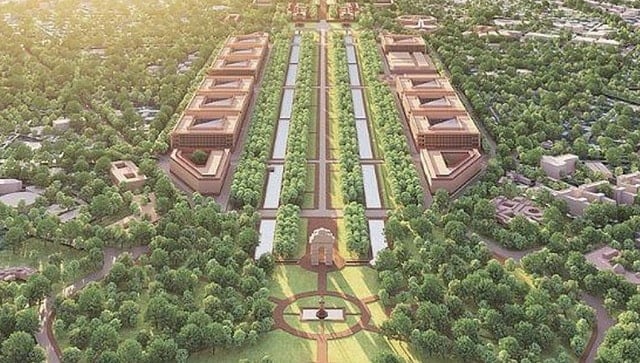 India
In this day and age where even private homes undergo renovation regularly, the Indian State continues to operate out of 90-year-old repurposed colonial homes retained after independence