Aayush Sharma on Loveyatri controversy: There is 'unnecessary conversation' around film's title
Aayush Sharma says Loveyatri is a celebration of love and culture and it was painful to do away with the original title as the makers didn't want any controversy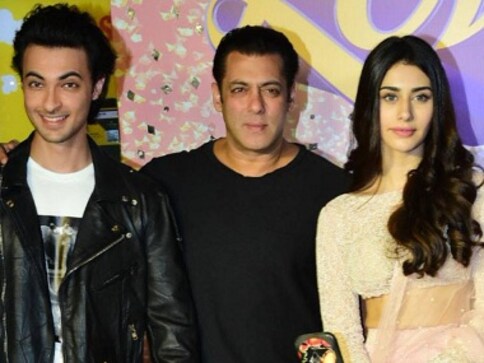 Aayush Sharma says his debut film Loveyatri is a celebration of love and culture and it was painful to do away with the original title as the makers did not want to court any controversy. In an interview with Press Trust of India, Aayush opened up about how he landed in Bollywood as an actor, courtesy Khan brothers – Salman, Arbaaz and Sohail.
The Vishwa Hindu Parishad (VHP) was irked by the title Loveratri, which according to them was distorting the meaning of Hindu festival, Navratri. Later, a Bihar court had ordered an FIR to be lodged against Salman, saying the title hurts religious sentiments and promotes vulgarity. For Aayush, it was disheartening that the title was changed as he had lived with it for the longest time.
"Our intention was very clear. We wanted a film that connects with most people. There was unnecessary conversation and objection happening over it,"he said. The actor said it was difficult for him to understand the reason behind the controversy as the film has not been watched by anybody yet. He added production banner Salman Khan Films has always believed in making family entertainers.
"The film will not hurt anyone's sentiments. There is not one double meaning dialogue in the film, it only talks about culture. Something or some elements had a problem. I don't want to win the box office with a controversy. I don't think getting controversy or adding tension would have worked in my favour. I am not publicity hungry. I have enough publicity through the film. I don't need unnecessary attention and I don't want anybody else to get the attention, so if you have a problem, we will change it (the title). So, we gave up on the title and it is okay."
Aayush, 27, has been busy promoting the film in different cities and he says he is enjoying meeting new people and interacting with them. "The kind of love we are getting I feel lucky as a debutante. When I used to go for promotions and I used to wonder, 'do people even know who I am?' Slowly it started as a lukewarm welcome, to good, to an amazing welcome," he added
For, Aayush, it has been a memorable journey since the time the film was announced. He recalled, "Lot of things were said like new actor, new actress and a new director, he is a brother-in-law (of Salman), is he capable of doing something like this? We had the energy, the drive to make a film that people would know us for."
The actor, who came to Mumbai to pursue studies, never imagined that he would face the camera one day. Aayush is the son of Delhi-based politician, Anil Sharma.
"I was clear I did not want to do a 9-5 job. I wanted to stay away from politics. As a viewer, I would look at the films and say, 'Wow, what a beautiful world'. There were people who told me I should take up acting, do TV serials and ads. But I never gave it a serious thought."
But he believes God already had plans for him as he happened to meet Arpita, his wife now. When the two became friends, she introduced him to her brothers.
Entertainment
If contestants want to be the new Raja or Rani of the house they must catch the fish as soon as possible.
Entertainment
She's hailed as the drama queen by fans, media, or whoever. She has come a long way in making a place for herself where whatever she says, people listen, loath, guffaw, and grin.
Entertainment
Salman Khan has been a part of the IIFA family for over two decades now.