Aamir Khan's best films are inspired by Oscar nominees and winners — from Ghajini to Akele Hum Akele Tum
Aamir's filmography is punctuated with films which are either inspired or directly lifted from Hollywood films that have either won an Academy Award or were nominated in some category.
In 2002, when Lagaan was nominated for the Best Foreign Film category during the 74th Academy Awards, just as cinegoers rooted for Bhuvan's team in the film, the country prayed in unison for Aamir Khan's success.
It was also the beginning of Aamir Khan's association with the Oscars, one which later saw films like Rang De Basanti, Taare Zameen Par and Peepli Live nominated as India's entry for the Best Foreign Film category, though it was Deepa Mehta's Earth that had set the ball in motion in 1999.
Mr. Perfectionist's association with the Oscars goes long back. Aamir's filmography is punctuated with films which are either inspired or directly lifted from Hollywood films that have either won an Academy Award or were nominated in some category.
Peepli Live (2010)
Peepli Live did not feature Aamir Khan in front of the camera but it had the star donning the mantle of a producer. The hard hitting film was a commercial success at the box office despite the absence of stars. The plot of Peepli Live shares an uncanny resemblance with the Kirk Douglas starrer Ace In The Hole. The 1951 masterpiece was directed by one of the most successful director Hollywood has ever witnessed – Billy Wilder. Ace In The Hole was nominated in a solitary category during the 24th Academy Awards – Best Story and Screenplay — but was eventually beaten by An American in Paris.
Ghajini (2008)
Ghajini holds the distinction of starting the 100 cr club in Bollywood. To desi audiences, Aamir Khan appeared in a never-seen-before avatar but the west had seen a similar act by actor Guy Pearce in 2002. Ghajini seems to have been inspired by Christopher Nolan's Memento. Though Memento failed to win any award during the 74th edition of the Oscars, it found itself nominated in two categories – Best Writing & Screenplay and Best Editing.
Rang De Basanti (2006)
Till today, Rang De Basanti still remains a potent and inspiring film. It was instrumental in giving a certain shape to protests and movements of the country, especially youth-led. Rang De Basanti was also one of those films where Aamir's character outweighed the star. Sadly, not many know that Rang De Basanti was inspired from Canada's entry to the Oscar in 1989 in the Best Foreign Language category. The film was Jesus of Montreal and the eventual winner for that year was Cinema Paradiso.
Mann (1999)
Mann remains the only anamoly for Aamir Khan under the baton of director Indra Kumar, otherwise the success rate for the combo remains a hundred per cent. Mann was heavily inspired from the Cary Grant and Deborah Kerr starrer An Affair To Remember. The Leo McCarey-directed film was nominated in four categories during the 30th Academy Awards.
Ghulam (1998)
Ghulam was a whiff of fresh air when it hit theatres in 1998. Apart from presenting a raw Aamir, it also brought to fore the talent of Rani Mukerji. True to Vikram Bhatt's reputation of basing his films on Hollywood flicks, Ghulam was no exception. Ghulam was loosely based on Elia Kazan's On The Waterfront and featured a masterly act by Marlon Brando. The film was nominated in record 12 categories and took home eight trophies. Elia Kazan and Marlon Brando were among the list of winners.
Akele Hum Akele Tum (1995)
Akele Hum Akele Tum was Aamir Khan and Mansoor Khan's follow up act to Jo Jeeta Wahi Sikandar. The film did receive its share of praise by critics but sadly the success was never reflected in the sale of tickets. The film was inspired by the Dustin Hoffman and Meryl Streep starrer Kramer Vs Kramer. At the 52nd Academy Awards, it managed to lay its hand on as many as five trophies out of its nine nominations. Kramer Vs Kramer managed to win the best picture, best director, best actor male and best actor female category.
Aatank Hi Aatank (1995)
Aatank Hi Aatank remains one of the few films in Aamir's repertoire that proved to be a disaster at the box office. The film was a straight lift from Francis Ford Copolla's The Godfather. The moustache and the wig that Aamir sported in the film might give an idea of why this film bombed at the box office.
Jo Jeeta Wohi Sikandar (1992)
The role of Sanjay Sharma that Aamir agreed to play in cousin Mansoor Khan's sophomore film Jo Jeeta Wahi Sikandar probably remains his greatest performance to date. Even after 26 years the film still retains its freshness. The plot of a rivalry between students of two colleges with a cycling competition thrown in to decide the better one was heavily inspired from the Peter Yates directed Breaking Away. The film was nominated in as many as five categories and emerged winner in the category of Best Screenplay.
Dil Hai Ki Maanta Nahi (1991)
This was another Aamir Khan – Mahesh Bhatt combo that was copied from a foreign film. The love story-cum-journey film was copied from Frank Capra's It Happened One Night. The Clark Gable-starrer had 100 percent success rate at the Oscars. At the 7th Academy Awards it was nominated in five categories.
Find latest and upcoming tech gadgets online on Tech2 Gadgets. Get technology news, gadgets reviews & ratings. Popular gadgets including laptop, tablet and mobile specifications, features, prices, comparison.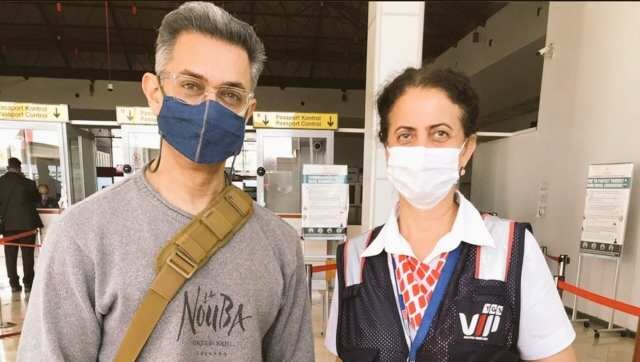 Entertainment
In March, the shooting for Laal Singh Chaddha was halted due to the coronavirus outbreak.
Entertainment
Laal Singh Chaddha will see Aamir Khan and Kareena Kapoor Khan reunite after 3 Idiots and Talaash: The Answer Lies Within.