Aamir Khan in Dangal: Trainers Kripa Shankar Bishnoi, Rahul Bhatt on how he achieved the look
Aamir Khan worked with wrestling coach Kripa Shankar Bishnoi and fitness trainer Rahul Bhatt to get the right physique and moves to portray wrestler Mahavir Singh Phogat in Dangal
In recent times, wrestling seems to have emerged as a hit formula for Bollywood films, and when reigning superstar Aamir Khan had to play the part of a Haryanvi wrestler for Dangal, his preparation went far beyond putting on weight.
Known for his perfectionism, Aamir wanted to look effortless in his portrayal of a wrestler and in order to go beyond a cosmetic makeover, the actor hired a wrestling champion to give him exhaustive training. Thus came in 40-year-old Kripa Shankar Bishnoi, an Indore-based wrestler, coach of the Indian women's wrestling team, and winner of the prestigious Arjuna award (conferred for excellence in sports). Bishnoi has also won a number of medals for India at international competitions, including the Commonwealth Games.
He trained Aamir and the entire crew for the movie, which is slated for release this month. Directed by Nitesh Tiwari, the movie is based on the life of ace Indian wrestler Mahavir Singh Phogat, who coached his daughters Geeta Phogat (Commonwealth Games gold medal winner), and Babita Kumari (2012 bronze medal winner at the World Wrestling Championship).
Aamir Khan's 'fat to fit' video highlights dramatic weight loss for Dangal: Watch it here
"When Aamir's team contacted me for the first time, I thought someone was pulling a fast one on me. Later, when I was approached again, I was sceptical and wondered how could an actor do wrestling? It is a sport which is devoid of any use of weapons and it's a game where injury is inevitable. Also, doing wrestling scenes, acting as a wrestler and even training for it is very difficult. But when I came to Mumbai and saw Aamir's passion and his grasping power, catching skills and techniques of wrestling, I was proved wrong, He is called Mr Perfectionist for a reason," smiled Bishnoi, who was approached by Aamir's production house in March 2015. He added, "The characters in Dangal will be shown wrestling with professional wrestlers while depicting various championships, in the movie. We did not want to cheat the audience by showing the actors merely imitating some random wrestling moves."
In order to portray the ageing wrestler Phogat, Aamir had gained 30 kg, taking his weight to 97 kg. The film depicts the journey of a young wrestler, starting from his youth, going all the way to his early 50s. While the director wanted to start the shoot with the 'young' Mahavir, Aamir preferred to shoot the sections that showed his character as a middle-aged man first. The actor had reasoned saying, "For a large part, that is almost 80 per cent of the film, I portray a middle-aged man, and I wanted to play that first because if I shoot the 'young' portions first and the 'old' portion later, I would be fat when the film is complete and there won't be any reason or motivation for me to lose weight later on."
Watch: Aamir Khan's Dangal 'Fat to Fit' video does not tell you about health risks
While giving credit to the actor for infusing energy into the film Bishnoi, who trained Aamir for a year-and-a-half, said, "I was worried that he, as an overweight 50-year-old, could possibly hurt himself. But, he proved to me that zidd (stubbornness) is what superstars are made of. While training, he would perform a stunt twice or three times, but when in front of the camera, he didn't need a retake." Bishnoi continues, "I had to take lot of care so that he doesn't get hurt. When he would jump, his knees would hurt. He would get breathless while tying the lace of the wrestling shoes because of his bulging stomach. I realised that at that time he wasn't fit to be a wrestler but he was quite flexible and supple. His muscles were hidden behind the fat. Gradually I felt that he had the strength and he was good with coordinating and using the technique well while wrestling, his catching power and mastering the art and skill was really good. He was a very obedient student as well. He would give priority to my training programme. He would keep trying the techniques until he got it right and once he had achieved it, he would stop. Later, his wrestling scenes after weight loss, during his character's youth, were quite different."
Talking about Aamir's dedication, Bishnoi said, "He never threw any tantrums while training sessions. Even after a long day or injuries, if I asked him to practice few moves, he would do that without questioning or reasoning." He further recounts how Aamir took his advice to quit smoking: "He would smoke a lot and as a coach I didn't find it right because then it would hamper his stamina which was needed utmost for the morning and evening training. It would also affect his performance. He immediately stopped smoking during the training and shooting. The next day he handed over his cigarette packets and asked me to dump it in the dustbin."
"Aamir trained for more than six months before the shoot began and continued training during the shooting. His schedule was exactly like that of a wrestler's. If I didn't like a particular move or he was not satisfied with a shot, he would shoot again till the time it looked perfect," said Bishnoi.
The movie narrates the drama of Mahavir Phogat's life, as he defies the rules of the Jat community in rural Haryana to train his own daughters in the sport of wrestling. Bishnoi found parallels between Phogat's experience and his own, saying: "I could relate to the character and the turmoil in Dangal, as I belong to traditional family of pehalwans. The elders in our family decided to break the traditional 'only male' norm, and now I have been training my nieces too." Thus, Bishnoi feels, that the film will also open gates for women wrestlers in the country. "Very few Indians encourage women for wrestling, especially because of the attire they have to wear (in the ring). This film will change that perception too. People would hopefully want to see their daughters taking up wrestling," said Bishnoi, who has been in the sport for the last 34 years.
Aamir Khan's trainer Rahul Bhatt denies that the actor used steroids for transformation in Dangal
He also trained newcomers Fatima Sana Sheikh and Sanya Malhotra, who play Geeta Phogat and Babita Phogat respectively, in Dangal. Bishnoi was readying women wrestlers for the Rio Olympics, which took place in August this year, when Fatima and Sanya were sent to train under him as part of their prep for Aamir's Dangal. Although it was just for a film, the national wrestling coach was determined to make their moves seem as authentic as can be when the cameras rolled. Bishnoi made Fatima and Sanya follow almost the same drill as the Phogat sisters. "It was important for each of them to acquire the explosive strength, learn the wrestling tricks and adapt to an accurate mind and body coordination, which is important for wrestler inside a ring," Bishnoi explained. Talking about both the young actresses, he said, "Fatima was great with wrestling techniques, her absorbing power was good but she didn't have strength and it took just six months to develop the strength that is required for a wrestler, whereas Sanya, who is a ballet dancer, was very flexible with a supple body."
Since Aamir needed to develop two distinct body types for his wrestler's character, he roped in Mahesh Bhatt's son Rahul to train him, sometime in September last. Aamir knows Rahul from the time the latter was a child hanging around on his dad's set for Dil Hai Ki Manta Nahin. Rahul grew up to be one of the finest physical trainers in Mumbai. Aamir first trained with Rahul for his bulky look when his character is 45-years old. Later he trained to look 25. For both the looks, Rahul worked out a very strict and focused exercise regime for Aamir. "I had to do my homework because Aamir expects efficiency and only when he is convinced does he surrender completely," said Rahul while talking about the challenge.
Rahul further said, "We didn't cut out carbohydrates, because then, he'd be thinking about food all the time. Besides, given his activity level, he needed the energy. It's fashionable to cut out carbs which should be done only in case of couch potatoes." So, along with healthy delicacies, food such as bread and poha also formed part of Aamir's diet. Rahul helped Aamir shave off 30 kilos in a span of five months for the portrayal of young Phogat.
Not just Aamir Khan in Dangal: Other actors who underwent extreme weight loss
Highlighting the actor's daily routine, Rahul informs that Aamir's days would usually commence at 4.30 am, with an exercise routine that comprised compound movement and cardiovascular activities. "There was an AM workout and a PM workout. In addition, there was almost an hour of wrestling practice," he says, adding the actor, who is an avid sportsman, would continue playing squash and tennis. Rahul also incorporated weight training with functional movement all of which resulted into extraordinary results. "Aamir needed to build his body for aesthetic purpose. In order to enable his muscles to look bigger, we made him execute multiple sets of the exercises with six to 12 reps," said Rahul, who believes in keeping things simple rather than fancy. "We wanted to keep things real and not get carried away in the heat of the moment which could lead to injury resulting to loss of time and money. We stuck with basics of exercise and nutrition. We also took the psychological route that what the mind can conceive, the body can too," said Rahul.
Meanwhile, there has been a kind of suspicion from certain quarters that a transformation of this nature couldn't have been executed without the use of steroids. "When we didn't even need to use a stricter diet plan to produce the results, why would we need steroids?" questions Rahul. "Aamir's transformation was a result of sheer perseverance and sweat. There is no substitute. Aamir never used steroids. The same results like that of Aamir can be achieved by a common man naturally within the span of time that Aamir achieved it. But one has to remember, Aamir has had the luxury of two trainers, two chefs, two masseurs and eight body guards. A common man would not have all these at his disposal," said Rahul.
Bishnoi too has slammed critics for suggesting that the actor used steroids to get fit in minimum time for his role as a wrestler. "Steroids are banned medicines. The World Anti-Doping Agency and National Anti-Doping Agency catch and punish those players who use steroids. Steroids destroy your body. Aamir's training programme had nothing to do with steroids. It was all about the right diet. Aamir built his entire fitness regime on the calories one needs to lose extra body fat. One's fitness level depends on one's training and diet. Every man can build a physique like Aamir's. I have not seen Aamir taking steroids. He is not someone who applies shortcuts in his life."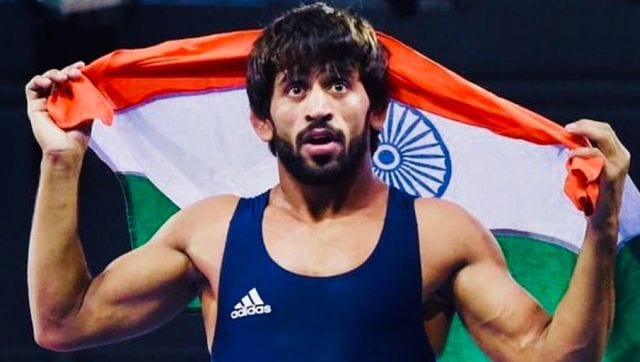 Sports
Also reaching the medal rounds were Narsingh Pancham Yadav (74kg) and Satywart Kadiyan (97kg), who will fight for bronze after losing their respective semi-finals.
Sports
Bajrang said that he did not want to aggravate the condition of his right elbow. He said he started feeling the pain during the quarter-final against Korean Yongseok Jeong.
Sports
Vinesh has notched up seven podium finishes at the Asian meet over the years, including three silver medals before this edition.