Aamir Khan: 'I'm dying to show Dangal to Salman; I'm sure he'd love to promote it'
Aamir Khan talks about his startling weight gain (and loss) for Dangal, comparisons with Salman Khan's Sultan, and the stress of his film's approaching release
Aamir Khan — who went through a major physique transformation for his film Dangal — in which he plays wrestler Mahavir Phogat — says it was among the most dramatic in his career so far.
Watch a video highlighting Aamir's journey from a 97 kg 'heavyweight' to a toned look with six-pack abs.
"Did you all see the torture that I had to go through?" he asked mediapersons who saw the video at a special screening of behind-the-scenes footage from Dangal. "Actually now I shudder to watch this video. I didn't realise it when I was going through the weight-gain process. When I became fit again, I had forgotten how fat I had become. Now, after watching the video, I remembered how difficult it was for me to even tie my shoe laces, how difficult it was to walk. My body language had completely changed."
"While I took up body building to get a certain look for my film, this (Dangal) one was one of the most dramatic body transformations so far. The film has two phases. For one part, I had to put on weight. So, I weighed 97 kg with 38 percent body fat and I had to get it down to 9 percent body fat within five months. That was a huge task."
So was he worried?  "I was worried, thinking will I get back in shape for the schedule (in which I depict) the character as a young man? I felt diffident," said Aamir, adding, "I would like to mention that putting on weight and losing it so fast is very unhealthy. I did it for my film under the supervision of experts, but it is very unhealthy for any regular person."
Aamir said that his doctor has asked him not to attempt such drastic weight and body transformations in the future. However, the actor admits that a good script is his weakness, and he may just go in (for a similar endeavour) if a story demands it. "If I like a script then I don't think logically," he admitted wryly.
In Dangal, Aamir plays Mahavir Singh Phogat, the father of wrestler Geeta Phogat. Geeta won India's first-ever gold medal in wrestling at the Commonwealth Games in 2010. The biopic, directed by Nitesh Tiwari, is set to release on 23 December.
Known to be a perfectionist, Aamir decided to put on weight instead of using a bodysuit, to bring authenticity to the character.  He explained, "When you put on weight, it affects your breathing and body language. That naturally reflects in your performance. You cannot get that from a bodysuit."
To pile on the pounds, Aamir says, "I ate everything that I was not supposed to, otherwise. I had samosa, vada pav, chocolate, cakes, brownies… I indulged in everything. Even in the night when I felt hungry, I would eat anything that was available. Then, when I had to lose the weight, I had a very different diet of 25 gm of upma and papaya and after gym, I would have a protein shake."
Since Salman Khan's wrestling film Sultan released a few months ago, there have been comparisons with Dangal. Aamir, incidentally, is keen to show Dangal to his close friend. Aamir and Salman are often seen promoting each other's films on their social media accounts and Aamir is positive that Salman will promote Dangal too. "I am sure Salman would love to promote my film. I also love promoting his films. I am dying to show Dangal to him," said Aamir.
However, Aamir — who is known for his unique promotions, planning and strategies — has no intention of promoting his latest film on any television show. So, one will not see the two actors in one frame on the ongoing reality television show Bigg Boss, which Salman is currently hosting.  "I am not promoting the movie on TV. But our advertisements and promos are featured on TV. I won't be going on any show," Aamir said.
Bollywood films may still be reeling under the aftereffects of demonetisation but Aamir  is hopeful that the situation will not affect Dangal's box office fate. He believes that things will be back to normal by the time his movie releases. "I hope it doesn't affect the film. I think things are getting back to normal now. Rock On 2 did get affected because it was released right at that time (when demonetisation was announced by Prime Minister Narendra Modi). But I believe Dear Zindagi has done quite well. So hopefully, I think demonetisation won't affect Dangal," Aamir said.
It was recently reported that the stress over the film's release has taken its toll on the 51-year-old star, driving him to take up smoking again. Sources close to the star claimed that Aamir gets very nervous as his films' near their release date and starts smoking again. "Who told you that I'm smoking again?" Aamir said, laughing off the question. "To be honest, right now I am so stressed about finishing the film and getting the first copy out in time that I don't have the time for jitters. We are just rushing. Once the process is over and the film is complete, then I will really start getting nervous because then I will have nothing to do. I will be then thinking only about the film all the time."
Entertainment
Sardar Udham to 83; here are the best films of 2021.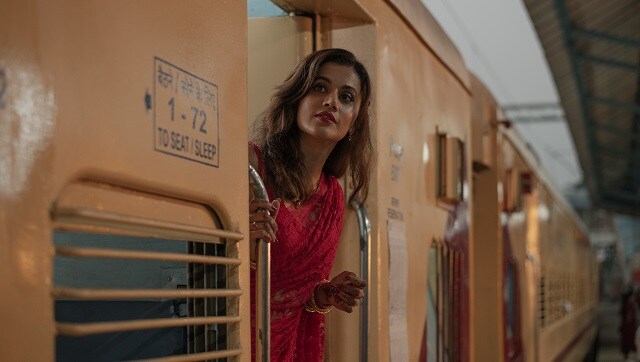 Entertainment
Taapsee Pannu's recent revelation that other actresses rejected Haseen Dillruba because they were not sure of 'the hero' only exposes the gross dependence of leading ladies on how 'saleable' their male counterparts are.