Aami controversy: Right-wing outrage against Manju Warrier reflects growing cultural fascism in India
Manju Warrier's assertion of nationalism, to defend her right to play the lead role in a biopic based on writer Kamala Surayya has raised eyebrows in Kerala
Malayalam actor Manju Warrier's assertion of nationalism and Hindu faith, to defend her right to play the lead role in a biopic based on controversial writer Kamala Surayya aka Madhavikutty, has raised eyebrows in Kerala.
The actor took refuge in the Sangh Parivar's definition of what they call a 'true' Indian, after supporters of the Hindu right wing unleashed a virulent campaign against her decision to play the role of the iconic writer in a film, to be directed by Kamaluddin Mohammed Majeed – popularly known as Kamal.
Kamal had turned into an eye sore for the Sangh Parivar after he had criticised the Narendra Modi government and the Sangh Parivar on the demonetisation issue and the national anthem row. The controversy had snowballed, with a few senior Bharatiya Janata Party (BJP) leaders even asking him to leave the country.
Manju had made her stand clear in light of these controversies. She urged her critics not to consider her decision to act in the film, dubbed Aami, either as a declaration of her political stand or her alignment with director Kamal's political beliefs.
"I see Kamal Sir as my Guru. I am excited to associate with the great artist in him once again after 20 years... not his politics. My country is my politics. I go to the temple twice a day to offer prayers. Just the same way I bow my head in reverence when I am in front of a church or a mosque," Manju said.
In a Facebook post, in response to the barrage of criticism unleashed against her decision to act in the film, Manju pointed out that people who work in a film may have their own ideologies and politics, but they set all that aside when they work on a film. Their sole objective then is to create good cinema.
Manju's fans came out in large numbers on social media to support her, but a sizeable section of them expressed their disappointment for her attempt to prove her credentials in a bid to justify her decision for accepting the role. They view it as surrender to the Sangh Parivar.
"I congratulate Manju for remaining firm on her decision to act in the film, but I felt sad after reading her comment on Facebook on the issue. It all looks like an anticipatory bail," says Sreenivas Panampally, a Facebook user.
Thrissur-based college lecturer, Deepa Nishanth, who had recently courted trouble by speaking against the beef ban, said various reasons cited by Manju for accepting the lead role in Kamal's films need not be true.
"Manju is not an illiterate person not to understand the politics behind her decision. She is hiding them and upholding her nationalism and faith to defend her decision in view of the threats looming large over her," said Nishanth.
Well-known writer and activist MN Karaserry believes that the atmosphere of intolerance prevailing in the country may have forced her to take refuge in faith and nationalism.
"I don't blame Manju if she feels insecure. She has already gone through several tragedies in her life so far. She is a tender-hearted artist and not a politician. She doesn't know the politics of hate," says Karaserry.
He told Firstpost that the proponents of religious nationalism had no love for art and artistes. He said that this was the reason why they oppose the works of eminent artistes and writers like MF Hussain, Salman Rushdie etc, and added that both Muslims and Hindus were the same when it came to opposing creative freedom.
Karaserry said that Manju was a young woman who may not understand the nuances of politics and may have only considered the scope that the character offers her while accepting the role.
"The life of Kamala Surayya is indeed very fascinating. She revolutionised writing with her honest treatment of female sexuality. She courted controversy by converting to Islam in search of love in the last years of her life. Her life is full of controversies. All these offer a lot of challenges to an artist," Karaserry said.
Initially, Bollywood actress Vidya Balan was signed for the role, but she quit the film citing 'divergent approaches' as the reason. However, many in the film industry believe that she may have withdrawn from the project due to pressure from the Sangh Parivar.
They believe that those who are spearheading the campaign on social media may be trying to dissuade Manju similarly. The Hindu radicals apparently don't want the film to be produced. Apart from their personal differences with Kamal, they are also opposed to Surayya. They feel that the author had offended Hindu sentiments by embracing Islam.
The radicals are opposing the film as they fear that a depiction of the life of the controversial writer would encourage 'love jihad'.
Many who have come out against the film on social media have warned Manju against this danger.
One such Facebook user said that the conversion by Madhavikutty was the result of a Muslim betrayal. He alleged that a self-declared Muslim scholar had deceived her by taking Rs 15 crore from a Muslim organisation in United Arab Emirates (UAE) for the conversion.
"When you act in this movie, you will do injustice to her soul. This movie will bomb, as Madhavikutty's curse is sure to be upon it," said the Facebook post.
Santhosh Raghavan, a non-resident Keralite from Dubai, supports the allegation. He agrees that the role of Surayya will be a cursed one. "Today or tomorrow, you will realise it. Don't fall prey to Kamal's trap," Santhosh said.
Kamal is not deterred by the mounting attack against him and his actress on social networking sites. He said that he had a strong belief that Manju will not succumb to external threats. He is all set to begin shooting the film and complete it in two schedules before Kerala's harvest festival of Onam.
Senior BJP leaders have denied any role behind the social media campaign against the film director and the actor. Party state secretary B Gopalakrishnan said that neither the party nor any organisations associated with it had taken any official stand against the film.
"The BJP and the Sangh Parivar are being accused of running a campaign against the film because of the ongoing discussions on social media. What appears on social media is not BJP's stand. We are not responsible for it," he added.
However, social activist NN Pearson refused to accept the denial. He said that the ongoing debate was part of a campaign orchestrated by the Sangh Parivar, in tune with its fascist agenda.
"It is a guerrilla fight. They are trying to make all those who take bold positions in the society silent. It is part of their political agenda in the state," Perason told Firstpost.
Communist Party of India (Marxist) member of Parliament MB Rajesh said that the campaign against Manju and Kamal was part of the attempts by the Sangh Parivar to take their hate campaign – that claimed the lives of several writers like MM Kalburgi, Govind Pansare and Narendra Dhabholkar – to Kerala, which has a tradition of accepting all shades of thoughts.
India
As part of the celebrations, Union Health Minister Mansukh Mandaviya requested people to get themselves vaccinated and also help others to receive their jab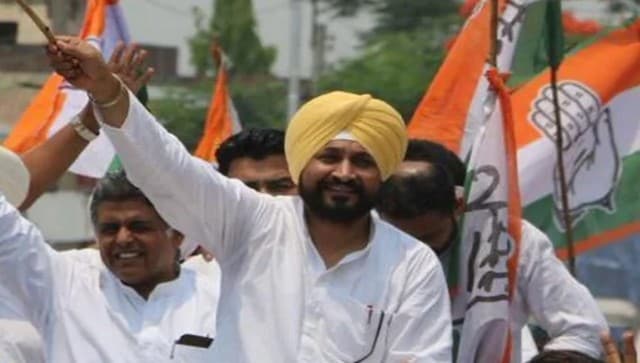 Politics
The development comes after much speculation with the names of Sunil Jakhar, Navjot Singh Sidhu, Tript Rajinder Singh Bajwa and Sukhjinder Singh Randhawa doing the rounds for the top post
Politics
Rahul Gandhi could benefit from a change in his thinking by focusing on facts and he only needs to remember that his terminator in Amethi happens to be a woman