Aadar Jain on his debut Qaidi Band: 'Acting is my passion; wouldn't opt for another career option'
Aadar Jain says acting has been his dream career and he would not have chosen any other option had he not bagged Qaidi Band.
Aadar Jain says acting has been his dream career and he would not have chosen any other option had he not bagged Qaidi Band.
The 24-year-old actor says he would have continued auditioning for movies as he never thought beyond film.
In an interview with PTI, Aadar says, "Acting is it. My dream, my passion. I would not have gone for any other career option. Had I not got through a Yash Raj film, I would have gone to another production house.
"I'd have auditioned for other casting directors. For me, it was not the be-all and end-all situation. It wasn't like I'll pack my bags and go home for good."
The actor, who plays Sanju, an undertrial awaiting justice, says there was no pressure from his family to go for a particular job option.
"My father comes from a business background, my mother's family comes from films. But there was no pressure from them to pursue any particular career. They asked me to do what I wanted to do."
Aadar says he had not told many people in the family about his decision to join films.
"I didn't tell anyone in the family that I wanted to do films. I just shared the news with my parents and my brother Armaan. When I told my nani (Krishna Kapoor), she encouraged me and asked me to work hard. She said, 'Even if you don't get the film, don't bog yourself down. Of course, it'll hurt because you face rejection. But continue working hard'," he says.
The actor is glad that he scored in his first audition and got his Bollywood break on his own. "My dream has now become a reality. So that itself is a big deal for me. I really had to work hard for this, I did all of it on my own. I had auditioned for it and Habib Sir knew he wanted to take me."
Aadar says he knew working under the National Award- winning director would be a learning experience. "I loved his film Do Dooni Chaar that featured my uncle-aunt Rishi and Neetu Kapoor and since then he became one of my favourite directors. It was a privilege to work with him. I knew I'd learn a lot working with him," he says.
On the face of it, the look of the film resembles the Farhan Akhtar-starrer, Lucknow Central but Aadar says the only thing common between the two movies is the setting of a prison."Our film is about these undertrials waiting for their cases to be heard, so that they could get their freedom back, rightfully. 'Lucknow...' is more about prison break.
"The similar set-up with Farhan's film is just an unfortunate coincidence. But I hope these two films go on to become the Sultan and Dangal of Bollywood."
Qaidi Band, also starring newcomer Anya Singh in the lead, hits the screens this Friday.
Entertainment
A Gentleman minted Rs 4.04 crore in India on day 1; Vijay Devarakonda's Arjun Reddy grossed $270,000 in the US, even surpassing Ajith's Vivegam.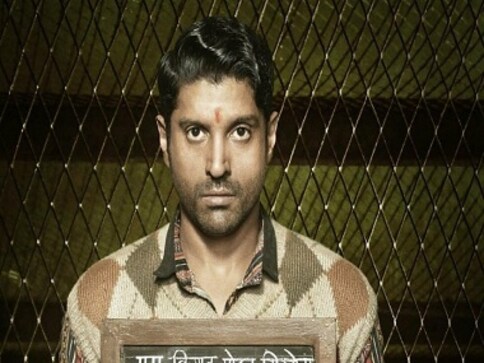 Bollywood
Farhan Akhtar's character in Lucknow Central forms a band with his fellow inmates. Similarities to Habib Faisal's upcoming film Qaidi Band?
Entertainment
Qaidi Band is Habib Faisal's fourth venture as a director. In an exclusive interview, Faisal speaks about the extensive research behind the film, and working with YRF.