A Wrinkle In Time trailer: This fantasy film seems like a journey across space and time
Reese Witherspoon, Mindy Kaling and Oprah Winfrey play three friendly witches who help a 12 year old girl find her father.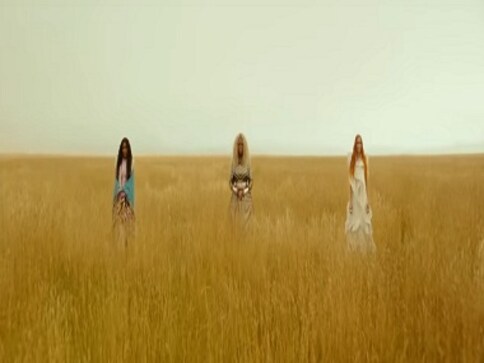 Disney finally dropped the trailer of its highly anticipated 2018 release, A Wrinkle in Time. The film is bringing the beloved 1962 novel of the same name by Madeleine L'Engle to the screen with stars like Oprah Winfrey and Chris Pine in a star studded cast.
The trailer reveals a little more than the teaser that was released earlier in July this year, and sheds light on the science employed by the characters to travel through space and time as well as the fantastical special effects and whimsical settings of the film.
The trailer introduces the lead character, 12 year old girl Meg Murry, who is to embark upon an inter-dimensional journey to rescue her trapped astrophysicist father Dr Alex Murry from dark forces, with her highly intelligent young brother Charles Wallace, and classmate Calvin O'Keefe, guided by three astral beings. The trailer offers an exposition of the tesseract that enables instantaneous travel through a 5th dimension.
The trailer explains the concept behind the title of the film as Meg's father had invented the tesseract when he was looking for a way to travel to the stars, only to be captured by the dark force. The three witches explain that they have been trying to find warriors to help them serve the light, and that the only person who can save her father from the darkness is Meg.
Disney's latest offering follows the success of Alice in Wonderland and is being directed by Ava DuVernay of Selma fame. The film's highlight are the three astral beings, played by Oprah Winfrey as Mrs Which, Reese Witherspoon as Mrs Whatsit, and Mindy Kaling as Mrs Who, plus Gugu Mbatha-Raw as Meg's brilliant mother, Chris Pine as the missing father and scientist, with Meg being played by Storm Reid of Twelve Years a Slave fame.  
The trailer also gave a taste of the stunning music and background score, which is being composed by Ramin Djawadi, known for his work on Game of Thrones. The film is currently scheduled for release on 9 March 2018 in the USA as reported by CNET.
Entertainment
Bruce Willis was diagnosed with dementia earlier this year, as per a statement by his family.
Entertainment
Gibby and Goldstein have previously appeared as expert witnesses for Sanderson, who has said he broke ribs and sustained brain damage from the crash.
Entertainment
Tems' cloud-like puffy white dress from this year's Oscars triggered several memes on social media.