96 stars Vijay Sethupathi and Trisha on working with Rajinikanth in Karthik Subbaraj's Petta
'Petta is a Rajini sir film but Karthik Subbaraj has written the script in such a way that all the actors have an equal scope' - Trisha
Vijay Sethupathi and Trisha's romantic drama 96 is receiving positive reviews from the critics and the expectations are huge for the film. Interestingly, they are also acting together in Rajinikanth's upcoming magnum opus action thriller, Petta.
Talking about Petta and working with Rajinikanth, Vijay Sethupathi said: "I never thought of working with Rajinikanth sir and Mani Ratnam sir in my career. Mani sir's speed is unmatchable and his passion towards cinema surprised me because I didn't even see the same energy in assistant directors who are eagerly waiting for their debut film. I also noticed that his knowledge is vast and he works fast that just when you start understanding the scene, he would be busy adding nuances in the next scene. I once told Mani sir that after watching all his old films, I thought he would make films slowly but his speed is incredible. Mani sir didn't say anything to my praise and simply smiled. I saw the same speed, hard work, and dedication in Rajini sir."
"Rajini sir would patiently listen to a scene but before improvising it, he consults the director. Though Karthik Subbaraj (director of Petta) is much younger to the Superstar, he addresses him as director sir. He actually works as if his future entirely depends on the box office success of Petta. Rajini sir also performs only based on how people would react to the particular scene," added Vijay Sethupathi, who said that the Superstar also discussed spiritual stuff with him.
"As my speeches have the philosophical flavor, Rajini sir discussed my faith in God and ideology in life. But I actually tried to move away and reduced conversing with him because his mannerism is contagious that I started imitating him and lost my individuality. The reason is that we enjoyed watching him for over 40 years on the big screen but I have to tell this, watching him perform a scene on the spot is as enjoyable as his films. I should also admit that I was nervous for the first few days and it took some time to come back to normalcy," said the Chekka Chivantha Vaanam actor.
Firstpost also asked 96's heroine Trisha on what audiences can expect from Petta. "We all know that Petta is a Rajini sir film but Karthik Subbaraj has written the script in such a way that all the actors have an equal scope that their fans will not be disappointed. If Simran mam's fans watch Petta, they will be satisfied with her portions. Similarly, Vijay Sethupathi and Nawazuddin's fans will also like the scenes featuring their favorite actors which is a rarity when we have a Superstar like Rajinikanth on board," said Trisha.
Trisha actually started her journey as an actress with Simran's Jodi. "I should not be revealing the story line but there is no combination between me and Simran in Petta", said the actress with a smile. Trisha joined team Petta in Varanasi from 1 October and she will be continuously shooting for the film.
"I have told my other producers to hold the shoot of their films because, for the next two months, I will be only focussing on Petta. Karthik Subbaraj told me that the schedule is going to be packed that I didn't have time to watch my own film 96 in Chennai theaters as I will be busy shooting for Petta," said Trisha, who also clarified that her recent short hairdo is not for the Rajinikanth film.
On working with Rajinikanth in Petta, Trisha said, "Well, actors like Vijay Sethupathi are my costars but Rajinikanth sir and Kamal sir are legends. I only see them as a fan so, working with them is an amazing experience. In my life, fans and media people have been waiting for my combination with Rajinikanth sir. Glad that it has happened finally with Petta. I've interacted with Rajini sir in many functions but never shared screen space with him so eagerly looking forward to shooting my first scene with him."
Both Vijay Sethupathi and Trisha are thrilled with the positive reviews of 96. There is a buzz that the film will be remade by Nani and Samantha in Telugu. "I know that both Nani and producer 'Dil' Raju recently watched the film at a special screening. Nani really loved the film but I'm not sure about his presence in the remake. I suggested Telugu producer and Nani to retain Prem Kumar who directed the original Tamil version for the remake. In case, if 96 goes to Bollywood, only Prem Kumar should helm the Hindi version," said Vijay Sethupathi.
On the Telugu remake of 96, Trisha said: "I'm not sure whether the magic of the original can be recreated in the remake. Though I myself have acted in many remakes, the magic of some films can't be replicated. For example, Gautham didn't remake Vinnaithaandi Varuvaya in Telugu, he simultaneously directed the film. However, I believe that the script of 96 is universal."
Directed by cinematographer-turned-filmmaker Prem Kumar, 96 released on 4 October.
Entertainment
"Shot the movie before the pandemic. We had no idea that there would be the use of temperature guns and quarantine," Zack Snyder on film's eerie similarity to the pandemic-afflicted world.
Entertainment
"Had to move the camera much more than I am used to and try to give the feel of experiencing live performance from different vantage points," says Sofia Coppola.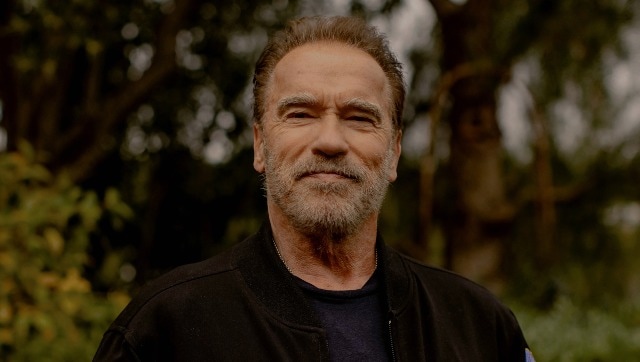 World
Arnold Schwarzenegger is a more popular political figure today in California than when he was elected — a feat for a Republican in a state so blue.