90 ml is about a group of five women and their desires, says director of Bigg Boss Tamil star Oviya's next film
One of the reasons Anita Udeep zeroed in on Oviya Helen for the role was her fearless attitude and genuineness in the reality show Bigg Boss.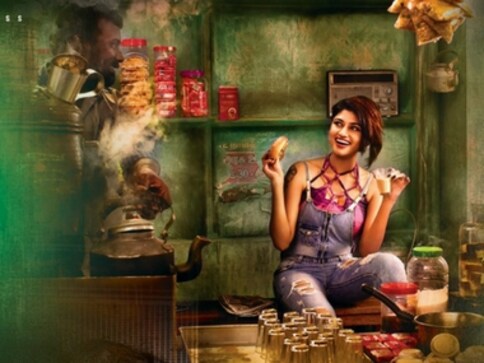 Director Anita Udeep, who made her directorial debut in 2009 through Kulir 100 Degree, is back to wielding the megaphone after nearly a decade with an exciting story to tell the audiences. Her sophomore film titled 90 ml, starring Bigg Boss Tamil sensation Oviya Helen in the lead role, was progressing swiftly in Chennai before the ongoing strike put a stop to the proceedings. Firstpost exclusively caught up with Anita, who is raring to get back on sets, to learn interesting details about the project, which marks Oviya's first women-centric film.
"A story or any incident should inspire you to make it into a film. When it is your passion, it should excite you. I have been writing many scripts, and this particular script kept me hooked on," says Anita about the nine-year-long gap between her films.
Spilling beans about the quirky title and the film's premise, Anita said, "90 ml is all about a group of five women and their desires in life. Most of the women-centric films fail to discuss what women really want. So this is going to be a bold yet fun and entertaining film. Besides showcasing the wants of contemporary women, the story also has a lot of exciting things like what a group of girls would talk about when they get together. I'm going to present a new flavor, and it is definitely going to be a trendy film."
The first look poster of the film was released on the occasion of Valentine's Day because the film is centered on themes such as love, relationships, and friendship. "It's more like a rom-com. So I thought it would be perfect to release the first look on a special occasion like Valentine's day."
Extensively shot in and around Chennai, Anita says almost sixty-seventy percent of the shooting for the film is completed. "Now, we are waiting for the shut down to get over. A lot of technicians are working on a day-to-day basis, and the strike is surely going to affect them a lot. I hope we get an amicable solution soon."
Talking about Oviya's role in the film and the reason behind approaching her, Anita says, "Oviya is one of the five pivotal characters of the story. It is a bold film, and I thought she would be very apt for that particular role. When we approached her and narrated the script, she liked the story and her character. She found the narration very interesting and told us that it is a new take on the women-centric films because almost all the contemporary women-oriented movies primarily discuss women empowerment. My movie is going to target 80% of the normal women population and the issues they regularly deal with."
One of the reasons Anita zeroed in on Oviya for the role was her fearless attitude and genuineness in the reality show Bigg Boss."She didn't care a damn about anybody or what others thought about her. She was very frank and straightforward, which I liked in her. When she cut her hair to show solidarity with the cancer patients, I was genuinely moved. She didn't care about her image." says Anita.
While Oviya plays the central protagonist in the film, Anita has picked four newcomers for the other essential roles. "Oviya is very inspirational to the other girls. They always look up to her and see how she's performing and learn from her on sets. I wanted fresh faces for these roles without any specific image so that it helps to give a whole new feel onscreen," says Anita, adding that audiences won't have any preconceived notion while seeing new characters on screen.
Before assembling the project, Anita and her team meticulously discussed the budget and business aspects of the film. "Heroes drive Tamil film industry, but everything finally comes down to the potential of the script and whether it can interest the audience or not. We discussed everything including the business potential of the film well in advance. We even talked to a handful of distributors and considered the kind of budget in which I should make the movie to turn it into a profitable venture for all stakeholders. Casting Oviya as the lead was an entirely well-thought-out decision," she avers.
Actor Simbu aka STR, who made his music composing debut through Santhanam's Sakka Podu Podu Raja, has been signed to score the music for the project. Showering praise on STR's work, Anita says, "We pretty much shared a great rapport regarding the creative aspects of the film. It's been really wonderful working with him. In contrast to what people have been saying about him, he's very supportive and understanding. He has already delivered all the songs. And the album is definitely going to be a chartbuster."
On a concluding note, Anita said, "We are planning to release the film in June. My target audience is majorly youngsters, especially the software engineering clan."
Entertainment
KRK, in a series of tweets, had called Manoj Bajpayee a 'drug addict' in 2021.
Entertainment
The third season of Ted Lasso premiered on Apple TV+ on 15 March 2023. 
Entertainment
Naatu Naatu has taken over the entire world and created an impression with its foot-tapping tune.