2014 murdered Bollywood: Kick, Bang Bang!, Humshakals are the biggest culprits
Here's our top five of Things That Bollywood Destroyed in 2014.
It wouldn't be an exaggeration to say 2014 has been a brutal year in Bollywood. If last year warmed the cockles of the industry's heart with a string of blockbusters, this year brought a reality check.
Sure, there have been hits -- from Kick to Bang Bang, 2014 has had its box office successes and PK is tipped to the last hit of the year -- but the profits haven't been quite as satisfying. There's less elation and more relief when a film costs about Rs 140 crore to make, as Bang Bang did, and then makes approximately Rs 180 crore in India (its primary market). It's not a bad number and the film would have covered its costs, but it's not quite a windfall.
But that's the insider's point of view. How's the year been for fans and film-lovers? In a word: painful. There's a wealth of trauma that this year's Bollywood releases have inflicted on those who have spent both precious time and money to watch Hindi films. Good, fun films, like Dedh Ishqiya and Queen were few and far between. Most 2014 releases were essentially part of a grand plan to destroy film lovers' peace of mind. Here's our top five of Things That Bollywood Destroyed in 2014.
Storytelling
Logic has never been Bollywood's strongest suit, but films like Jai Ho, Ragini MMS 2, Humshakals, It's Entertainment and Action Jackson managed to enter the fifth dimension of senseless storytelling.
For instance, in Ragini MMS 2, a ghost -- best known for not being constrained by physical boundaries like walls etc -- chose to twiddle its thumbs in a jail cell for three years before pouncing on Sunny Leone in order to possess her. Why did the ghost wait all this time? No one knows. In Jai Ho, a woman who managed to stay cheerful for years despite having no hands, couldn't handle the stress of not being able to give an exam and so, committed suicide. Because not being able to give one exam is way more traumatic than spending years without hands.
Such spectacular blows to common sense weren't limited to the predictably star-struck, bad films. Take, for example, Finding Fanny. Why didn't anyone in Homi Adajania's film think of looking up Stephanie Fernandes's phone number and giving her a call before heading out into the Konkan countryside? Habib Faisal's Daawat-e-Ishq wanted us (and the hero) to fall in love with a woman who decides to frame innocent men by abusing the anti-dowry laws. In Hasee Toh Phasee, Parineeti Chopra's attempt at showing a person suffering from depression basically showed her as a desi Rain Man. Not just that, according to the film, taking medication for a psychological illness is cowardice.
Facts
Again, we're aware that Bollywood's acquaintance with fact is vague at best, but this year, we saw a number of films that claimed to be inspired by real people and events. The net results were mostly surreal, and bad. Mary Kom, Lakshmi, Mastram, Rang Rasiya and Bhopal: A Prayer for Rain all used fact as the starting point and then proceeded to make films that ranged from laughable to disheartening.
Incidents like the Bhopal gas tragedy, which happened 20 years ago, could do with being immortalised on cinema because too few remember what happened. It should haunt public memory and a well-made film would have helped remind millenial India of that horrific time. Unfortunately, Bhopal: A Prayer for Rain just didn't do the subject justice.
Mary Kom featured Priyanka Chopra, with lots of pink blush on her cheeks and fake freckles in an effort to look Manipuri. The film didn't seem to be particularly faithful to fact. Chopra got into fights with superiors, chucked chairs at judges' podiums and trained in the great outdoors in scenes that were vaguely reminiscent of Karate Kid.
Facts were even more ruthlessly mangled in Rang Rasiya, which created a whole imaginary life for the nineteeth century Indian painter, Ravi Varma (popularly known as Raja Ravi Varma although he wasn't royalty). Randeep Hooda as Varma walked along waterfalls and indulged in erotic fingerpainting with his "muse". Imagine a man with this expression doing such things -- the mind boggles. The film also claimed there were charges of obscenity against Varma, which is untrue.
Animal Rights
Anyone who has even the tiniest soft spot for animals had to feel sorry that the reputations of our four-legged friends were savaged the way they were in Bollywood this year. Consider how dogs are portrayed in Humshakals and what the dog has to endure by way of tackiness in It's Entertainment, and it's a wonder doggie activists haven't filed cases against the makers of these two films. They make Tuffy from Hum Aapke Hain Koun...! seem like a canine Robert De Niro.
The royal Bengal tiger fared marginally better. While Roar – The Tiger of the Sundarbans is an astonishingly bad film, the animal reportedly looked good on screen. When you see the idiots that the tigers encounter in Roar, the animal's desire to bite the humans' heads off made complete sense. We're inclined to do much the same thing.
The other wild animal that had its onscreen moments was the Asian black bear, but the jury's out on whether Dear vs Bear helped the ursine cause or damaged it.
Not only did the bear get bad make up (tomato-ketchup red lips and yellow contact lenses), it had to suffer the ignominy of being beaten up with a lowly football.
Dinosaurs had a mixed year. On one hand, there was Creature 3D, in which a curse transformed a man into a giant lizard that looked vaguely like a first cousin of dinosaurs. Considering how badly-behaved and yet un-scary this creature was, self-respecting dinosaurs would take exception to this representation. However, considering what our Bangladeshi brethren did to the dinosaur in this song, at least we can say we let them chase Bipasha Basu.
Heroic good looks
Imagine how desperate things are when women end up cheering for 50-year-old Govinda, best known for acting in violently tasteless films in his prime.
It was the year of Bollywood heroes who looked either weird or ugly, or both. Hrithik Roshan and Shah Rukh Khan got into a competition of who could use the most bronzer and there was a battle of abs between the two stars. The real loser was the fan who had to accept that neither Roshan nor Khan look entirely human anymore.
Hirsute seemed to be the trending word in Bollywood this year, with many actors sporting either stubble or beards. Shahid Kapoor had both: stubble in R…Rajkumar and a beard in Haider. Unlike R…Rajkumar, at least Haider had a story that could distract you from the unflattering facial hair. With the exception of Fawad Khan, the heroes mostly ended up looking badly groomed and/or in need of a thorough wash. In Dedh Ishqiya, when Arshad Warsi's Babban, unshaven and moustachioed, started snogging Muniya (Huma Qureshi), you couldn't help but feel bad that such a gorgeous girl had to settle for a kiss that must feel like a grubby loofah rubbing against her. No girl needs that much exfoliation.
Perhaps the success of Goliyon ki Raasleela: Ram-Leela made Ranveer Singh maintain his lush facial hair for Gunday. Net effect: Singh looked vaguely like a large Lorax, only oilier. Fortunately, Arjun Kapoor opted for a closer shave than Singh did, thus keeping a handle on the hairiness in the film. Unfortunately, he tried to make up for this by oiling himself more.
Moustache and body oil were also on flagrant display in Action Jackson. As if Ajay Devgn snarling isn't enough of an assault upon one's aesthetics, halfway into the film, someone decided to put gel in Devgn's hair. Since there's no accounting for taste, we're sure there's someone, somewhere, who found Devgn smokin' hot, but we wouldn't be surprised if that person is visually impaired.
The idea of 'Lyrics'
Conventionally, the word 'lyric' implies there's a certain literary cadence to the words of a song. Here's a sample of what Bollywood lyricists would have us believe is poetry:
"Bootylicious bong bong oh jango bloody
Bootylicious bong bong oh jango bloody" (Action Jackson)
"Meeaow meeaow kaahe shekhi baghaare
Bille ko dil ke tu sher pukaare" (Jai Ho)
"Love ne saala band bajaya
Kar deeta jeena haraam" (Dishkiyaaon)
"Hangover teri yaadon ka
Hangover teri baaton ka
Hangover teri yaadon ka
Hangover teri baaton ka" (Kick)
"Pink lips, pink lips, pink lips
Pink lips, pink lips, pink lips
Pal-pal tujhko karte miss." (Hate Story 2)
So as might be obvious, it's been a dangerous year to go to the movies. Bollywood has been to many of us viewers what gamma rays were to Bruce Banner and this writer has noticed that her skin has acquired a distinctly green tinge in the last 12 months. May 2015 be kinder to us all.
Find latest and upcoming tech gadgets online on Tech2 Gadgets. Get technology news, gadgets reviews & ratings. Popular gadgets including laptop, tablet and mobile specifications, features, prices, comparison.
Sports
Osasuna came from behind to draw with Huesca 1-1 on Friday, keeping the visitors winless since their return to the Spanish league.
Sports
Pique cried as he hobbled off the pitch during Barca's 1-0 defeat by Atletico Madrid in La Liga on Saturday following a colission with Angel Correa.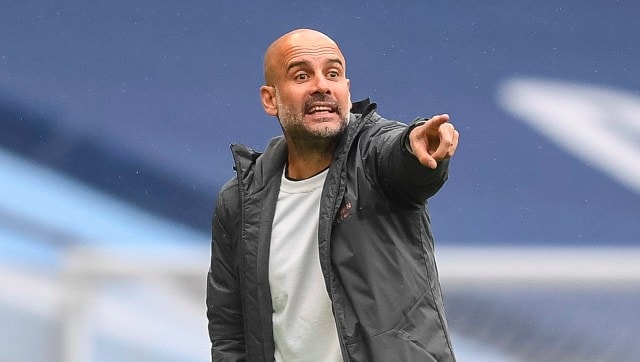 Sports
It is not the first time Guardiola has downplayed a talk of a reunion with his former player at City. This time, though, he left the door ajar.