2.0: Rajinikanth, Shankar's magnum opus expected to collect Rs 20 cr in Telugu states, say trade pundits
2.0, which also stars Akshay Kumar, Amy Jackson and Sudhanshu Pandey among others, will release as early as 5 am on 29 November in Telugu states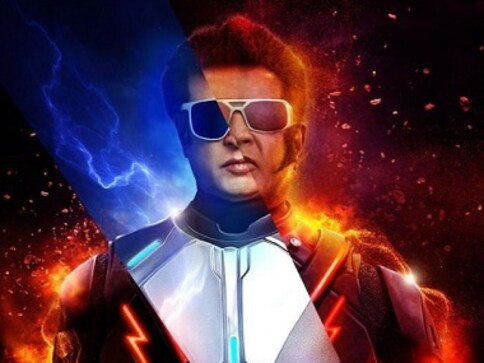 The world is waiting for 2.0 as it marks the reunion of superstar Rajinikanth and filmmaker Shankar, two of the biggest forces to reckon with in Indian cinema. Mounted on a lavish budget of nearly Rs 600 crore, the film has been in the making for a long time. While it may be too early to comment on whether the film will be worth the wait at this stage, trade analysts have already spoken because of the excellent pre-release buzz and business the film has already garnered.
While there's no denying 2.0 is going to open to earth-shattering numbers in Tamil Nadu, it's worth mentioning that it has great expectations from Telugu market as well, where films of both Rajinikanth and Shankar have done exceptionally well over the years.
"This is the biggest film of Rajinikanth and Shankar, together. This alone is a reason good enough to draw audiences to the theatres. Both Rajinikanth and Shankar have very big market in Telugu states. Both their previous films Sivaji and Enthiran did exceptionally well in Telugu at a time when there was hardly any market for dubbed Telugu films from Tamil (industry)," a leading distributor revealed, on condition of anonymity.
Over the last five years, the market for Tamil films dubbed in Telugu has increased exponentially, and 2.0 is releasing at a time when Vijay's Sarkar has struck gold at box office in both the Telugu states.
"The success of Vijay's Sarkar couldn't have come at the right time. It has emerged as the biggest hit for Vijay in the Telugu market, which he has finally cracked. The theatrical rights of 2.0 have been sold for a whopping Rs 85 crore, which is the highest for a dubbed Telugu film and trade pundits believe it will open big in Andhra and Telangana," a trade analyst said.
If the trade estimation is anything to go by, the Telugu dubbed version of 2.0 is expected to collect around Rs 20 crore on first day in both the states.
Did the delay in release of 2.0 affect its prospect at the box-office in any way in Telugu states?
Originally slated for release last November, 2.0 was postponed at least three times. The film was originally bought by Global Cinemas, but they opted out of the project and the theatrical rights were eventually bought by NV Prasad.
A theatre owner from Hyderabad said the multiple postponements in a film's release usually affect its distributor. "Irrespective of when a Rajinikanth film releases, it's sure to draw audiences. Enthiran did really well in Telugu as it was the first major science-fiction film of its time. Audiences lapped it up. The Shankar-Rajinikanth brand will draw family audiences and kids."
The theatre owner added that it will be advantageous for 2.0 as the film will have a simultaneous release in Tamil and Telugu.
"If such a big film doesn't have a simultaneous release in both the languages, then it might miss out on making a big impact at the box office. What happens is that audiences end up watching the film in the other language out of sheer excitement. So many good Tamil films lost out on making an impact at the Telugu box-office due to a delayed release," he said, pointing out the example of the Baahubali films which had a simultaneous release in Telugu as well as Tamil.
2.0, which also stars Akshay Kumar, Amy Jackson and Sudhanshu Pandey among others, will release as early as 5 am on 29 November in Telugu states. It's going to be the biggest release in Rajinikanth's career.
News & Analysis
Elon Musk expects that employees at Twitter, who share his vision of Twitter 2.0, will sleep at the office, just like he does, until the organisation is fixed. Musk also famously slept at the Tesla factory back in 2018, when he was working on Tesla Model 3.
Entertainment
There are many extraordinary action sequences in RRR. Rajamouli unleashes a brutal sensory assault.
Entertainment
Rishab Shetty's Kantara recently entered the Rs 400 crore club at the global box office.