2.0 music review: AR Rahman's techno beats, Sid Sriram's vocals are addictive
The music of 2.0 is not AR Rahman's best work but it certainly gets uplifted by the vocals of Sid Sriram, the newfound South Indian cinema's Arijit Singh.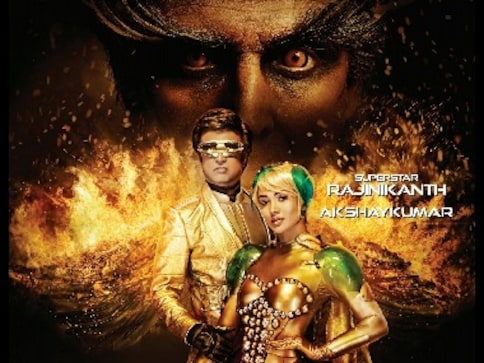 After one of the grandest audio launches in recent times, fans are now grooving to the much awaited AR Rahman tracks from 2.0, starring Rajinikanth, Akshay Kumar and Amy Jackson. The film directed by S Shankar is a sequel to 2010's Enthiran.
The Shankar and Rahman combo goes all the way back to Jeans and this is the third time in a row that the maestro will be scoring music for a Shankar and Thailavaa mega project.
This sci-fi film boosts only of three songs out of which the Tamil, Telugu and Hindi versions of two tracks were released last night in an epic launch hosted by Rana Dagubatti in the presence of other stars.
Hours before the launch, the songs had leaked online, both killing the buzz and adding to the hype.
This latest album so far is exactly what one would except out of a Rahman-Shankar-Rajini combo. Needless to say, the tracks 'Endhira Logathu' and 'Rajali' are more like a continuation to Enthiran's jukebox. But there is one element that makes the playlist a tad bit different from the previous one.
Here is what we thought and what stands out in the much anticipated compositions.
Endhira Logathu
Shashaa Tirupati kickstarts 'Endhira Logathu' on a mysterious note and in trademark Robot style. Then, we are transported into lots of techno, groovy beats and some subtle melody as well. And suddenly, it strikes you. What stands out in the midst of this typical AR Rahman-Rajini track is Sid Sriram's vocals. The singer is a breath of fresh air in this album which otherwise has nothing we have not already heard of.
Raajali
'Raajali' is the track that uplifts the soul of the movie.
It is evident, through the pace of the track, that it is tailor-made for Rajini's role. One can typically imagine the superstar in a larger than life setup with this one. We must say, 'Rajali' might just be the 'Irumbile Oru Idhaiyam' (Enthiran) of 2.0.
Sid Sriram, who is the new Arijit Singh of the South industry, is definitely the highlight of this album yet again. The singer who otherwise was known for his addictive melodies like 'Yennai Matrum Kadhale' and the latest hit 'Maruvaarthai', has proved that he can be the voice behind such peppy and high techno songs too.
The music of 2.0 https://t.co/XyWY11rn9J

— A.R.Rahman (@arrahman) October 29, 2017
The 2.0 songs released so far are a feast for Rajini's audience. The tracks are tailor-made for a plot like 2.0's. But we sure have heard better from Rahman. And yet, the 'Neruppu Da' feels from Rajini's last outing Kabali, is yet to be witnessed in this jukebox.
Entertainment
Taylor Swift's Mr Perfectly Fine talks about heartbreak and parting ways with a seemingly perfect suitor.
Entertainment
Even when DMX's personal struggles threatened to overshadow his musical legacy, he never hid his hurt, never let shame overshadow his truth.
Entertainment
The class-action settlement, reached between organisers and 277 ticket holders from the April 2017 event, is still subject to final approval.