2.0 audio launch: Rajinikanth, AR Rahman talk about working together, Dhanush praises film
Rajinikanth and the entire cast and crew were in attending at the audio launch of 2.0. AR Rahman played the unreleased third track of the film with the Macedonian Symphony Orchestra
The highly-anticipated audio launch of Rajinikanth-Shankar's mega-budget sci-fi action thriller 2.0 was held at the sprawling Burj Park, Downtown Dubai on 27 October. The cast and crew were in full attendance, including Rajinikanth's family members such as Latha Rajinikanth, Soundarya, Dhanush, and Aishwarya.
The makers were in for a shock the previous day, after two songs from the album were leaked on the Internet even before the event could begin. Within minutes, the songs were viral on social media platforms and also on WhatsApp, where people shared the tracks enthusiastically.
The event started with a spirited dance performance by choreographer Bosco Martis and his troupe of 50 dancers. The team grooved to the chartbusters of Shankar and AR Rahman's famous collaboration.
'Shankar is still tough, jovial and quality-conscious' - Rahman
When asked about their fruitful journey together from Gentleman (AR Rahman's first association with Shankar) to 2.0, Rahman said, "Nothing has changed. It's the same. Shankar is still tough, jovial and quality-conscious. And, he is always ahead of everyone. We've always wanted our audiences to feel excited, and we have concentrated on giving something new. Shankar is very passionate about his work. His commitment always inspires me. Also, he used to say that my work inspires him. So, it's always mutual."
Rahman joined forces with the Macedonian Symphony Orchestra and performed three songs from the album, including an unreleased track penned by late lyricist Na Muthukumar.
Speaking about his long-standing collaboration with Rahman, Shankar said, "The 'Irumbile' song from Enthiran is our most challenging work. It depicted the love between a machine and a woman, a never-seen-before situation in Tamil cinema. To create a new sound for that situation was quite challenging for Rahman. In 2.0, we have created another fresh track to showcase the love between two robots. Finding a unique sound has always been very tough for both of us. But Rahman always surprises me and comes up with inventive sounds every single time."
'Even if a film is average, don't hurt sentiments on social media' - Rajinikanth
Summing up his forty-year-long journey in the film industry, superstar Rajinikanth said, "I wonder how time has passed so quickly. I feel like it's just been four or five years. The journey has been great mainly because of the love of God and the people. Money, fame and name will bestow happiness only to an extent, especially in the initial stages. Later, even if you have all the three, they won't give you satisfaction. But, you will feel unfortunate if you don't have them. It's an amusing feeling."
As a message to his fans, Rajinikanth said, "Support good films and encourage good artists. Even if the movie is average, don't hurt the feelings of others on social media."
Karan Johar, one of the hosts alongside Rana Daggubati and RJ Balaji, asked Rajinikanth about the one quality that he likes in human beings. "Everyone loves their homeland and mother-tongue. I like that. But the younger generation is slowly forgetting our tradition and culture. If you want to enjoy your life really, you should not forget your roots," replied Rajinikanth.
'There's so much to learn from technicians in the South' - Akshay Kumar
Akshay Kumar said he has never played a role like Dr Richard in his entire career, and thanked director Shankar for giving him the opportunity to lock horns on screen with Rajinikanth. "I kept learning throughout the project. There's so much to learn from the technicians in the South, such as vision, respect and unity with regards to their work. 2.0 is a sci-fi thriller with a very important and essential social message for audiences."
'Rajinikanth always strives to improvise on set' - Shankar
Reiterating that 2.0 is not an extension of his 2010 blockbuster Enthiran, director Shankar heaped praises on Rajinikanth's commitment. "Even during his treatment, Rajinikanth sir performed with incredible energy whilst sporting a 12-kilo suit even when the temperature was 40 degrees in Delhi. For a sequence we shot in Thirukazhukundram (in Tamil Nadu), he had to stay inside a box buried under the ground for nearly four hours. He completed those scenes without any fuss. Despite his enormous experience, he still wants to experiment with his shots. He always strives to improvise on set to provide a fulfilling experience for his fans."
Shankar said although he wished to work with Rajinikanth even before his Mudhalvan days, it took him 11 years to join hands with him for the first time in Sivaji.
While Latha Rajinikanth said that she is extremely proud of her husband and that she salutes him for putting in so much hard work for 2.0, daughter Aishwarya said that she was present at the event as his daughter, to support him. Soundarya, on the other hand, said that she was there as a fan rather than a daughter. "It's such a fantastic feeling to be part of a significant event like this. I love my father more than anything and anybody. Shankar sir has always been a huge inspiration. I've grown up watching his films. It's an honour to be a part of the industry where you're working," she said.
Dhanush spoke about the grandeur of the event. "It's probably one of the grandest and most magnificent audio launches Indian cinema has ever witnessed. It's a privilege to be a part of this event. At a time when even moderately famous actors want to pack up after working a few hours, I've seen Rajini sir working relentlessly even at the wee hours of the morning with the same style and energy. His love for the work he does is unparalleled. That's why everything keeps coming to him. And, he never chases anything," he said.
Entertainment
Karthik Subbaraj discusses his experience of working with Dhanush on Jagame Thandhiram, the film's delayed release and what he is looking forward to do next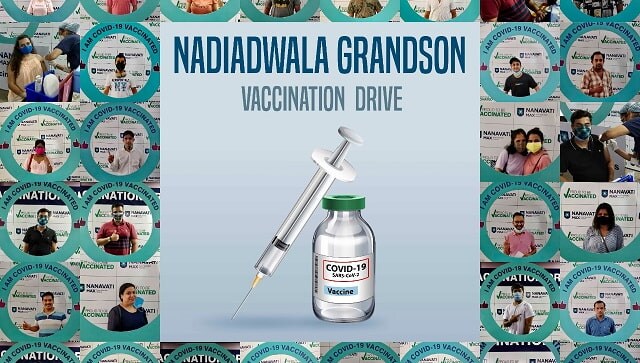 Entertainment
The employees who received the vaccination mainly belonged to the crew of Sajid Nadiadwala's upcoming movies --Heropanti 2, Bachchan Pandey, Kabhi Eid Kabhi Diwali and Tadap
Entertainment
Satyadev revealed the news during a Clubhouse interactive session that took place on 6 June.