13 Reasons Why season 2 in row over graphic depiction of rape, gun violence; show creator defends scenes
13 Reasons Why has run into controversy again, for its depiction of the brutal rape of a male character in season 2's finale episode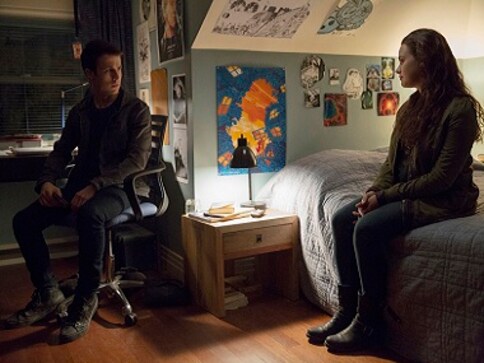 Within days of being released on Netflix, the second season of the TV series 13 Reasons Why has run into a controversy over the depiction of sexual assault and gun violence in its finale episode.
Viewers took to Twitter to speak out against the graphic sequences in the finale, and some have asked for the show to be taken off air.
Based on Jay Asher's YA novel of the same name, 13 Reasons Why follows the sequence of events that led to a 17-year-old high school student, Hannah Baker (played by Katherine Langford) to commit suicide. She records the 13 reasons that prompted her to take the extreme step on eight audio cassettes and leaves them behind with a friend. The viewers discover the story as Hannah's classmate Clay Jensen (Dylan Minnette) plays the tapes and unravels Hannah's secrets.
While it proved to be a worldwide phenomenon, the first season (which aired in March 2017) also met with harsh criticism for the way it depicted Hannah's suicide. The scene had Hannah climb into a bathtub and slash open her wrists, with her parents discovering her later in a pool of blood. Experts felt — and not without reason — that impressionable teens who were watching the show might feel suicide was the only way out of troubling situations. In the US, search volumes for terms like 'how to commit suicide' rose by 1.5 million in the months immediately after the show aired.
When it returned for season 2, 13 Reasons Why had made a committed effort to address any possible criticism over its handling of suicide. Crisis resources wee made available at the end of each episode, cast members appeared in discussion guides, and disclaimers — as well as content warnings — were added at the start.
13 Reasons Why season 2 review: Assured when dealing with sexual assault, mental health; falters on gun violence
However, this new season also takes on issues like gun violence and the aftermath of sexual assault, in addition to suicide prevention and mental health. And the series has met with mixed reactions for its portrayal of these issues.
The specific scene shows a male character being beaten up by three schoolmates, then brutally sodomised with the wooden end of a mop, later shown to be smeared with blood. The character is later driven to carry guns to school to shoot down his tormentors.
The extremely graphic nature of the assault (the episode comes with a trigger warning at the beginning) has prompted critics to label 13 Reasons Why as a "ticking time bomb" for teenagers. There have been demands to have it pulled off air.
Twitter users specifically pointed to the assault scene, and said it served no purpose but shock value:
I understand that 13 Reasons Why is a show that displays the harsh realities of the world, abuse, suicide, rape, depression, etc...

But season 2, episode 13, at time 38-41 is unacceptable. It is a reality in this world, but that went beyond graphic and I am sick.

Beware.

— sami (@sraihane1) May 19, 2018
13 reasons why is a truly disgusting show, i hope none of my mutuals watch it/support it in any way. the writers/producers do NOT care abt people with mental illnesses or abt raising awareness around mental health. they care abt romanticizing mental illness, rape and suicide + — lia (@koosclub) May 19, 2018
Why is it becoming normal to show actual rape scenes in tv shows especially ones aimed at teenagers.. like I hate that my sister watches 13 reasons why it disgusts me but she's literally the target audience of the show

— marsella (@marsella_kay) May 19, 2018
ok. but THAT scene was SO unnecessary. that was disgusting. that was horrific. that was uncalled for. #13ReasonsWhy — gianna adores luke (@yngbldflicker) May 21, 2018
The final episode of season 2. Just so everyone knows.
From 38:20 to 39:50, there's a really, really intense and graphic sexual assault scene.
It super messed me up. If you can't watch, DON'T. I wish someone else had warned me, because I couldn't sleep after that.#13ReasonsWhy

— Julia Mayhem (@Julia_Mayhem) May 21, 2018
i agree with raising awareness for depression, suicide, self harm, and rape but the way #13ReasonsWhy has portrayed people suffering with these is really demoralising and sends out the complete opposite message: glorifying mental illnesses — em🌹 (@_emxox_) May 21, 2018
Still others defended the show, saying that it had shown nothing that didn't take place in real life.
i agree that the tyler's moment in episode 13 was hard to watch..
but what happened is true and some people go through that shit, so if you think that was too much to watch, take a second and think what others have felt and no one talks about it #13ReasonsWhy

— Nour (@BooksAndPWesley) May 19, 2018
All of y'all are pissed because Tyler got sodimized in with a broom #13ReasonsWhy2 .. but this happened at my former school to a kid I know. Multiple football players raped a 15-year-old boy with a broomstick. I heard about it I almost threw up. #13ReasonsWhy needed to show this.

— brae alnett.🌼 (@awkwardlybrae) May 19, 2018
Meanwhile show creator Brian Yorkey defended the decision to depict the rape scene, in a statement issued to Vulture:
"We're committed on this show to telling truthful stories about things that young people go through in as unflinching a way as we can. We fully understand that that means some of the scenes in the show will be difficult to watch. I think Netflix has helped provide viewers with lots of resources for understanding that this may not be the show for everybody, and also resources for people who do watch it and are troubled and need help.
But the fact is that, as intense as that scene is, and as strong as are or reactions to it may be, it doesn't even come close to the pain experienced by the people who actually go through these things. When we talk about something being "disgusting" or hard to watch, often that means we are attaching shame to the experience. We would rather not be confronted with it. We would rather it stay out of our consciousness. This is why these kinds of assaults are under-reported. This is why victims have a hard time seeking help. We believe that talking about it is so much better than silence."
Entertainment
Controversial show 13 Reasons Why has been renewed for a second season and will return to Netflix in 2018.
Entertainment
Actors have been tweeting images from the new season of 13 Reasons Why.