Why Mukhtar Ansari in Varanasi should worry Modi, Kejriwal
Mukhtar Ansari isn't known as much for his political skills as much as for his criminal past.
BJP's Narendra Modi may tout his 56-inch chest and Arvind Kejriwal may claim to be revolutionising India, but if they ever meet their potential fellow contestant from Varanasi, Mukhtar Ansari, in a dark lane, a prudent line of action may be to make a run for it.
Ansari is one of the many political candidates who has a criminal record but this Quami Ekta Dal MLA, who narrowly lost out to Murli Manohar Joshi in 2009, has a rap sheet that would make even your average criminal blush in shame.
Currently biding time in Agra jail, the 53-year-old Ansari is an accused in the 2005 murder of a BJP MLA and had fought the last election on a ticket from the Bahujan Samaj Party before his family decided to form their own political party.
A native of Ghazipur, Ansari has a long and proud political lineage and the family is even related to Mukhtar Ahmed Ansari, who was president of the Indian National Congress in 1927. The antecedents of Ansari's criminal empire are not known but some accounts say he started by competing for municipal contracts, using the bullet to eliminate competitors.
Ansari is accused of being involved in several murders in the 1990s, mostly of rivals, and was reportedly involved in building a large criminal network in the eastern region of the state with his associates involved in a wide range of ventures.
The rise of Ansari was mirrored by the rise of another gangster Brijesh Singh and also spelt  a difficult time for his family. Around the same time that Singh's empire was growing, BJP MLA Krishnanand Rai routed Ansari's brother, Afzal, in the 1997 election.
Emboldened by his rise, Ansari's rival made a daring attempt to eliminate him in 2001. Singh then engineered an attack on Ansari's convoy on the Mau-Lucknow highway in which three men from Ansari's gang were killed. Singh was also reportedly critically wounded, but Ansari escaped unhurt.
Singh was presumed dead, but in keeping with all good gangster tales, the Economic Times says that he is alive and well in Odisha and is now running a gangster network there.
However, Singh's departure meant that Ansari only strengthened his hold in his former territory and went after the BJP MLA who had defeated his brother and was rumoured to be associated with his rival.
Krishnanand Rai was killed in November 2005 along with seven supporters when armed men on motorcycles fired at them with AK-47 assault rifles, reportedly the first time the weapon was used for a murder in the region. Ansari is accused of having given the contract for the murder and was arrested for it.
But being in jail hasn't affected Ansari's political career, barring his loss in the 2009 general election. In 2012, he became MLA of Mau on a Quami Ekta Dal ticket, the fourth consecutive time he won the seat.
Ansari expectedly doesn't give much credence to the stories about him and says he only works to serve the poor.
"Even inside the jail, I serve the people. Even when they issued a TADA warrant against me. I have full faith in the judiciary," Ansari told Tehelka
Facing charges under the Maharashtra Control of Organised Crime Act, Ansari also has his quirks and according to one report, had local officials in a tizzy when he cornered 100 telephone numbers ending with 786. He also reportedly managed to get his passport to end with the same digits after officials decided to give in to his request.
Ansari's has now declared he's contesting from Varanasi but he's confident of cornering the Muslim vote in the seat if he does. Till Kejriwal proposed his own candidature in Varanasi, Ansari could have hoped for all the other parties to back him and will now in all probability be part of a triangular contest in which he will mostly play a spoiler to one of the other candidate's chances.
But being part of a three-way electoral contest wouldn't be the most sticky situation Ansari would have ever faced. If his history is anything to go by, his rivals have often had more to fear than he does.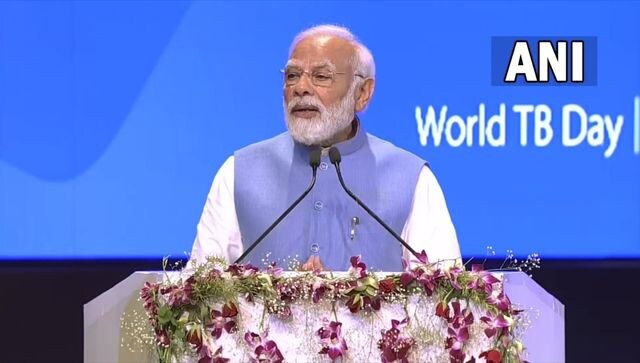 World
2030 is the global target to eradicate TB but India is now working on the target of ending TB by the year 2025: PM Narendra Modi at the 'One World TB Summit' in Varanasi, Uttar Pradesh.
Opinion
The BJP cannot simply be cast into the western framework of right-wing or left-wing, nor can it be identified as a 'conservative' or a 'liberal' party
India
Rampur, located 320 km north of the Uttar Pradesh capital, was once known for its several small-scale units that made high-quality foldable knives