Rahul Gandhi rakes up Snoopgate, Modi to woo back Delhi
Rahul Gandhi's big rally in Dakshinpuri in Delhi was clearly a source of great anxiety for his party. The last one before the Delhi Assembly elections had proved to be a gigantic dud. This time the Congress went all out to mobilize the faithful.
The two Congress workers surveying the completely deadlocked traffic looked pleased as punch.
"Now that was a successful rally. Just look at this," one said to another his face wreathed in smiles, as throngs of rally-goers crossed the street while vehicles honked in paralysed frustration.
Rahul Gandhi's big rally in Ambedkarnagar in Delhi was clearly a source of great anxiety for his party. The last one before the Delhi Assembly elections had proved to be a gigantic dud. This time the Congress went all out to mobilize the faithful and show that as far as rallies went their leaders were second to none. It takes a village, sometimes several, to raise a good rally.
But the anxiety was still palpable. As they waited for Rahul in the hot afternoon sun, Congress leaders hammered home the same message.
"There is sunshine, it is hot, you will get thirsty, but we will not leave till our leader Rahul Gandhi speaks. Promise? Indira Gandhi ki kasam?"
Now that's a pretty sacred promise in Congress-speak.
"Last time the problem was he came hours late. And they had no water for the crowd and the public was anyway upset with Sheila who was too arrogant," said Hari Ram Kohli, a party official.
In the end it all worked out. The crowd stayed. They showed the required excitement for Rahul by standing on their chairs and screaming Rahul Gandhi zindabad. And Rahul himself managed to deliver a speech that had more fire than usual.
"Today he had more josh," said a beaming Kamaljit. "It was a success. The ground ended up being too small for him."
"It should have been at the Ram Lila," said her colleague Satish Kumar Dank.
Of course, the bar is low. Rahul is more famous for gaffes and metaphors that become the laughing stock of social media. But at the Virat Cinema Ground he delivered on a couple of golden Congress basics.
He announced more rights or adhikaars – a right to free medicines for the poor and to a roof over their heads. He promised a dedicated freight corridor which not surprisingly did not set the audience on fire. But he also did something he usually cannot quite manage.
He took sarcastic digs at Modi. The BJP talks about women's shakti he said but in Gujarat they tap women's phones. He took a swipe at the delay in the BJP manifesto quipping there's no need for a manifesto in a party where one man knows everything.
The BJP, Rahul claimed was a party which practised the politics of one man. The Congress was a party that practised the politics of love. Of course, the Congress is also a party that seems permanently stuck waiting on the whims of one man, but the crowd did not seem to catch that irony.
"I liked that stuff about the new rights," said Liyaqat A. Dhole from Thane. He is a diehard Congress man, posing for the crowds in his Congress tunic with the faces of Indira and Rajiv Gandhi painted on it. Rahul, he admitted is a so-so speaker, always in a bit of a hurry like his father but he works hard.
"If he is a shehzada, he can sit at home and eat and it still would not finish. He does not need to do three rallies a day. He works hard," said Dhole.
The Congress is the party for the poor and dispossessed, the thelawalas and the farmers, claimed Rahul.
Inke liye larenge, inke liye marenge. (I will fight for them, I will die for them.) Now those are fighting words from the Congress' reluctant prince.
While the crowd erupted into frenzied applause for Rahul, often drowning out his speech, there's also a sense of an audience that's indulging their boy prince. Arvinder Singh Lovely, the Congress chief in Delhi, told his over excited supporters that once Rahul comes there should be no slogans in anyone's name other than Rahul, Sonia, and perhaps an occasional Indira Gandhi amar rahe. At the end Deepak Wadhwa sitting next to me asked what I thought of the speech. "Was it okay?" he asked like an anxious parent.
Wadhwa, who works with the Congress, denied that the party's morale was at an all-time low. He's confident that at least three of the Delhi seats will go to the Congress.
"Now that AAP has struck its own foot with its cudgel with its impatience Congress will gain," he said confidently. "People say hawa hawa but the wind can change in two days."
He claimed the churn in the party after the Delhi elections was for its own good. Sheila Dikshit is gone. Sandeep Dikshit might fall after this election. He put his bet on Arvinder Singh Lovely to re-energize the base.
"He wants to be CM. He's working hard to ensure at least three victories in the Lok Sabha," said Wadhwa. "I guarantee 25-30 of the candidates from the last Delhi election will not get a nomination the next time."
In fact, oddly, the party is taking solace in its own defeat in the Delhi Assembly in December to ignore the dire predictions of its fate in these upcoming elections.
"I don't trust opinion polls," said Hari Ram Kohli. 'Who would have thought AAP would win so many seats in December?"
But it's undeniable that despite Rahul's bravado and their own brave face, despite all the cheers and slogans, the party knows it has its back to the wall.
"It was a great speech," said Rekha. "But whether it makes a difference or not all I know is that our party, whether it wins or loses, is a majboot (sturdy) party."
And if Rahul fails for the Congress there's always Priyanka. "She is ditto Indira Gandhi," marveled Dhole. "When she comes, she will be there for twenty years."
Now that is the voice of the faithful. But even among the apparently faithful looks can deceive.
Standing outside the grounds, Neeraj posed for photographers. His face daubed in the Congress colours of orange, green and white, with a Congress scarf around his neck he was a photographer magnet.
"I am surprised your face paint did not become streaky in the heat," I told him. "You are a true fan."
"I wasn't even in there," scoffed Neeraj. "Someone just gave me this scarf now. I painted my face in these colours for the Indian team in the cricket match."
But these days, for a beleaguered Congress that might be good enough.
Subscribe to Moneycontrol Pro at ₹499 for the first year. Use code PRO499. Limited period offer. *T&C apply
Politics
Ripun Bora expressed confidence that Congress and its five allies will win over 101 of the 126 Assembly seats in the polls likely in March-April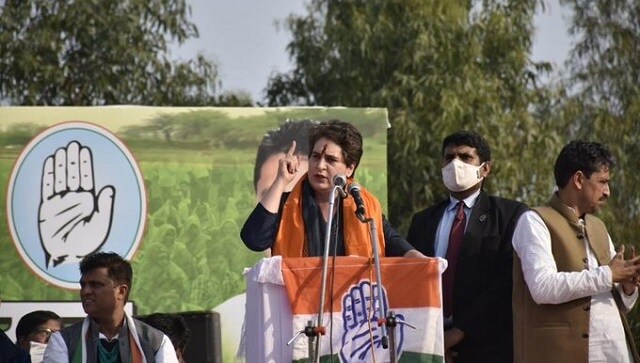 India
Addressing a 'kisan panchayat' in Uttar Pradesh's Bijnore, the Congress leader also claimed that farmers were "ridiculed" in the Parliament and "dubbed as traitors" by ministers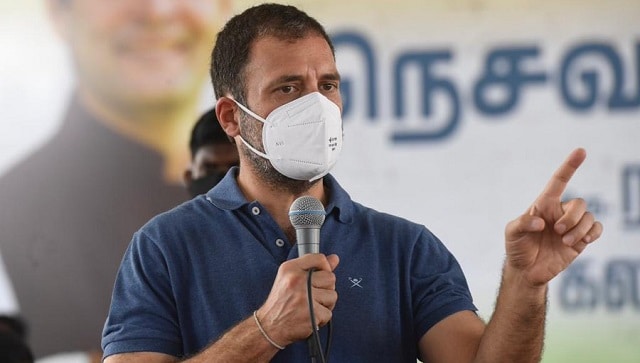 Politics
Speaking at a press conference, Randeep Singh Surjewala said, 'The North-South divide is a toolkit being adopted and sold by the BJP to the news channels and the public'