Of Kashi Yatras, childhood tales: Why Modi's choice of Varanasi is apt
Home to 330 million deities, there are as many colourful reasons for the choice of Varanasi. Why subject us to the boring line that it's election strategy?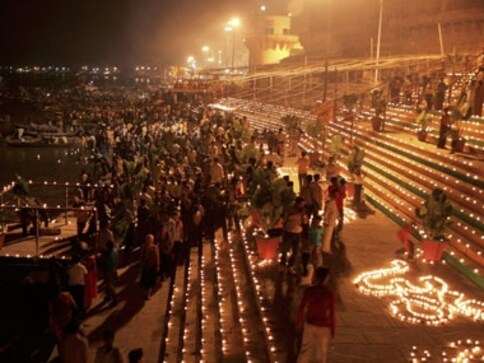 Growing up in a mildly conservative but excessively religious Hindu household, Varanasi featured heavily in the mythological tales that I heard from assorted elderly guests and the one surviving grandmother. And every time, Kashi would appear more fantastic than in the previous story, much more gush-worthy than the "blindingly colourful and unrelentingly chaotic" city that Lonely Planet found.
None of that iconography, sadly, features in our current discussions on Varanasi, the big battleground constituency to watch this Summer
. And that's a tragedy, for even going by the logic that a seat in Uttar Pradesh for Modi was a necessary election strategy for the BJP as it tries to shore up its numbers in the state with 80 seats on offer, why Varanasi was selected from among 80 options must surely have a good reason?
After months of toning down his image as a Hindutva hardliner, Narendra Modi has picked Varanasi as his charioteer's post for the BJP's UP battle, that most symbolic of all of UP's constituencies, home to all the three hundred and thirty million deities in the Hindu pantheon. Dipping into the stories I grew up on, there have got to be at least as many colourful, awe-inducing reasons to to pick Varanasi.
But when he spoke in Varanasi last December, Modi was careful in the imagery he allowed in his speech. Nobody expected him to go for mandir or for Hindu, but he went for Ganga maa, going for the environmentally sensitive PM candidate-meets-good Bollywood son. He also picked the Banarasi saree, not the equally famous and more gender-neutral paan, promising a better life and Surat-style powerlooms for the makers of the saree-that-covers-her-modesty.
I was a little miffed: That this is the city of lights didn't find mention, neither that the city is built on a complex mandala that's home to all directions, all seasons and all gods. He didn't even remember to point out that he was in the only city that is outside the cycle of kali-yug. (According to the tales I was so fascinated by, the cow signifying dharma stands on four perfect legs in the first yug, loses a leg in the next, hops on two legs in the next and in the final yug, Kali Yug or the age of strife and war and all things that precede disaster, dharma stands on its last leg. Kashi, as required by its stature as the perfect city, remains outside the cycles of the Yugas.)
The other, somewhat less fascinating, tale of Kashi I remember is from the hundreds of Tam-Brahm weddings I attended as a teen. That is the Kashi Yatra, an integral part of the Iyer wedding, when the groom walks off mid-ceremony, apparently suddenly enticed by the idea of an ascetic's life or perhaps not very enthused by the gifts from the bride's father. The rest of the ceremony would play out in the compound or roadside adjoining the banquet hall -- the young man walking with an umbrella (no, I don't know why) and the bride's father persuading him to return and accept his daughter's hand.
Well, nothing can persuade Modi to return, his Kashi yatra has begun.
And since that is so, it might be the right time to recount another of those Varanasi tales, one the Gujarati voter would be especially interested in, since all eyes will soon be on Modi's dilemma if he wins both seats and has to relinquish one.
Legend has it that an administrator par excellence is picked to rule Kashi but king Divodaasa will wear the mantle only if the gods retreat to their heavens from the fabulously built city of Kashi that is slowly falling to mismanagement. Shiva is packed off to Mount Mandara, his new home, where he spends his time pining for Kashi.
Longing gets the better of him and he deviously sends a string of emissaries to trip up the good king, from the sun god to 64 young women to Lord Brahma to Ganesha. Tasked with ferreting out a loophole to exploit, some shred of evidence that the king had failed his dharma even for a millisecond, the emissaries not only fail their task but choose to never go back. The story goes that Kashi was so magnificent that nobody who goes there ever returns. Modi might not either, it goes without saying.
That story ends with Divodaasa falling eventually, after more deceit by celestial beings, lured by the idea of emancipation, allowing Shiva a gracious return to his paradise. And in that little twist in the tale lies the best reason Modi has for picking Varanasi. It's one of the spots of and for the transcendental, a crossover city if ever there was one, ideal for an aspiring prime minister.
India
Prime Minister Narendra Modi, on Monday morning, left for Kushinagar in Uttar Pradesh, which is believed to be the place where Lord Buddha attained nirvana, after which he will leave for Lumbini in Nepal
India
A Supreme Court bench of Justices DY Chandrachud and PS Narasimha acceded to the request by advocate Vishnu Shankar Jain to defer the hearing on Gyanvapi mosque case till Friday
India
SAMBHAV or Systematic Administration Mechanism for Brining Happiness and Value portal is said to be a multi-modal platform, which has been launched to dispose public grievances swiftly and effectively