Bengali actor Dev's 'enjoy rape' remark: The media's equally to blame
Could that group afford to censure the actor for the comment he made and evidently didn't bother to apologise later? Yes. Did it do so? No. Rather, it went ahead and devoted two pages to the interview with a huge picture of the actor when they could have chosen to not publish the interview in protest. That would send out a message.
Of the several precious rituals that our generation has laboriously cultivated - like sharing at least five memes a day, inviting ten unwilling friends on Facebook to help you grow a turnip on Farmville or inventing at least ten new Instagram hashtags that sound like drunken litany - being upset on Facebook is an important one.
It could be the auto driver, the friend bombarding you with pictures of her in-laws' terrace garden, Rahul Gandhi's speechwriter, Narendra Modi's best friend or the only article you managed to read in the day's news cycle because it is so ridiculous. I can't deny I am guilty of many of the above myself (doesn't include  the Farmville nonsense though) and it is exactly in the midst of my daily morning Facebook rituals that I bumped upon this - the cover story of a daily Bengali tabloid called Ebela.
The story carries a two-page spread interview of Dev, a Bengali actor who has been handpicked by Mamata Banerjee to contest as a Trinamool candidate from Ghatal in West Bengal.
Now Dev, though a star who rakes in big moolah in West Bengal and is easily the most desired actor in commercial Bengali filmdom, isn't someone who would find immediate place in Facebook conversations. Trust film snobbery to take care of that. So how did an interview of him make it to so many Facebook posts in such a short while? Because he said this about joining politics: "Enjoy... It's just like being raped yaar. You can shout or you can enjoy."
As the interview makes it clear, he said this followed by a 'laugh', which means he neither realised that his comment couldn't be remotely funny and that it was indeed a pathetic show of ignorance. More so when he is making a transformation into a political personality who is going to be responsible for not just one or two, but thousands of people if he were to be elected.
Now, the selection of Dev itself was pretty much shocking - the reigning commercial superstar of Bengali films, young and with thousands of fans, why would he give it all up for MP-hood? To abide by the model code of conduct, the release of his films have been held up, causing losses worth lakhs to the small film industry.
No one credits Dev with anything else apart from his dimpled smile, average dancing skills and trying-to-be Bollywood personality that works wonders in Bengal's box office. So, it might be a sour truth to stomach, but the outrage over Dev's comment is probably more shocking than the comment itself. Because it seems to stem from the presumption that he is the owner of better intellectual facilities than he just showed he has.
We are all out on Facebook, taking Dev apart into pieces and rightly so. But what about the rest of the players in the story? The reporter, a woman herself, who neither interrupted him or pointed out the gross violation the star was indulging in while he made that comment?
Most other rape-analogies, that we have witnessed in recent times have been made by an individual in a public space, not during an one-two-one interactions. Chetan Bhagat did it on Twitter and faced an immediate backlash. Ranjit Sinha said it during a speech at a panel discussion and had to later 'clarify' the context. In both cases the opportunity to cut the offender short immediately wasn't there.
However, in this case, Dev presumably said this during an interview, at leisure to a woman journalist who chose to continue with the interview despite the appalling nature of his remark. There is no evidence, at least in the interview published in Ebela, that she bothered to point out how gross Dev was being or protested to say it was wrong.
The interview, presumably edited and maybe the questions reshuffled, shows no mark of the interviewer being outraged or making an effort to counter the interviewee. It progresses, with little visible discontent, about the actor's debut in politics, the changes in his personality and his parents' opinion among other things.
The interview, presumably, also passed through more than one editorial front and was then given front-page glory in the tabloid. Evidently, the editors too found nothing either offensive with what Dev said or the reason to censure him for what he said. Now lets look at the publication - Ebela is a tabloid owned by the ABP group, the biggest and arguably the most powerful and influential media group in east India and West Bengal.
The same establishment also owns the Ananadabazar Patrika and The Telegraph. The latter have in their ranks some of the finest intellectuals of the day as writers and editors, though all of them couldn't have seen this coming. Could that group afford to censure the actor for the comment he made and evidently didn't bother to apologise later? Yes. Did it do so? No. Rather, it went ahead and devoted two pages to the interview with a huge picture of the actor when they could have chosen to not publish the interview in protest. That would send out a message.
The media is usually the first one to take offence, to assume a high ground from where others can be stripped with words for their moral inadequacies. Is it also not its responsibility to intervene, in situations where it is required to? Or it is convenient to shout with a chorus and not be the first voice of protest?
And all those outraging at Dev's audacity and marvelling at his stupidity, will they bother to tell the publication that it is probably as responsible in encouraging and perpetuating a pathetic strain of humour? Again, possibly no.
While we might click our tongues at Dev's idiocy, let's also face the truth. Rape is only a burden of its victims. The rest can only pretend to understand its crushing weight. And for those who don't even bother to do that, it's good meat of a news.
Find latest and upcoming tech gadgets online on Tech2 Gadgets. Get technology news, gadgets reviews & ratings. Popular gadgets including laptop, tablet and mobile specifications, features, prices, comparison.
Arts & Culture
We perpetuate the caste system by negating the existence of caste, trivialising the experience of people from marginalised castes, unseeing the absence of a large part of the country's population from institutions.
India
It was not just the fact that Koshyari chose to make an intervention, his manner of doing so was immeasurably crass and was a direct assault on constitutional values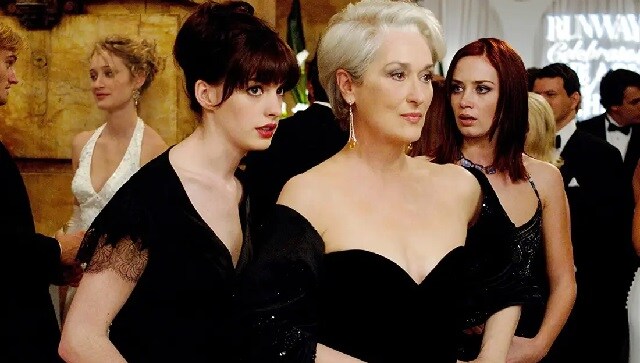 Entertainment
Despite having two women at its centre, The Devil Wears Prada ended up reaffirming and perpetuating harmful gender stereotypes for the most part.