AAP poised for a second coming, but it still has its strategy wrong
The Aam Aadmi Party is being written off too quickly by pundits. But the idea of AAP is larger than the ideas currently exhibited by its leadership. It's real impact this time should be counted in vote share, not seats
The opinion polls do not give the Aam Aadmi Party (AAP) much of a chance in the 2014 general elections, but, as noted before, the polls are better at capturing current established trends rather than subtle shifts in mood that develop closer to polling dates. This is why the pollsters got it wrong in Delhi last December, where they failed to fully comprehend the magnitude of AAP's latent gains, and this is why they might still be underestimating the party.
To be sure, I am not expecting AAP to win more than four or five seats on 16 May. I wouldn't be surprised if they even ended up with zero, but that should not be the real measure of AAP's performance. Like the BJP in the east and south, AAP's performance should be measured in vote share, not seats. Vote shares capture the ground shifting under your feet whereas seat shares capture the effect of volcanoes that have already erupted.
Moreover, AAP should be evaluated for the qualitative change it proposes to bring to the polity and not in terms of the quantity of seats it gets. This is because the idea of AAP - of clean government, led by non-doctrinaire belief systems that veer neither to Left nor Right - is bigger than the ideas its current leadership is able to articulate and capture in terms of voter intent. AAP under Arvind Kejriwal goofed up big time in Delhi, but one cannot count on AAP's leaders being foolish all the time. AAP will surely have a second coming.
Coming to the Lok Sabha elections, one need not be surprised if AAP's seat count is abysmal in Delhi, Mumbai, Haryana and Punjab. But one cannot rule out an AAP-surge in the July-August Delhi assembly elections. In Haryana, AAP could put up a better show in the October assembly elections (unless they get clubbed with Delhi), and in Maharashtra they could make an entry in some assembly segments.
In the Lok Sabha elections, I expect AAP to give us a positive surprise in Punjab where it has chosen good candidates and is drawing appreciative audiences far away from the high-profile BJP/Akali versus Congress contests, and the prestige combat between heavyweights Amrinder Singh and Arun Jaitley in Amritsar.
As this Times of India report notes, AAP is quietly building its base in Punjab by choosing the right candidates and the right issues that matter to people – drug abuse, alcohol addiction, and corruption – something neither Akali Dal nor Congress can talk about. The Times report finds a "compelling AAP story…unfolding. In constituency after constituency, Sangrur or Ludhiana, Patiala or Khadoor Sahib, the traditional Akali-Congress fight is being comprehensively turned into a three-cornered contest by a list of carefully-chosen candidates, something that has begun to worry the two major stakeholders."
A March opinion poll by Lokniti-CSDS-CNN-IBN gave the AAP a 14 percent vote share against the BJP-Akali share of 42 percent (and falling) and 29 percent of Congress (but rising). As polling day nears, if the AAP gains a bit, one cannot predict who will lose more. An NDTV opinion poll predicted a seat count of seven for Congress and six for the Akali-BJP combine, with AAP getting a 11 percent vote share and no seats.
But this leaves Punjab as a cliffhanger. A rise in the AAP vote can have a huge impact on both the main contenders. If AAP takes more votes from one party, that party could lose badly in terms of seats. It all depends on who Punjab voters think of as the bigger evil, and whether the anti-incumbency is stronger against the state government or the centre. The straws in the wind indicate that it is stronger against the state government, which has been around for eight years now.
If AAP does creditably in Punjab, it would mean that its second Sun will rise from the West – in Punjab – after a dismal show in Haryana, where it got everything wrong - strategy, issues and candidates – in the Lok Sabha elections.
AAP is not an idea that is going to die soon, but the lessons it needs to learn from the Lok Sabha fiasco are clear.
First, it was strategically wrong for AAP to spread itself so thinly everywhere without showing any results in Delhi. The sudden lunge for a political presence in all states made it seem like it was too greedy about making a mark everywhere without doing any real ground work.
Second, AAP obviously handled Delhi badly. The mistake was not about resigning – survival with Congress backing was never a long-term proposition – but about resigning in bad faith. Having once taken Congress support to form a government and then seeking a popular referendum to ask supporters whether he should form a government, Kejriwal resigned saying it was all about the Jan Lokpal – which it wasn't. Everyone knew he wanted the Delhi polls to be held along with the Lok Sabha polls. He could simply have been more honest about it – and the Delhi voter would not have seen him only as a quitter.
Third, Kejriwal rushing about everywhere to fight every one and his aunt did not make sense. It may have been important for the party's political positioning, but did the Delhi voter want him running all over the place when they were the ones who brought him into the limelight? If Kejriwal loses most of the Delhi Lok Sabha seats, it would be because of this sense of abandonment among Delhi voters. Why should the Delhi voter want a Kejriwal who wants to rush to Varanasi to make a political point?
Fourth, most of AAP's critical voter issues relate not to the centre, but states and municipalities. Issues relating to low-level official bribery, poor quality schooling for the poor, water and power costs are not central issues, but state and municipal issues. Kejriwal clicked in Delhi, because Delhi is both a state and a municipality.
Fifth, the most important thing for fledgling parties to establish is credibility – and this means getting into government and proving what can be done. In Delhi, Kejriwal was in a hurry to prove that everything can be done in a few weeks, which is a travesty. Issues like corruption are systemic. They cannot be solved in a hurry. They need hard work in a sustained way. Kejriwal betrayed a lack of patience, and a greater interest in agitational politics when in government. This simply alienated parts of his voter base.
The logical route for Kejriwal & Co to follow is from the municipal and state levels to the centre – and the party should be in no hurry to spread all over without creating a proper cadre and a proper gameplan.
AAP still has credibility – more credibility than the major political parties at the local level. The real problem with governance is at the state and local levels, not the centre. The huge scams at the centre may suggest that a clean-up is vital at the centre too – but this does not need grassroots political action. The courts and constitutional authorities are upto the task. If AAP wants a key issue at the central level, it should be federalism and devolution of powers to states and local bodies.
The real worms are lower down in the polity. And it requires hard work. For a party that believes in bottom-up planning and local manifestoes, the AAP has gone wrong by pretending power has to be grabbed top down – from Delhi. The way up for AAP is from below, where it could have real traction.
Find latest and upcoming tech gadgets online on Tech2 Gadgets. Get technology news, gadgets reviews & ratings. Popular gadgets including laptop, tablet and mobile specifications, features, prices, comparison.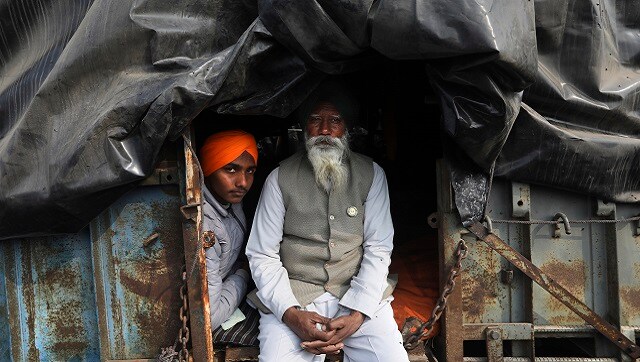 India
Protesting farm unions said today's march is just a 'rehearsal' for their proposed 26 January tractor parade that will be moved into Delhi from different parts of Haryana, Punjab and UP
India
The bonfire symbolises Lord Agni and after offering food to the almighty, people seek blessings, prosperity and happiness from the God of fire
India
Perched atop their tractors, protesting farmers moved out of the protest site as speakers on their vehicles belted out music keeping their spirits high. Others lined the path providing the fellow farmers with supplies, including peanuts, fritters, tea, and newspapers