Don't increase pictorial warnings on cigarette packs: Lok Sabha MPs
The two Lok Sabha members said that the pictorial warnings on cigarette packs had adversely affected farmers and beedi workers
New Delhi: Two Lok Sabha members today opposed expanding the size of pictorial warning on tobacco products, saying it had adversely affected farmers and beedi workers and their livelihood was in danger.
Sharad Bansode (BJP) and R Dhruvanarayana (Cong) suggested that a parliamentary committee's recommendation that the warning be restricted to 50 percent should be adhered to, prompting an intervention from Parliamentary Affairs Minister M Venkaiah Naidu, who noted that public opinion was growing in favour of discouraging smoking.
Raising the issue in the Zero Hour, Bansode claimed that if "you don't minimise (the warning size), all beedi workers would be jobless". He also urged the Prime Minister to address their concerns.
Dhruvanarayana said that the parliamentary committee recommendation was not implemented by the government, which increased the warning's size from 40 percent to 85 percent. Some members, including Supriya Sule (NCP), were seen nodding their head in disapproval as the members spoke.
Naidu spoke about public opinion and experts' warning against tobacco use, and said the increase in the pictorial warning size was one step in that direction. However, he said that they would have to evolve a consensus, while noting that farmers, especially in Andhra Pradesh and Karnataka cultivated tobacco. Government alone cannot do it, he said.
"We have to strongly encourage farmers to grow alternative crops. We have to find some solution," he said. Naidu added that he is willing to discuss the matter with Congress informally. "We have been discussing it but have not been able to find a meaningful solution," he said.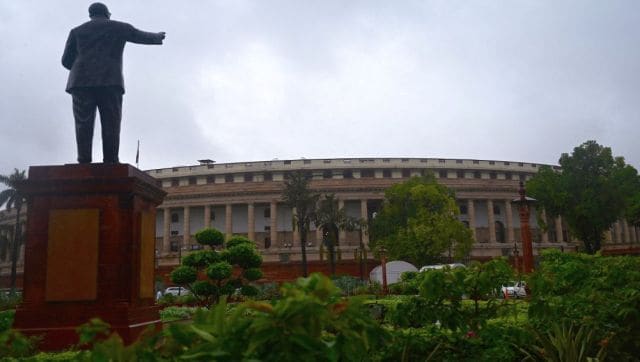 India
Prime Minister Narendra Modi along with Rajya Sabha Chairperson M Venkaiah Naidu, and Lok Sabha Speaker Om Birla will launch the new channel on International Day of Democracy
Politics
Earlier on Saturday, the home ministry reduced Supriyo's security category from the 'Z' to 'Y' category
Politics
Addressing the foundation day of the All India Mahila Congress, Gandhi said that the ideology of the Congress was completely opposite of the BJP-RSS and only one of the two ideologies can rule the country.