Goodbye euro, it was nice knowing you...
Time is running out for the euro. With the two entities with financial muscle, Germany and the European Central Bank, refusing to help Europe, the euro will pay the price for failed leadership.
Everyday, the news from the eurozone gets worse.
Either it's more bad news from Italy (where bond rates are rising, indicating continuing investor nervousness about the risks of investing in the country's debt); or France (which ratings agencies are eyeing next for a possible downgrade), or just something nasty related to the entire 17-member eurozone (which seems to be already experiencing a mild recession, according to the Organisation for Economic Cooperation and Development).
There's even increasing chatter of a possible collapse of the euro soon, something unthinkable just one year ago. Worse, in what seem to be alarmingly reminiscent of 2008, when banks worldwide came under the scanner for their exposure to junk-grade mortgage instruments, investors are now fleeing the European banking system as they no longer have any trust in its creditworthiness.
At first glance, it's easy to blame what's happening on the PIIGS - the unkind name investors coined for the group of countries that sparked the sovereign debt crisis - Portugal, Ireland, Italy, Greece and Spain.
But increasingly, Germany and the European Central Bank (ECB) are becoming the real problem with their reluctance to do anything substantial to help weak euro-member countries out of trouble.
Here's how:
First, unlike in the US in 2008, where the Federal Reserve stepped in with its full might to prop up floundering financial institutions, bought bonds (releasing large-scale liquidity into the system) and lowered interest rates to historic lows, the ECB has refrained from doing any such thing. It has rejected the idea of acting as a 'lender of last resort' and by doing so, let the crisis fester.
As a Guardian article notes, "In fact, this whole crisis and recession could have been prevented if the European authorities had simply intervened to maintain low interest rates on Greek debt a year and a half ago....Because they refused to do this, and, instead, shrunk the Greek economy, increased its debt burden and allowed its borrowing costs to skyrocket, the crisis spread to other, weaker countries of the eurozone."
That leads us to the second point: Europe, led by Germany, is itself killing the prospects of the continent and the common currency. This whole drive to impose fiscal austerity on European countries already facing low or no growth by forcing them to raise taxes and cut government expenditure is absolutely ridiculous.
Fiscal tightness only lowers growth prospects, and kills opportunities for generating incomes required to pay off government debt. If government- and private sector-jobs are cut, consumers will become hesitant to spend and businesses won't make money. Taxes will come down. How then are governments expected to pay off their multi-billion-euro debts?
Small wonder that Europe is hurtling into recession.
Third, German chancellor Angela Merkel has spent a lot of time talking but doing little to rescue the euro. The Economist has a very astute observation here: it likens the common currency to a ship that Europe built to sail only in fair weather.
Even when the ship hit a reef two years ago, and water flooded one compartment after another, the anarchic crew started to dream of a new ship even as the real one was in danger of sinking, it noted.
For Merkel, the main point is that Germany has stayed dry. "If other crew members are neck deep in icy water, she thinks it serves them right; only the fear of God (and the bond markets) will teach them to be responsible," the Economist pointed out.
It's the country's "we are so much better than you" attitude that has kept Germany from helping its weaker neighbours. In punishing mode, Merkel has rejected eurobonds, which could have been issued jointly by European nations, as a solution to resolve the debt crisis and even has major reservations about the rescue fund (European Financial Stability Facility). Nothing is good enough, either for legal or political reasons.
She prefers treaties and policies that could take years before being implemented to an immediate resolution. As the Economist noted, "Like the band on the Titanic that played on to the end, the EU's bureaucracy keeps producing studies, policies and regulations". But no real solution.
Time is running out for the euro. With the two entities with financial muscle, Germany and the European Central Bank, refusing to help Europe, the euro will pay the price for failed leadership.
Goodbye euro, it was nice knowing you but....
Find latest and upcoming tech gadgets online on Tech2 Gadgets. Get technology news, gadgets reviews & ratings. Popular gadgets including laptop, tablet and mobile specifications, features, prices, comparison.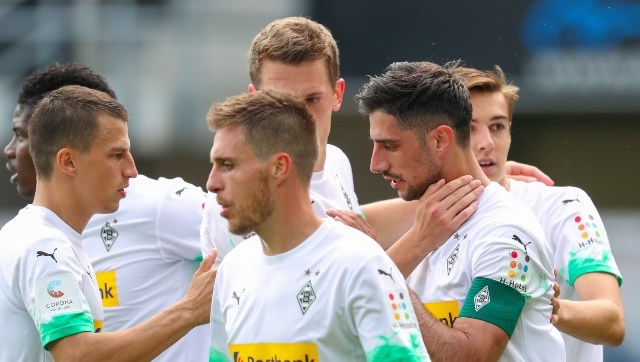 Sports
Borussia Monchangladbach secured the fourth spot ahead of Bayer Leverkusen on the final day of the Bundesliga season with a 2-1 win over Hertha Berlin.
World
Around the world, governments that had appeared to tame the coronavirus are adjusting to the reality that the disease is here to stay
Sports
The third stage of the plans, unanimously backed by the FIFA Council on Thursday, allows for a 'universal solidarity grant' of $1 million dollars to all national associations with an additional $500,000 specifically for women's football.