Demonetisation: When chaos is artificial, it's tough to forgive, never mind intention
Why can't you run full day television and radio programmes on Prasar Bharati and Doordarshan to educate the people or was the temptation to make the story about your historic actions too much?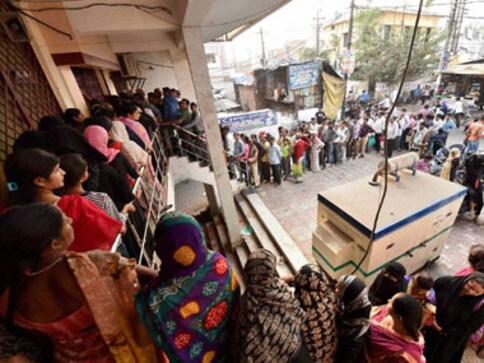 Anyone of us who has seen the National Geographic channel knows what happens when panic hits a herd of gazelles or bisons or cattle. It's the young, the sick and the weak that get crushed in the stampede.
Who suffered the most at Uphaar cinema fire in Delhi or at the deadly stampedes in Sabarimala -- women, children and the elderly. It is natural law that chaos takes its toll most heavily on those who are the weakest. The whole point of civilization and an ordered society in some ways is to safeguard those who can't defend themselves. That's why you have armed forces and police personnel and courts.
The recent ban on Rs 500 and Rs 1,000 notes have divided most of us into two camps. On one hand, we have the mockers: those who see it as a nuisance/publicity stunt which will do no good and only inconvenience the common man. On the other hand, we have the believers who believe that it will bring on the next wave of reform and prosperity and equality to all. Let's face it, whichever side we are on unless we are not heavily impacted by the actions, we all have had our little fun with it. We have taken our guilty pleasures in the associated schadenfreude. We have all made it a point to parade our righteousness by loudly declaring how we have always been honest taxpayers and those who suffer probably had it coming.
This has also given most of us a chance to do what we like to do most but rarely get a chance to do: show off our patriotism in the safe air-conditioned confines of our homes/offices and restaurants. The popular slogan has been how "the hardships are a small cost to pay to end black money".
To those, I ask what cost is too much? We have heard reports of suicides in rural areas, fights breaking out at money exchange counters, the currency associated delays causing deaths in hospitals and the utter shock causing heart attacks to a few. At what point do we say it is too much a cost to bear? Are ten deaths/suicides not too many? What about a hundred? What about a thousand? Is not even one life lost one too many?
If you let a system which thrives on cash rule for decades and then suddenly decide to take it away, it is bound to create chaos. It is bound to create panic. Rumour mongers (predators) are going to have a field day and try to make the most out of it. You needed to protect the prey -- the weakest. Why can't you run full day television and radio programmes on Prasar Bharati and Doordarshan to educate the people or was the temptation to make the story about your historic actions too much?
There were reports of people calling 100 to report about petrol pumps and hospitals not accepting the banned notes and the police telling them there is nothing they could do. Really, they can't do anything? A simple warning phone call wouldn't have sufficed in most cases?
The easier way would always be to opt for lazy policy and shrug away from the lapses in implementation but you know that the devil is in the detail. A smarter way is to take responsibility for implementation and make sure that the system is simple, easy to understand and clearly conveyed.
My point is: Is it wrong for us to expect more from our government? We have tolerated being screened repeatedly at malls/hotels and airports because the governments couldn't keep our borders safe. At least there we could say, you were trying your best and some things are beyond your control. I don't think we would be as forgiving when the problem is an artificially created one.
The writer is quant trader and data consultant.
World
Economically, strategically and even politically, China finds itself in a fix today. If it doesn't mend its way, it would soon find its superpower dream going kaput.
India
With no more than 10,000 Indians eligible for green cards a year, a vast majority of applicants have no choice but to wait for their turn
World
The appointment of ISI chief Lt General Faiz Hameed as a Corps Commander gives him a shot at becoming the Army Chief next year when General Qamar Bajwa's term ends.