Fed up of traffic jams? Well, there's a good reason for it. Most of India's major cities now are home to more than a million vehicles, all of which contribute to traffic congestion, high road accidents and pollution, acccording to a Barclay's report titled 'Megatrends: Accelerating urbanization in India'.
In the report, the company's equity strategy team notes that India's transportation infrastructure is unable to keep up with the country's rapid urbanisation rates.
A growing urban population means rising incomes, which translates into a burgeoning number of vehicles on the road. However, the pace of road network expansion hasbeen slow and the state of public transportation is poor, leading to a host of problems forthe Indian cities.
In 2012, Delhi had the maximum number of cars in the country at 7.35 million, followed by Bangalore (4.1 million), Chennai (3.7 million), Hyderabad (3.3 million) and Pune (2.2 million). Surprisingly, Mumbai doesn't make the cut, coming in sixth with a little over 2 million cars.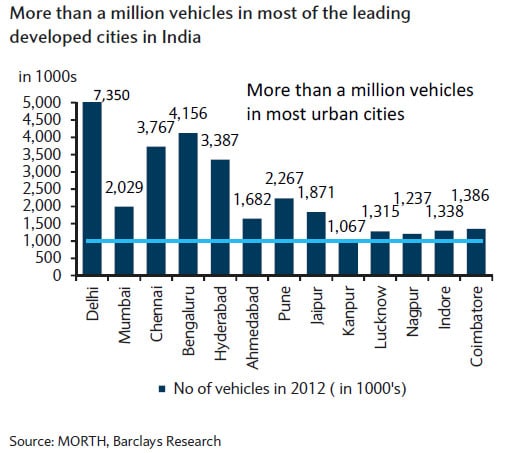 With the number of Indian cities with a population of one million or more expected to cross 70 by 2031 andrisingvehicle sales amid constraints on increasing road density, the report suggests a heavy dependence on mass transit rail systems and supplementary bus rapid transit systems (BRTS).
Only two of the 53 cities (65 by 2021) with a population of one million or more --Delhi and Kolkata --have metrorails of any significant length, according to global standards. Indian cities rank very low on the list of global hubs with dedicated metro services. Shanghai tops the list with over 500 km of rail network, followed by Beijing and London. In comparison, the Delhi metro network spans just over 100 km and Kolkata has only 28 km of metro tracks.
If India wants to achieve any of its dreams to become the next Shanghai it still has a very, very long way to go.
Firstpost is now on WhatsApp. For the latest analysis, commentary and news updates, sign up for our WhatsApp services. Just go to Firstpost.com/Whatsapp and hit the Subscribe button.
Updated Date: Mar 19, 2014 12:25:26 IST