Youth can change the face of agriculture with technology, says Athang Jain, director of agri-tech firm
If farmers are exposed to cutting-edge technology, there is a lot that can be achieved for the sector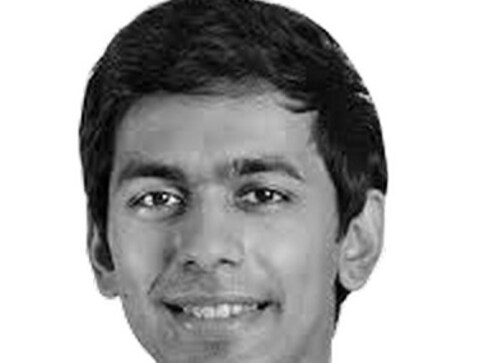 The annual United Nations Young Changemakers Conclave (UNYCC) will be held in Mumbai on 27 October. This will be the ninth edition of the event. Started in 2011, the conclave has had speakers as diverse as Justin Trudeau, Prime Minister of Canada to Raghuram Rajan, former governor, Reserve Bank of India to Ravi Shankar Prasad, Union minister. UNYCC is an initiative by X Billion Action Lab and UNIC for India and Bhutan to enable a dialogue about creating systemic change and reimagining impact in the digital age.
The theme of this year's conclave is 'Re-imagining Impact' in the digital age and will explore topics such as 'Re-imagining Content', 'Re-imagining Society', 'Re-imagining God', 'Re-imagining Money' and 'Re-imagining Conflict'.
This year's speakers include Smriti Irani, Union Minister of Textiles, Omar Abdullah, former Chief Minister of Jammu and Kashmir, Radhanath Swami of ISKCON, Junaid Ahmad, India country head of World Bank and Umang Bedi, President of Dailyhunt. To attend the ninth edition of the UNYCC, you can register here.
Firstpost spoke with Athang Jain, an entrepreneur in the agriculture sector. His venture Jain FarmFresh is a Rs 1,600 crore company. His family owns Jain Irrigation Systems (JISL), among the world's largest micro-irrigation firms.
Excerpts from the conversation:
How has your journey been in the agro-industry so far? How much has your family background influenced your choice of becoming an entrepreneur?
I went to Rishi Valley School, then to St Xavier's College and did my masters in Management and Strategy from LSE. But I always knew that my heart was in joining the family business after studies. Since childhood, I had always been interested in the workings of the company and spent quite a bit of time learning and observing. Once I formally joined the company, I underwent a two-year training program. I visited the company factories, met the distributors, dealers and farmers to understand the set-up. Two years later, I joined Jain FarmFresh, the food-processing subsidiary. My family has been a major factor in driving me towards this sector. My grandfather came from a very humble agricultural background in Jalgaon. Ours is a family business and three generations of our family have been exposed to the ins and outs of the agriculture sector. This has had a major impact on my life.
Your company has had many international linkages, especially in the European Union.
We began as dealers of agricultural products before eventually manufacturing and exporting these products to other countries. As we grew further, we decided to have a foothold in the international market. So, we acquired some companies outside India, especially in the United Kingdom, Israel and the US. In the UK we acquired a company which supplies ingredients to restaurants and food service sector.
In Israel, we acquired Naan-Dan, a pioneer in drip and sprinkler irrigation technologies. This particular company helped us in becoming a world leader in agro-tech. We were able to bring this technology to India and adapt it for our farmers here. So it was not just a new market that we got, but also world-class technology due to our foray into the overseas market. Right now, our products are sold in more than 120 countries.
From where are you sourcing your products? Is there any synergy between your company and Jain Irrigation Systems?

There is a lot of synergy between Jain Farm Fresh and Jain Irrigation. The idea of Jain FarmFresh came after we realised that a lot of farmers are benefiting from Jain Irrigation's technological innovations but are unable to find the right price and market for their produce. We then decided that we can also buy their produce, add value and export them. This way the farmers will also get a better price. Jain Farm Fresh has thus helped strengthen relationship with our farmers. As far as our farms are concerned, we have a state-of-the-art 2000-acre farm in Jalgaon but it is mainly used for Research & Demonstration purposes. We use our farm to teach farmers about new and upcoming technologies in agriculture. We don't want to compete with our farmers. We directly procure from farmers (contract farming) or through government mandis. For example, we are supplying tissue culture technology to banana farmers and then procure the fruit from them and processs and make pulp from it. So this way we also complete the agri-value chain.
What are the challenges that you face while procuring your product?
The average land-owning for farmers in India is small. For the amount of onions we process in a year, we work with around 5,000 contract farmers. In our United States factory, we require just two farmers for the same amount of onions. This is the stark difference between farming in the US and India. The farmer in India has to take several risks – from crop failure due to erratic weather conditions to difficulties in getting the right market prices. There are many problems but we are trying to work on them to develop a robust supply chain.
What are the top developments in agro-tech that is exciting for you?
Research and development is a major focus for us. Our farm in Jalgaon is a major Research and Demonstration hub for farmers. We are constantly focusing on improving the planting material like tissue culture techniques for banana farmers, providing hybrid onion seeds for farmers, researching on developing a better quality of mangoes for the market.
We are also focusing on an Indian variety of sustainable oranges. Orange juice concentrate is being imported from Brazil in India. Over the last eight years, we have done a lot of development to help bring an Indian variety which will be good for processing and empower Indian farmers.
We are also working on an Internet of Things model where sensors on a field will give real-time information on the nutrients that plants need and the pH and moisture levels of the soil. This is called precision farming.
We are also promoting fertigation - adding fertilizers through the irrigation system using micro-irrigation tubes. These technologies are big in the West but we hope will become a game changer in India too.
What are the product categories and how much it has expanded now?
We have a varied and large category from fruit processing – mango, banana, guava, papaya, strawberry and other tropical fruits; dehydration of vegetables - Onion, where we rank third largest in the world, garlic. We have expanded our product categoy to include spices for which we have set up a spice factory in Jalgaon. Incidentally, this is one of the largest in India. Jain Farm Fresh is a world leader in dehydrated vegetables and fruit processing. Our business is based on supplying ingredients to other large FMCG companies. But now we have also launched our own consumer brands. This is something I am working on right now.
We have retail products made with the raw materials we process. We currently have a frozen pulp range comprising of aamrus, frozen jamun and strawberry. We are adding chickoo and sitaphal in this range. We also added another product called Fru2Go, a healthy on-the-go fruit snack. Soon, we will bring retail spices for Indian consumers.
When are you planning to go public?
While Jain Irrigation is already a public company, Jain FarmFresh is planning to public in a few years, probably in the next two years. We have no specific timeline as such right now.
How do you think agriculture can become a viable and interesting career option for people who may or may not have an agriculture background?
Agriculture can be a very good career option. Today, farmers don't want their sons to be farmers and youth don't want to be farmers. We, as Indians, are not giving enough respect and dignity to agriculture and to the farmer. With the technology that is now available, farmers can definitely do well. We have seen this through countless case studies of our own farmers.
My message to future farmers is that the youth can change the face of agriculture through the use of technology. It is a viable business opportunity for the youth. I would like to add that we are also running a programme called FALI – Future Agriculture Leaders of India - where we train rural youth on best agricultural practices. I believe we can bring in a positive change in agriculture sector when we train the students on this subject from the school days itself.
also read
Business
"This pressurised piped irrigation project is to be designed in such a way that every farmer will be able to attach their micro irrigation systems at a later stage to the outlets provided at every one-hectare level. This will ensure "Har Khet Ko Pani," the company said.
Business
Coconut farming in India is less profitable given the excess of supply over demand. But if the land in between trees is used for other crops, including cocoa, the money can be lucrative.
Health
Research is linking the consumption of ultra-processed foods to a higher risk for obesity, cardiovascular disease, cancer and all-cause mortality.