Of late, the Bharatiya Janata Party's top financial minds have begun speaking out in strong words about the precarious state of the Indian economy. They are highly critical of the Narendra Modi government's failure to act in time to arrest a major economic slowdown despite early warning signals, certain unwarranted economic moves that only worsened the pain and about the government's reluctance to accept past mistakes and work on concrete remedies. The latest such caution has come from BJP leader and former union finance minister, Yashwant Sinha.
In an op-ed for The Indian Express (read here), Sinha minced no words while accusing Union Finance Minister Arun Jaitley for the current mess built up in the economy. Sinha feels "it is his national duty" to speak up now and said that many in the BJP know the state of affairs in the economy but are afraid to speak up "out of fear".
Sinha did not elaborate on what are the reasons for the fear though. He has criticised Jaitley for 'wasting' the oil bonanza and letting the legacy problems (stalled projects, bank NPAs) persist and even turn worse. He listed certain economic ills such as absence of private investments, return of the "raid raj" and distress in "sector after sector" in the economy. Of course, Sinha isn't the lone economic critic of the government from the BJP's own camp. It wasn't long before BJP MP Subamanian Swamy, also a known academic/economist, hit out against the government's economic policies and cautioned that the economy is on a tailspin and corrective measures are in order to avoid a depression.
Similarly, former union minister Arun Shourie too came down heavily on the Modi government saying it is only managing headlines and not the economy. Shourie called 'demonetisation' — Modi's biggest economic move — as the greatest blunder in 70 years.
Empirical evidence suggests that all these critics aren't far off the mark in their allegations and something must have really pushed them to initiate friendly fire. Multiple economic indicators and trends emerging from different sectors point out a serious economic problem that is difficult to ignore even for hardcore Modi fans. Private investments are lowest in many years, GDP has been falling quarter after quarter and hit 5.7 percent in the June quarter, bank non-performing assets (NPAs) are too high and hence credit growth to industries at multi-year lows, industrial production has plummeted, inflation is inching up limiting room for the Reserve Bank of India (RBI) to cut rates and unemployment is rising posing a big question mark to millions of new entrants to the job market.
The government's twin back-to-back disruptions — demonetisation and rollout of goods and services tax (GST) — have acted adversely to economic recovery. It will take a while before GST revenue streams stabilise and the consequences of demonetisation become a distant memory. Even the most optimistic of economists agree that a significant revival in the present economic scenario is unlikely in the near future even if the much-hyped bail-out package is rolled out now.
The government is in a tight spot since any economic stimulus will compromise the hard-won gains of the improvement in fiscal deficit. But, with no pick up in private investment on the horizon, there is no option for the government but to loosen its purse strings. There is no easy way out of the current scenario.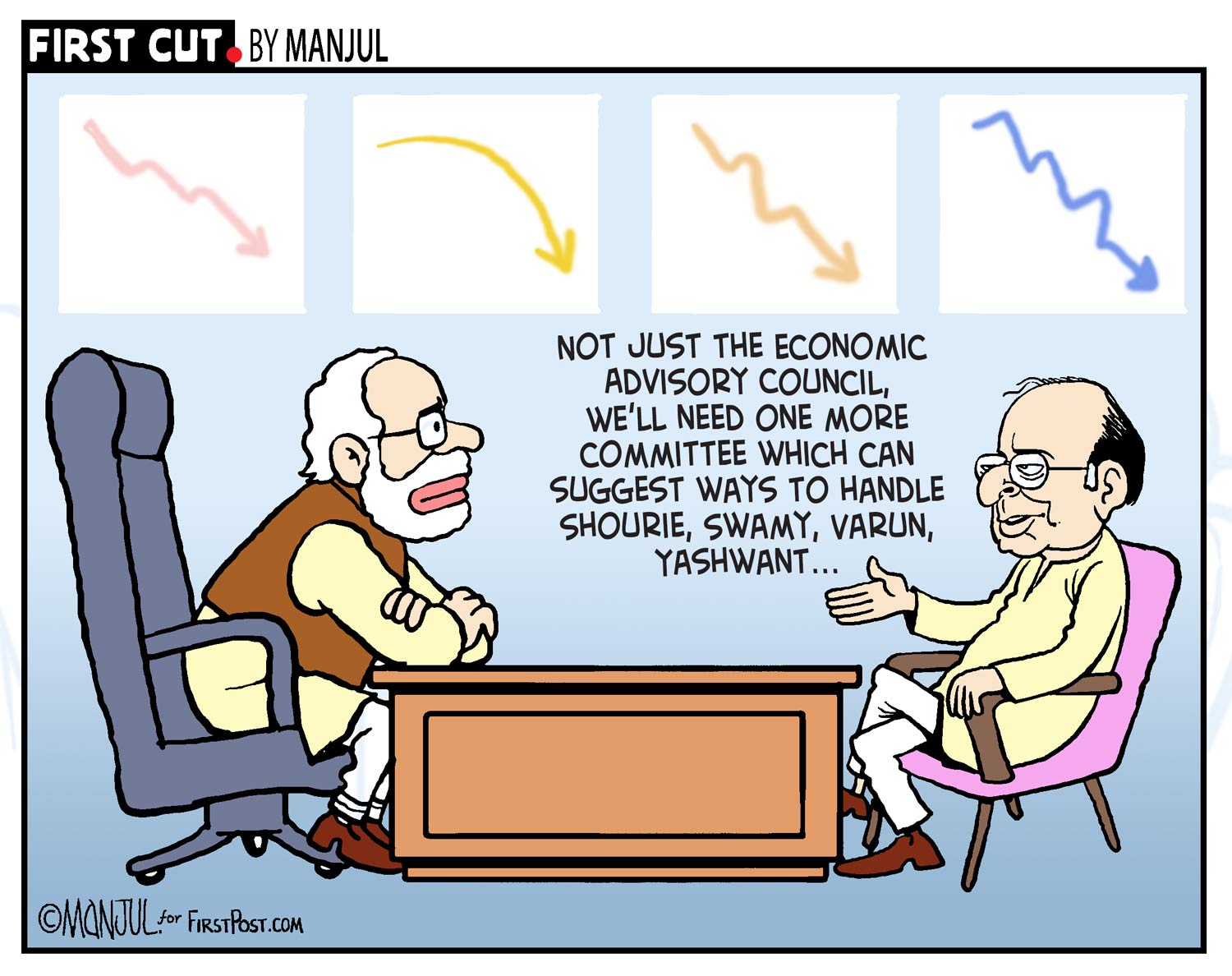 But the biggest cause of worry at this point is that the Modi government continues to be in denial mode of the actual state of the economy and often opts for diversionary tactics to turn attention from the real problems. It was only recently that BJP President Amit Shah said the decline in gross domestic product (GDP) is only "technical" (read here). Shah must remember that technical reasons have only helped to show GDP growth rate in a better shape. As Yashwant Sinha points out in his article, had it been the old methodology of GDP calculation, the growth rate would have shown even lower (by at least 200 bps). Jaitley too makes frequent statements to establish that critics are wrong. This denial is even more dangerous since the first step to solving a problem is to acknowledge it exists.
Even more worrying is Sinha's comment that many in the ruling party are afraid to speak up openly on the state of the economy, despite knowing the facts. If that is true, this is the most unfortunate thing to happen in a democratically elected government. It reduces the whole affair to the work of a closed group, denying scope for discussions and gaining from collective intelligence. A room for discussions, criticism and dissent is crucial to generate consensus in a democratic set-up. If fear is preventing BJP leaders from speaking up and pinpointing important economic issues, it will be difficult to find newer solutions. Sinha's caution should be an eye-opener for PM Modi. His government, particularly Arun Jaitley, would do well to stop pretending all is well in the economy and pay attention to informed criticism to seek solutions.
Your guide to the latest election news, analysis, commentary, live updates and schedule for Lok Sabha Elections 2019 on firstpost.com/elections. Follow us on Twitter and Instagram or like our Facebook page for updates from all 543 constituencies for the upcoming general elections.
Updated Date: Sep 27, 2017 14:07:03 IST