The teeny-weeny rise in the Wholesale Price Index (WPI) number for December 2014 – from zero to 0.11 percent – in fact exaggerates it. The reality is that inflation has fallen further from November, when the index number was 181.50. In December, it fell to 179.80.
So, in sequential terms, WPI has actually fallen by another one percent between November and December.
This fall, driven substantially by the 7.8 percent fall in food prices, is important for four reasons. And it could lead to a situation of negative WPI anytime between March and September 2015 due to the base effect.
But the reasons for cheer are these.
First, unlike November's zero WPI inflation, December's 0.11 percent is on a higher base of the previous year. Reason: In December 2013, WPI inflation began falling. The base effect for December 2014 was thus pointing towards a higher spike in December 2014, but that did not happen.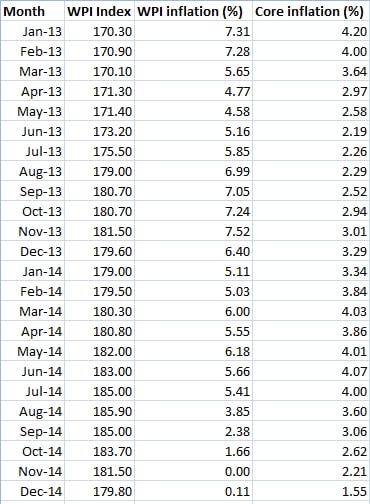 Second, core inflation – which is the non-food, non-fuel inflation – has fallen to its lowest level of 1.55 percent in five years. One last saw this level in December 2009. Core inflation is important because it measures the economy's underlying potential for inflation minus elements like food and fuel which can't be predicted due to the vagaries of weather and global price trends. Core inflation has been continuously falling since June 2014, when it was 4.07 percent. With core inflation down, the Reserve Bank has no reason to think WPI inflation will flare up easily. However, it is watching the Consumer Price Inflation, but that too is not exactly on fire. All things being as now, April 2014 should certainly see interest rate cuts. One can also take a cautious bet on February, too.
Third, if the base effect was most favourable in November (which is why we got zero WPI on the previous November's high base), December 2014, and January and February 2015 are when the base effect is least favourable. This means, the WPI will probably remain positive unless oil prices fall further.
Fourth, from March 2015 onwards, the base effect again starts working in favour of lower WPI inflation. This is because the index started rising from March 2014 and peaked in September 2014 at the figure of 185. What this implies is that after February 2015, WPI inflation might again fall to low levels, or even hit negative territory – assuming there is no oil price hike or any major increase in minimum support prices of foodgrain in the interim.
Inflation, at least as far as the WPI is concerned, is well under control for the foreseeable future. Achche din are here on the price front at least.
Your guide to the latest election news, analysis, commentary, live updates and schedule for Lok Sabha Elections 2019 on firstpost.com/elections. Follow us on Twitter and Instagram or like our Facebook page for updates from all 543 constituencies for the upcoming general elections.
Updated Date: Jan 15, 2015 11:19:40 IST