Worst-case Brexit more painful than global financial crisis, Bank of England warns
Britain risks a bigger hit to its economy than during the global financial crisis a decade ago if it leaves the European Union in a 'disorderly' manner in March next year, the Bank of England warned on Wednesday. Britain's economy faces contracting by 8 percent in the space of about a year -- compared with 6.25 percent in the crisis -- in response to severe border delays and financial markets' loss of confidence in British institutions. Unemployment would rise to 7.5 percent, with only the mass emigration of workers stopping it exceeding its crisis peak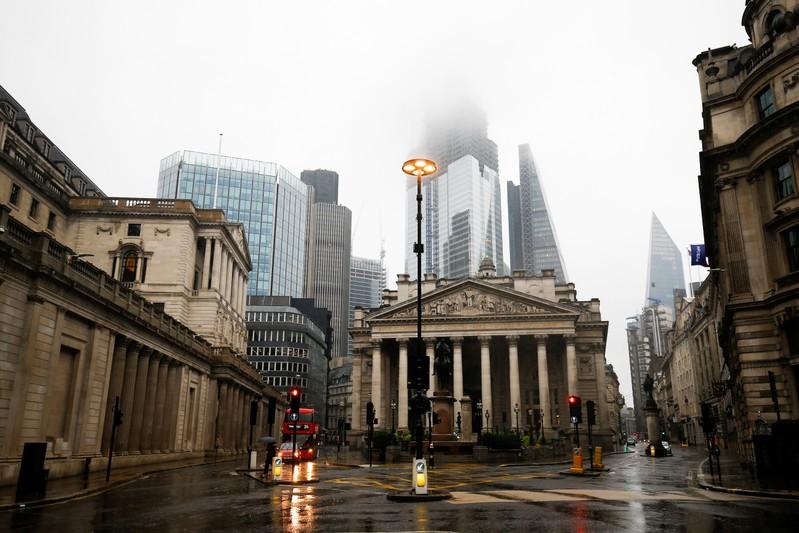 Britain risks a bigger hit to its economy than during the global financial crisis a decade ago if it leaves the European Union in a "disorderly" manner in March next year, the Bank of England warned on Wednesday.
Britain's economy faces contracting by 8 percent in the space of about a year -- compared with 6.25 percent in the crisis -- in response to severe border delays and financial markets' loss of confidence in British institutions.
Unemployment would rise to 7.5 percent, with only the mass emigration of workers stopping it exceeding its crisis peak.
This "disorderly" scenario is not what the central bank sees as the most likely outcome should Britain leave the EU without a deal, but does represent a plausible outcome which it has asked British banks to protect themselves against.
"The UK banking system is strong enough to continue to serve UK households and businesses even in the event of a disorderly Brexit," it said in a statement.
A merely "disruptive" Brexit, where goods still flow across borders but face tariffs and non-recognition of standards, would cause a 3 percent fall in gross domestic product, the central bank warned.
The BoE's warning of the short-term costs of the most disruptive forms of a "no deal" Brexit -- made in response to a request from lawmakers -- comes just after government economists warned of the longer-term economic damage from failing to reach a Brexit deal.
Last week BoE Governor Mark Carney gave his backing to a Brexit deal struck by British Prime Minister Theresa May, saying the alternative of leaving the European Union with no transition could be akin to the 1970s oil shock.
Carney angered many eurosceptics before the 2016 Brexit vote by warning of a hit to economic growth from a decision to leave the EU. Last week he said a lack of a transition would deliver a "large negative shock" to the British economy.
Earlier on Wednesday, government economists forecast that leaving the EU without a deal could leave Britain almost 10 percent poorer after 15 years compared with staying in, if it leads to a freeze in net immigration from the bloc.
A deal similar to May's proposed plan would limit the damage to 2 percent, assuming continued immigration and new trade deals with other countries.
May's plan foresees largely preserving the economic status quo for the next two to three years, pending a longer-term agreement that is likely to curb immigration and British firms' access to European markets.
The BoE said that a "close" future relationship with the EU after Brexit could lead to faster economic growth than it pencilled in earlier this month.
This scenario, which would involve no customs checks or tariffs, but some barriers to services trade, could give 1.75 percent more growth than it forecast this month.
A "less close" relationship, with customs checks but no tariffs, would reduce forecast GDP by 0.75 percent.
Both scenarios would represent weaker growth than the BoE forecast in May 2016, before Britain voted to leave the EU.
Carney has said there are limits to what the BoE can do in the event of a Brexit shock to the economy, both in terms of offsetting a fall in demand and ensuring the country's banking industry was able to continue lending.
The "disorderly" scenario envisages a 25 percent tumble in the value of sterling -- taking it close to parity against the dollar -- a spike in inflation to 6.5 percent and a jump in interest rates. House prices would fall by 30 percent.
This story has not been edited by Firstpost staff and is generated by auto-feed.
Subscribe to Moneycontrol Pro at ₹499 for the first year. Use code PRO499. Limited period offer. *T&C apply
Business
By Christoph Steitz, Tom Käckenhoff and Arno Schuetze FRANKFURT (Reuters) - German conglomerate Thyssenkrupp ended talks to sell its steel division to Britain's Liberty Steel due to differences over value, the latest setback in efforts to consolidate the European sector. Liberty Steel, led by commodities tycoon Sanjeev Gupta, last month submitted a firmed-up non-binding bid for Thyssenkrupp's steel unit, Europe's second biggest in terms of sales, which sources said included commitments to protect jobs and sites.
Business
(Reuters) - Reddit trading lingo may filter in to Washington on Thursday when top hedge fund managers, the head of Robinhood and Roaring Kitty himself are set to give testimony before U.S. House of Representatives lawmakers.
Business
By Stephanie Kelly NEW YORK (Reuters) - Oil prices steadied on Thursday, with Brent edging back from a 13-month high, after a sharp drop in U.S. crude inventories supported prices, while buying spurred by a cold snap in the largest U.S. energy-producing state petered out.