With economy faltering, Iran appoints new head of central bank
(Reuters) - Iran's cabinet approved a new governor for the central bank as the country, facing renewed U.S. sanctions pressure, grapples with a faltering economy and a sliding currency that have stirred street protests
(Reuters) - Iran's cabinet approved a new governor for the central bank as the country, facing renewed U.S. sanctions pressure, grapples with a faltering economy and a sliding currency that have stirred street protests.
The Tasnim news agency reported on Wednesday that the head of the Management and Planning Organization of Iran, Mohammad Baqer Nobakht, had also been replaced. But he said separately that President Hassan Rouhani had not accepted his resignation.
Rouhani, a pragmatist who reduced tensions with the West by striking a nuclear deal with world powers in 2015, is now facing a backlash from rival hardliners over Washington's pullout from the pact in May and reimposition of tough sanctions that seek to throttle Iran's economy including its lifeblood oil exports.
Hardliners have pressed him to reshuffle his economic team to better shield the economy from U.S. President Donald Trump's moves and tamp down public discontent, and senior government officials had suggested a shakeup was imminent.
The new appointment suggests Rouhani, who has mostly touted the moderate economic successes of his tenure since global sanctions were lifted under the nuclear deal, is conceding a need for change to defuse criticism.
"The situation today requires that a new force with fresh breath be brought in," Rouhani said, according to the official Islamic Republic News Agency (IRNA). "I hope that by choosing appropriate tactics and methods, we can witness good developments on monetary, economic and banking issues."
Ordinary Iranians have taken his government to task on social media, emphasising the difficulties they face in making ends meet amid high unemployment, inflation and perceived graft.
IRIB news agency said Rouhani's cabinet had approved Abdolnaser Hemmati to replace Valiollah Seif as governor of the central bank. It did not explain why Seif was dismissed.
In May, the Trump administration slapped sanctions on Seif himself, accusing him of "moving millions of dollars" for Iran's Revolutionary Guards, the hardline elite security force that reports to Supreme Leader Ayatollah Ali Khamenei, not Rouhani.
Hemmati was formerly the managing director of Bank Melli and Sina Bank, IRIB said.
Under the 2015 deal reached under Trump's predecessor Barack Obama, Iran limited its disputed nuclear energy programme in exchange for relief from international sanctions. But Trump denounced the deal as one-sided in Iran's favour and repudiated it, nudging Rouhani towards the position of Iranian hardliners.
Separately, Nobakht said that he had submitted his resignation but Rouhani had not accepted it, according to reports on the website of the Management and Planning Organization and IRNA.
IRNA quoted Mahmoud Vaezi, Rouhani's chief of staff, as saying that reports of Nobakht being replaced were untrue.
(Reporting by Babak Dehghanpisheh; Editing by Mark Heinrich)
This story has not been edited by Firstpost staff and is generated by auto-feed.
Find latest and upcoming tech gadgets online on Tech2 Gadgets. Get technology news, gadgets reviews & ratings. Popular gadgets including laptop, tablet and mobile specifications, features, prices, comparison.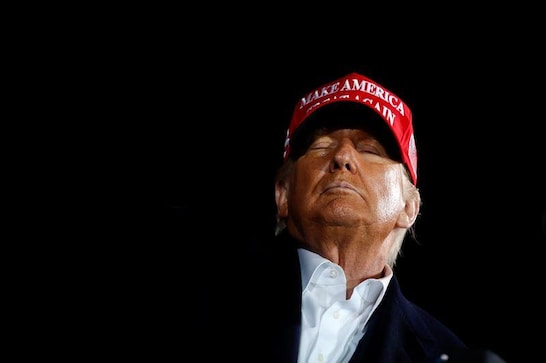 World
(Reuters) - U.S. President Donald Trump's Twitter election campaign account was unblocked on Thursday after the social media campaign temporarily restricted it saying a video from the account about Democratic presidential candidate Joe Biden's son violated its rules
World
By Trevor Hunnicutt and Joseph Ax (Reuters) - U.S. President Donald Trump and Democratic challenger Joe Biden will hold dueling prime-time town halls on Thursday instead of a second debate, which was to have been held virtually, as early voters continued to swamp polling places. Trump pulled out of the scheduled debate when the commission in charge of organizing the event said it would be held virtually after he contracted the coronavirus
News & Analysis
By Elizabeth Culliford (Reuters) - YouTube, the video service of Alphabet Inc, said on Thursday it was banning content that targets an individual or a group using conspiracy theories such as QAnon or Pizzagate that have "been used to justify real-world violence." The company said in a blog post that it would begin enforcing these expanded hate and harassment policies immediately and would "ramp up" in the weeks to come.