Wipro, the Bangalore-headquartered country's third largest software exporter, posted 1.8 percent rise in its consolidated net profit, beating analysts forecast, to Rs 2,234.1 crore for the quarter ended December 31, 2015.
Analysts polled by Thomson Reuters estimated net profit in the quarter at Rs 2,223 crore.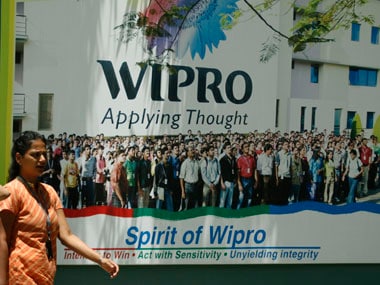 The company had posted a net profit of Rs 2,192.8 crore in the year-ago period.
However, the company operating margins were hit which fell to 20.2 percent from 21.8 percent a year ago, mainly on account of Chennai floods and the additional expenses incurred in deploying Business Continuity Plans. The IT services segment had a headcount of 1,70,664 as of December 31, 2015. It added 39 new customers during the quarter.
The city-based firm saw revenues rising 7.1 percent to Rs 12,951.6 crore in the said quarter from Rs 12,085.1 in the same period last year, according to a filing on the BSE. Its IT services revenues stood at Rs 12,310 crore ($1.86 billion), an increase of 9 percent year-on-year, it said.
Revenue contribution from the energy, natural resources and utilities clients, however, fell to 14.4 percent from 16.4 percent a year ago.
The company had already warned of a muted performance in this quarter on account of furloughs and Chennai-floods. It had said it expected to meet the lower half of its guidance range of $1,841-1,878 million.
For the fourth quarter ending March 31, Wipro sees revenues from the IT services business to be in the range of $1.88 billion to $1.91 billion.
"We delivered revenues in line with our guidance. We saw a pick-up in large deal closures led by global infrastructure services," Wipro Member of the Board and CEO T K Kurien said.
He added that customers want to simplify operations and optimise their IT spend and that the company is well-positioned to take advantage of this trend.
Wipro Chief Financial Officer Jatin Dalal said the impact on revenues from the Chennai floods were minimised significantly by execution of Business Continuity Plans (BCP).
Recently, the company appointed Abidali Z. Neemuchwala to accelerate its market share, which has remained more or less stagnant even as its bigger competitors  made headways in recent quarters.
"We are focussed on driving market share growth in our core businesses through integrated domain and technology services, while investing for the future in building differentiated Digital capabilities," Wipro CEO-Designate Abidali Z. Neemuchwala said.
Wipro's IT products segment delivered revenue of Rs 650 crore ($98 million) for the quarter ended December 31, 2015.
With inputs from Agencies
Firstpost is now on WhatsApp. For the latest analysis, commentary and news updates, sign up for our WhatsApp services. Just go to Firstpost.com/Whatsapp and hit the Subscribe button.
Updated Date: Jan 18, 2016 15:35:33 IST