Will Haryana dilute Natural Conservation Zone, forest tags for Aravallis? NCR Planning Board meeting today
The natural conservation zone tag ensures that the Aravallis is earmarked for conservation, rather than real estate. Construction is allowed only for 0.5%. Haryana has been constantly trying to remove this cap.
A meeting of the National Capital Regional Planning Board (NCRPB) is scheduled today in which the Haryana government will again try and scuttle the exception clauses to allow construction licenses in Natural Conservation Zone (NCZ) earmarked Aravallis.
The National Green Tribunal recently has directed the Haryana government to submit revenue records of the land in Faridabad where it has sanctioned felling of trees for construction of a real estate project by Bharti Land Limited in the eco-sensitive Aravalli hills, PTI reported.
Let us look at some of the issues:
What are Aravallis?
Can you believe in June 2016 at the the NCRPB Meet, the government of Haryana said it did not know the meaning of the term 'Aravalli'. A series of meetings followed between the Ministry of Urban Development, Ministry of Environment, Forest & Climate Change (MOEFCC) and the government of Haryana, to narrow down and identify a 'definition' of the Aravallis. It was agreed that revenue land categories (primarily gair mumkin pahar) identified as Aravallis in a Ministry of Environment & Forest (MOEF) notification dating back to 1992 which was applicable to Gurgaon district of Haryana, would be applicable across the National Capital Region. A special meeting of the board on 20 December, 2016, recorded that the issue of definition of Aravallis was now resolved.
The Regional Plan 2021 for the Delhi NCR region had already zoned all Aravalli areas (forests, waterbodies, rivers, groundwater recharge areas) as Natural Conservation Zone or NCZ.
The importance of the Natural Conservation Zone (NCZ) is that it is earmarked for conservation, rather than real estate. Accordingly, construction is allowed only for 0.5 percent ( or 1/200), and that too for regional recreational activities like regional parks and sanctuaries. This strictly precludes construction for commercial, residential, tourism, and other real estate purposes.
But the issue is far from resolved. Haryana has been constantly trying to remove the cap on construction of 0.5 percent. In January 2017, Manohar Lal Khattar, the Chief Minister of Haryana himself wrote to Venkaiah Naidu, the then Minister of Urban Development saying that Aravallis could not be put in NCZ across the state. This was followed by a 15 June, 2017 letter which implied that there were no Aravallis in Haryana except in Gurgaon district, and even there, the 0.5 percent cap should not be operative.
The state of Haryana today has less than 3.7 percent forest cover, mostly in the hilly Aravallis (and Shivaliks). The Aravallis are the main wildlife habitat in a rapidly urbanizing area and play an important role in groundwater recharge, moderating desertification and air pollution. In short, they are a key element of the ecological infrastructure that underpins our cities and villages of the NCR. Delhi and Rajasthan had put the majority of their Aravalli hills in official notified forests, as well as sanctuaries. Currently Haryana has no sanctuary in the Aravallis, and hardly any reserved and protected forests. It is time Haryana protected the Aravallis, and rolled back the privatization and licencing of real estate across the Aravalli hills in Gurgaon and Faridabad areas.
A CSE or Centre of Science & Environment report has raised worrying red flags on Gurgaon's depleting and near extinction groundwater and unbreathable air.
Where are the battle lines drawn?
On 15 June 2017, Haryana wrote to the NCR Planning Board in effect saying that there are no Aravalli hills in Haryana outside Gurgaon district, for the purposes of inclusion in Natural Conservation Zones. Suddenly, over 17,000 acres of Aravallis in Faridabad seemed to have evaporated from Haryana's maps and records. As also in other districts of Rewari, Mahindergarh, etc. This incredible claim communicated by the Director of Town and Country Planning TL Satyaprakash has been preceded by a history of delay in operationalising the NCZ by successive state governments.
Not just that, in 2013, the government of Haryana proposed that the 0.5 percent cap on construction be removed which was was accepted by the NCRPB without demur. It took huge media outpour for the cap of 0.5 percent to be restored, but again there was an exception clause slipped in allowing construction for tourism. The Prime Minister's Office (PMO) had to intervene for the exception clause and tourism as a purpose, to be junked.
But the fight is far from over. The government of Haryana is constantly raising new and novel arguments on What is Aravalli and What is forest to gut the NCZ category in Haryana.
Today the NCR Planning Board Meet will see another round of similar attempts. It is for citizens and civil society to raise their collective voices to ensure the remaining lungs of the State of Haryana are not sacrificed at the altar of mindless construction.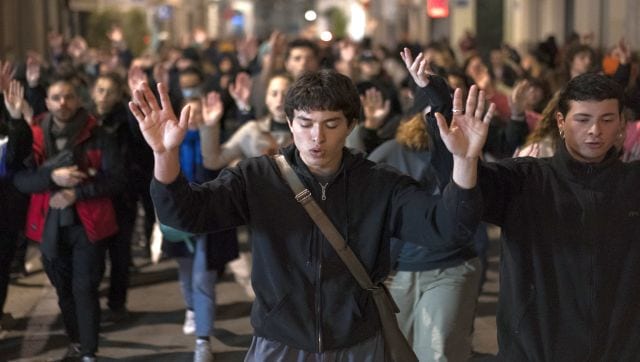 World
France has been seeing protests, which have turned violent in recent days, as the Emmanuel Macron government pushes pension reforms through parliament. In India too, there's a debate on the pension scheme, some arguing that the old method is fiscally unsafe
Politics
Punjab Police on Saturday launched a major crackdown against Amritpal and suspended internet and SMS services till Monday noon. It has arrested 78 members of 'Punjab Waris De', an outfit headed by him
Opinion
Whether it is initiatives on a large scale like the special sparrow village or just putting out water and food for the birds, there is much that can be done for the gentle sparrow