Will do whatever it takes to deal with Mistry ouster: Tata Sons
The Ratan Tata camp has been trying to evict Mistry from the chairmanship of group companies and has already fired him as chairman of TCS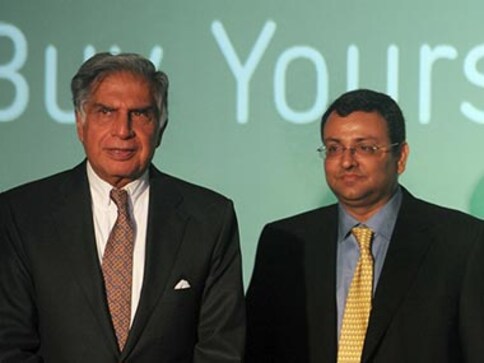 Mumbai: Hardening its stand, Tata Sons on Sunday said its management will do whatever is required to deal with the situation arising out of the ouster of Cyrus Mistry and wanted its independent directors to ensure future of Tata companies and interest of all stakeholders is protected.
In a late-evening statement, Tata Sons said in its statement on 10 November 10, 2016, it has already put forward facts so that the decision of the Tata Sons board "to replace Cyrus P Mistry as chairman is seen in the desired perspective".
"The Tata Sons management will do whatever is required to deal with the situation," it said.
Last week, the promoter company of the major operating Tata group firms had accused Mistry of betraying trust and trying to seek control of main operating companies of the over $100 billion group. It had also punched holes into Mistry's performance over four years and listed Tata Steel Europe, DoCoMo-Tata Tele joint venture and Tata Motors' Indian operations as "problem companies" where there was no "noticeable improvement in operations" and the situation has worsened with widening losses, increasing debt and declining market share.
Referring to the changes announced in the management roles of the company on 4 November, Tata Sons asked its board of group firms and independent directors to keep the interest of the group as priority. "In light of the developments since 4 November, 2016, Tata Sons reiterates that it is crucially important for boards, including independent directors, to consider that their views and positions ensure the future of Tata companies is protected, taking into consideration the interest of all stakeholders," the statement said.
On 4 November, Tata Sons had announced organisational changes bringing in S Padmanabhan as the group human resources head. Besides, former Tata brand custodian under Mistry's regime Mukund Rajan has been given the responsibility of overseeing operations of the overseas representative offices of Tata Sons in the US, Singapore, Dubai and China. This is in addition to his existing responsibility of ethics and sustainability. Harish Bhat, who is responsible for marketing and customer centricity, will henceforth also be responsible for managing the Tata Brand.
The Tata Sons statement comes days after independent directors of IHCL came out in support of Mistry while Tata Chemicals independent directors also showed their support to him.
Last week, Tata Sons, which holds 26.51 percent stake in Tata Motors, asked the owner of Jaguar Land Rover to convene an extra-ordinary general meeting of the company to consider its resolution seeking removal of Chairman Cyrus Mistry and independent director Nusli Wadia. Besides, Tata Sons has served notices to IHCL, Tata Steel and Tata Chemicals to convene shareholders meeting to oust Mistry and Wadia from their boards.
The board room battle in the Tata group has escalated ever since Mistry was ousted on 24 October. The Ratan Tata camp has been trying to evict Mistry from the chairmanship of group companies and has already fired him as chairman of TCS. However, Mistry with the support of independent directors, including Wadia, have been able to hold on to his position as chairman in Indian Hotels Co Ltd and Tata Chemicals.
"...between Tata Trusts, Tata Sons and the Tata operating companies, there was a need to be compliant with the law relating to insider trading by ensuring communication of unpublished price sensitive information strictly on a need to know basis," Mistry said.
Listing out the names of the nine directors whose conduct has been questioned, it highlighted that six of them were appointed during Ratan Tata's tenure which ended in 2012 and two of them serve as Trustees on Tata Trusts.
It said that under the existing laws, the independent directors are required to bring "independent judgement" on issues of strategy, performance, risk management, resources, key appointments and standards of conduct, and safeguard the interests of all stakeholders, especially minority shareholders. It acknowledged that in both IHCL and Tata Chemicals, the independent directors were unanimous in their support of him as the chairman and claimed that this is a "reflection of Mistry's conduct as chairman in upholding the highest standards of corporate governance".
The statement also elaborated on the change in the board composition of companies under Ratan Tata's leadership and the changes which Mistry introduced. As against the earlier practice of all the board members being internal members of the group, Mistry's statement said now the requirement is to have 30 per cent Trust nominees and 30 per cent independent directors.
"The corporate governance framework in India has considerably tightened in recent times with more stringent rules with respect to independence of directors, female directors, board evaluation, and so on. To meet this increased scrutiny, several new policies and frameworks were developed at the group centre and deployed across operating companies," it said. These included refreshing the code of conduct, developing a board effectiveness framework, LEAD program to enhance gender diversity, and provide TBEM feedback on the company to the board, the statement said.
Find latest and upcoming tech gadgets online on Tech2 Gadgets. Get technology news, gadgets reviews & ratings. Popular gadgets including laptop, tablet and mobile specifications, features, prices, comparison.
Business
Six of the seven Tata listed group companies where Mistry serves as a director have called EGMs between December 13 and 26 after having received requisition to this effect from the promoter shareholder, Tata Sons.
Business
In its letter, Tata Sons had alleged that Mistry was trying to gain control of the group's main companies and regretted its decision to appoint him as chairman four years ago.
Business
Stating that the independent directors whose conduct has been questioned include names like Deepak Parekh, Nusli Wadia and Nadir Godrej, among others, Mistry added that it is "truly unfortunate" that independence of "stalwarts of India Inc" is being questioned.