Why Welspun's loss could be Trident's gain; Target Corp mulls shifting contract
Reacting to the news, the Trident stock zoomed 12.45 percent to close at Rs 56 a share on BSE amid volumes of 81.05 lakh shares traded as against two-week average volume of just 3.60 lakh shares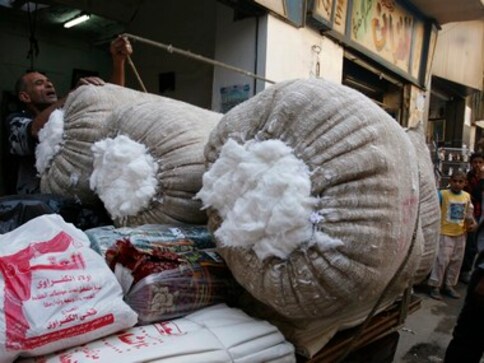 Shares of Trident Ltd suddenly came into the spotlight in an otherwise lacklustre broad market sentiment today.
Investors scampered to buy the Trident stock following a CNBC TV18 news flash that the US-based Target Corporation is evaluating shifting contract to the company.
Reacting to the news, the Trident stock zoomed 12.45 percent to close at Rs 56 a share on BSE amid volumes of 81.05 lakh shares traded as against two-week average volume of just 3.60 lakh shares.
Later, in a clarification issued to the Bombay Stock Exchange (BSE), Trident said Target Corp could be sampling bed sheets made by the company.
"Over the years, we have built and developed long standing relationships with the leading globla retailers including Target Corp, and as a normal course of business, we keep getting orders from them," Trident Ltd said in a release issued to the BSE.
The latest development comes in the wake of the US-based retailer earlier in the week announcing its decision to terminate business with Welspun India for passing off cheap bed sheets as premium Egyptian cotton.
Target said on Friday that it was severing ties with Welspun after its extensive investigation had confirmed that the Indian company, which purportedly used Egyptian cottons to make sheets and pillowcases sold to the retailer, substituted non-Egyptian cotton instead.
Earlier in the day, Welspun India had shrugged off its three session losses, as the stock shot up over 6 percent to touch the day's high of 57.80 over its previous day's close of Rs 54.40.
However, as news started trickling in that Target Corp may chose its distant rival Trident Corp for supplying of bed sheets, Welspun India stock gave away its intra-day gains and plunged nearly 9 percent to end at Rs 49.70 a share on BSE.
In the last five sessions, Welspun India stock has crashed a whopping 51.7 percent amid frenzied selling over loss of a key customer. Investor wealth in the stock eroded by a staggering Rs 5,340 crore.
In fact, Target is Welspun India's biggest customer after Bed Bath and Beyond. It accounted for about $90 million, or 10 percent of the company's total business in the financial year through March, Welspun executives said in a conference call on Monday.
Not just Target Corp, other US-based retailers such as Walmart, JC Penny and Bed Bath are also considering revieving their contracts with Welspun in view of the alleged unethical business by the company.
However, in a move aimed at taking evasive measures, Welspun India today said it has appointed consultancy firm Ernst & Young to look into alleged lapses in its products supply after the US-based Target Corp terminated contract with the textiles maker.
"The company has appointed Ernst & Young LLP to review our supply chain systems and processes," Welspun India said in a BSE filing.
With agency inputs
Business
The top gainers were HDFC, Bajaj Auto, IndusInd Bank, Kotak Bank and Axis Bank
Business
BSE Midcap saw a fall of 503.75 points, settling at 25,914.53, while BSE Smallcap declined by 683.87 points and fell to 28,878.73
Business
BSE Midcap fell by 1.98 percent to 26,418.28 while BSE Smallcap declined by 1.79 percent to 29,562.60