Why UDAY, 7th Pay Commission are ticking time bombs on states' finances
What will the double whammy of the UDAY (Ujwal Discom Assurance Yojana), the central government's financial turnaround scheme for state power distribution companies, and pay revisions of government employees do to the finances of state governments?
As debate continues to rage on whether or not the central government should ease its fiscal deficit target to give the economy a booster shot by pushing public expenditure, little attention is being paid to another issue with hefty implications for macro-economic stability.
What will the double whammy of the UDAY (Ujwal Discom Assurance Yojana), the central government's financial turnaround scheme for state power distribution companies, and pay revisions of government employees do to the finances of state governments?
After all rating agencies look not just at the central government's deficit indicators but the combined deficit of the central and all state governments taken together, also called the general government deficit.
The latest figure on the combined fiscal deficit for all states that is available is for the budget estimates (BE) of 2014-15 – 2.3 per cent of gross domestic product (GDP). Assuming the combined states fiscal deficit has remained the same in 2015-16 BE, with a central government deficit of 6.2 per cent.
Sure, this is not alarming and is the lowest since 2008-09 (when the combined deficit doubled to 8 per cent from 2006-07), but remember that the state fiscal deficit figure is the budgeted estimate for 2014-15; the revised estimates and the budget estimates for 2015-16 are not known.
Reserve Bank of India governor Raghuram Rajan also flagged the issue of UDAY's impact on state finances in Delhi on Friday while delivering the C. D. Deshmukh memorial lecture. India's combined fiscal deficit, he said, was higher than that of many similar economies, except perhaps Brazil.
The International Monetary Fund estimates on India's consolidated fiscal deficit show that it has increased from 7 per cent in 2014 to 7.2 per cent in 2015. The IMF, he pointed out, calculates the consolidated fiscal deficit differently, but that is what rating agencies look at.
The impact of the twin shocks of UDAY and 7th Pay Commission will not be felt in the current fiscal but could have a potentially damaging effect in the coming years. The outgo on both these counts could also affect capital expenditure – always the first to get axed in times of stress – at a time when the economy needs a big capex push.
Take the case of UDAY, in which 15 states have agreed to come on board; three have signed memoranda of understanding (MoU) with the central government. State governments signing up for UDAY will take over a part of the losses of their respective discoms as well as 75 percent of the debt.
The states will pay the lenders back by issuing state development loans (SDL, sovereign securities issued to raise money from the market) with a maturity of 10 to 15 years. These will be over and above the statutory liquidity ratio that banks are holding. States will get some flexibility on their fiscal deficit targets for two years to enable this, but will still face significant fiscal stress.
A study on state finances by rating agency ICRA points out that if these loans equalling 50 per cent of the discom debt are issued at a coupon rate of 8.5 per cent, the interest burden of states like Gujarat, Haryana, Punjab, Rajasthan and Tamil Nadu (their discoms account for over half the total discom debt of Rs 4.3 lakh crore) could bloat their fiscal deficit by up to 0.5 per cent of gross state domestic product (GSDP). (The ratio to GSDP is used in the context of individual states, but ratio to GDP is used in the macro or national context.) The impact will begin to be felt from the next fiscal – 2016-17.
The ICRA study looks at trends in the 2015-16 budgets of nine states - Karnataka, Kerala, Tamil Nadu, Gujarat, Maharashtra, Punjab, Haryana, Rajasthan and West Bengal. Five of these are among the 15 states that have agreed to participate in UDAY. The study notes that if all the states in the sample sign up for UDAY and issue the loans at a coupon rate of 8.5 per cent, their interest burden would go up by Rs 1,600-5,100 crore a year from 2016-17 onwards.
A State Bank of India Ecowrap study on the impact of UDAY shows that the resulting fiscal liability (fiscal deficit plus discom debt as grant and loan plus net interest payment) in 2015-16 would jump from 3.48 per cent of GSDP to 11.19 per cent in the case of Rajasthan and from 2.63 per cent to 6.37 per cent in the case of Tamil Nadu.
Imagine the likely impact if more states come on board; power minister Piyush Goyal is expecting all states to. This is not to argue that UDAY is a bad idea. Something like this is needed for the ailing power sector. But the fiscal strain that it will entail should not be glossed over.
And what of the pay revisions? The ICRA study shows that of the nine states, five (Karnataka, Kerala, Punjab, Haryana and West Bengal) have their own pay commissions while Tamil Nadu, Gujarat, Maharashtra and Rajasthan followed the Central Pay Commissions. Only Karnataka and Kerala had revised their salaries recently, in 2012 and 2014 respectively. The rest had not done so since 2006 and 2007. It stands to reason, then, that they will not be miserly with pay hikes; they simply cannot afford to.
Punjab faces elections in 2017, Gujarat in 2018 and Rajasthan, Haryana and Maharashtra in 2019. Several other states not in the sample will also have to elect new governments between 2017 and 2019. Expect, then, more than handsome increases.
Where will the money for all this come from?
The growth in states' own tax revenue has been declining from 2011-12 – from 21 per cent that year to 11.6 per cent in 2014-15 (BE). The ICRA study shows a decline between 2014-15 RE and 2015-16 BE for the nine states in its sample. Growth in sales tax also shows a similar declining trend, pulled down mainly by lower fuel prices, according to ICRA.
The increase in transfers from the centre under the Fourteenth Finance Commission award will be a boon for state governments. As Jayanta Roy, Senior Vice President and Head Public Finance Ratings, ICRA, points out, since the pace of growth of the Centre's gross tax revenues in April-November 2015 has exceeded the budget target, there is unlikely to be a significant shortfall in central tax devolution to the states, as has been the case in the previous four years.
Also, the Fourteenth Finance Commission has increased the extent of untied transfers because states wanted more flexibility in deciding which welfare programmes they wanted to spend on. But how these now-untied funds will be utilised remains to be seen. Will the fact that they are untied lead to increased spending on salaries and other non-productive revenue expenditure or could they be used more productively for welfare and capital expenditure?
Extra spending on UDAY and pay revisions could also get constrained by the 3 per cent cap on fiscal deficit that states need to comply with. ICRA believes states could circumvent this by drawing down on treasury bill holdings, which stood at Rs 140,000 crore as of 8 January. But this could have other undesirable effects on interest rates.
While the overall picture on state finances looks better than that of the Centre (all states taken together show a revenue surplus), the performance of individual states varies and this could pose macro challenges in the future.
The Reserve Bank of India study on state finances based on the budget estimates of 2014-15 shows that only half of the 18 non-special category states had revenue surpluses, while two had crossed the 3 per cent fiscal deficit target.
While the Thirteenth Finance Commission had said that states should bring down their debt-GSDP ratios below 25 percent by 2014-15, 15 states were above the threshold, some of them above 35 per cent.
UDAY is necessary to get the power sector back into the pink of health. Pay revisions cannot be avoided beyond a point. But both could derail the country's hard-won macro economic stability if states don't manage their finances better.
Unless they do – drastically curbing unproductive expenditure, refraining from fiscally ruinous populism and going all out to raise own revenues - the ticking time bomb of precarious finances could go off a few years down the line. And that could seriously impair the India story.
Business
The manufacturing sector — which constitutes 77.63 percent of the IIP — declined by 3.7 percent in February 2021, as per NSO data
Business
While Nomura has downgraded projections of economic growth for the fiscal year ending March 2022 to 12.6 percent from 13.5 percent earlier, JP Morgan now projects GDP growth at 11 percent from 13 percent earlier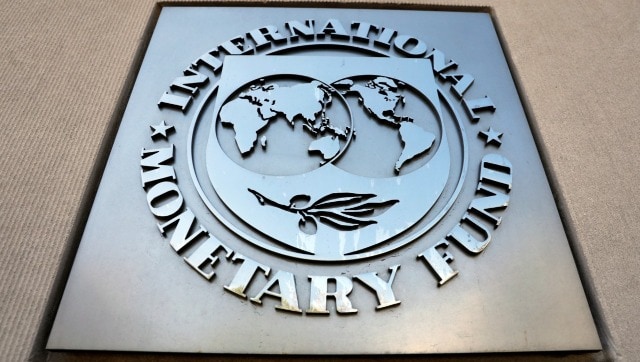 India
Vitor Gaspar, Director of IMF's Fiscal Affairs Department, said that widening deficits and contraction in economic activity, debt worldwide increased sharply to 97% of GDP in 2020