Why demonetisation? How govt narrative changed from black money to real estate prices to digitisation
Digitisation was never mentioned as an objective of demonetisation in the first few days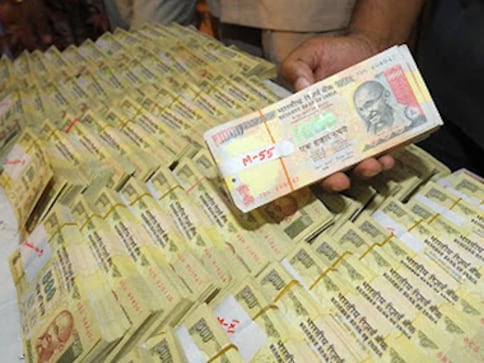 The government has come under attack from various quarters after the Reserve Bank of India on Wednesday released the data on banned Rs 500 and Rs 1,000 currency notes. As per the data, Rs 15.28 lakh crore worth of notes have returned to the system, which forms 99 percent of the notes that were banned on 8 November.
"Subject to future corrections based on verification process when completed, the estimated value of SBNs (specified bank notes) received as on 30 June 2017 is Rs 15.28 trillion," the RBI said in its annual report. The ban had sucked out Rs 15.44 lakh crore of the currency notes in circulation. As of 4 November 2016, the total currency in circulation was nearly Rs 18 lakh crore.
The reason for the likely correction in the figure is that the RBI is yet to process and verify the numerical accuracy and authenticity of the notes it has received from district cooperative banks and other countries such as Nepal.
Why do many believe that the data reveals the failure of demonetisation as a policy? The reason is that it was expected the move will fish out at least Rs 3 lakh crore of black money. Had that happened, the central bank would have that much less notes through exchange at the banks. Now that 99 percent of the currency has returned, it is assumed many tax cheats have gamed the pores in the system to whiten their unaccounted wealth through the note ban exercise.
Meanwhile, the government has denied all these, insisting that the move has had indeed positive impact.
"The real object of demonetisation was formalisation, attack on black money, less cash currency, bigger tax base, digitisation, a blow to terrorism," Jaitley said on Wednesday.
"And we do believe that in each of these areas, the effect of demonetisation has been extremely positive."
Through all this, one thing remains unclear -- why exactly did the government demonetise Rs 500 and Rs 1,000 notes? The fact is the government and the prime minister has constantly changed the narrative surrounding this.
Here's an attempt to track this:
The press release on 8 November 2016 said:
With a view to curb financing of terrorism through the proceeds of Fake Indian Currency Notes (FICN) and use of such funds for subversive activities such as espionage, smuggling of arms, drugs and other contraband into India, and for eliminating Black Money which casts a long shadow of parallel economy on our real economy, it has been decided to cancel the legal tender character of the High Denomination bank notes of Rs 500 and Rs 1000 denominations issued by RBI till now. This will take effect from the expiry of the 8th November, 2016.
PM Modi in his speech on the same day:
To break the grip of corruption and black money, we have decided that the 500 rupee and 1,000 rupee currency notes presently in use will no longer be legal tender from midnight tonight, that is 8 November 2016… This step will strengthen the hands of the common man in the fight against corruption, black money and fake currency.
Nearly three months later, on 31 January 2017, Arvind Subramanian, then chief economic advisor, said that intent was to bring down the real estate prices. He said this in the press conference after releasing the Economic Survey for 2016-17 ahead of the Union Budget.
Real estate you do see a blip in prices, sales and launches and of course some of it may be adverse to the economy but in the long, some of that could be good because aim of the demonetisation is to bring down real estate prices.
By February, it looked like the narrative had completely shifted to going cashless. PM Modi's Mann Ki Baat on 5 February:
Our dream is that there should be a cashless society. This is correct that 100 percent cashless society is never possible. But we can make a start with less-cash society, then cashless society will not be a far-off destination.
However, earlier on 27 November, RBI Governor Urjit Patel had indicated this shift in stance when he stressed on the need to go cashless in a PTI interview.
From the PTI report: Urjit Patel also urged the people to start using cash substitutes like debit cards and digital wallets, saying it will make transactions cheaper and easier and in the long term, it will help India "leapfrog into a less cash-use economy at par with more developed nations."
"We are also urging banks to make a big push with PoS (Point of Sale) machines with traders so that debit card use becomes more prevalent," he had said.
On 30 August 2017, the day the RBI released its data, the government press release said this:
The Government of India decided to cancel the Legal Tender Status of Rs.1000 and Rs.500 denomination currency notes on 8th November 2016 with several objectives: (i) flushing out black money, (ii) eliminate Fake Indian Currency Notes (FICN), (iii) to strike at the root of financing of terrorism and left wing extremism, (iv) to convert non-formal economy into a formal economy to expand tax base and employment and (v) to give a big boost to digitalization of payments to make India a less cash economy.
It has to be noted that digitisation was never mentioned in the first press release. It gradually came into the picture only later, probably with PM Modi's Mann Ki Baat on 5 February.
The truth is there is a lack of clarity as to why exactly the decision was taken. It is time the government came clean on this. (Read an analysis of the shifting narrative here.)
India
West Bengal's Bongaon Municipality has created 30,000 rakhis made of water hyacinths to showcase the state's efforts to use the biodegradable waste material for the economic and social uplift of women
Explainers
The national flag flies high on Independence Day as well as Republic Day. However, there are key differences between the two — the prime minister 'hoists' the Tiranga, whereas the President 'unfurls' it
Politics
BJP President highlights five-fold increase in funds allocated for rural development, says Congress understanding of India superficial