Why Cyrus Mistry will have to do a JRD and decentralise
Unlike Ratan Tata, who had to fight the group's satraps and centralise strategy, under Cyrus Mistry the group will have to decentralise
Ratan Tata has given his chosen successor, Cyrus Mistry, the option of running the group differently once he takes over at the end of this year.
Asked, by a group of editors in the capital, whether Mistry would become chairman of all key Tata group companies once he takes over, Tata said: "That is for him to decide."
Tata's statement leaves Mistry with two options: to run it like Ratan Tata - by physically being present as chairman of all flagship companies such as Tata Steel, Tata Motors, TCS, Indian Hotels, et al- or to run it like JRD Tata, at arm's length. JRD allowed his key managers to run their companies as if they were the owners.
However, there is a huge difference between the scenario that Ratan Tata inherited and the one he is now bequeathing to Cyrus Mistry, who is the son of Tata Sons' biggest shareholder, Pallonji Mistry: Ratan got a federated group where the satraps had greater power than the group chairman. This was facilitated by the fact that the group's shareholding in its main companies was low.
Russi Mody (Tata Steel), Sumant Mulgaokar (Tata Motors, then Tata Engg), Darbari Seth (Tata Chemicals) and Ajit Kerkar (Indian Hotels) ran their companies almost like personal fiefs because they had built them up.
With effective power residing in the operative companies, when Ratan Tata succeeded JRD as group chairman in 1991, he had a battle on his hands: Mody, who saw himself as the natural successor to JRD, having literally built Tata Steel in the 50 years he was with the company, fought Ratan Tata when the question of finding a successor for Tata Engineering (now Tata Motors) came up.
JRD plumped for Ratan. But in company after company, Ratan Tata had to fight to get the old guard out - including Tata Steel, which saw the exit of Mody in 1993, Ajit Kerkar from Indian Hotels, and Darbari Seth from Tata Chemicals. In fact, the 75-year retirement limit - the same clause under which Tata will hand over charge to Cyrus Mistry - was probably introduced to help see the old guard off in the 1990s.
In short, Ratan Tata had to get into the top job in each one of his big companies primarily to assert the group's ownership and stamp his authority on it.
Today, the scenario is different. The group's shareholdings are comfortable in most flagship companies: Tata Steel 31.39 percent, Tata Motors 43 percent, Tata Consultancy Services 74.08 percent, Indian Hotels 33.60 percent and Tata Chemicals 31.07 percent.
That's not quite takeover proof, but defensible. The key to control of Tata companies is Tata Consultancy, which is 74 percent owned by Tata Sons and is its prime cash cow. The high dividend payouts of TCS enable Tata Sons to keep its stakes high in group companies when needed.
This means Mistry currently has shareholder power backing his authority and his physical presence is not needed to assert group ownership of companies. Moreover, he can assume the tacit support of his family's closely-owned Pallonji Mistry group, which owns 18-19 percent of Tata Sons.
However, the challenges Mistry will face are different from those of Ratan Tata's era. Tata had to get his disparate group together and refocus each company's strategies to prepare for greater competition, including globalisation. The group had to consolidate, chop and change, to grow. One of the key decisions Tata took was to sell companies that did not fit into his strategic map - the sale of Tata Oil Mills to Hindustan Lever is a prime example.
In contrast, Mistry's group is already global in nature, with five key companies (Tata Motors, Tata Steel, Tata Consultancy, Tata Tea and Indian Hotels) already big global players. Many of them also have global opportunities.
The key difference, going forward, is that the Tata Group - currently ruled as a conglomerate with centralised command and control - will have to be run as independent global entities and less as a group.
Reason: A Tata Motors-Jaguar Land Rover cannot be run just out of India. The group is building up a larger presence in China, and its capital needs as it grows will only increase. If it seeks to acquire another company, the Tata stake will face dilution.
The same applies to Tata Steel. Or Indian Hotels. High group shareholdings can be retained for a while, but in a globalised world, stake dilutions will be the norm as companies grow inorganically - or organically.
Global businesses need global capital - and the control of promoter groups reduces as a company gets bigger.
If a TCS wants to grow into the global top 10 in tech, it will have to take over companies twice or thrice its size. This cannot but involve equity dilution.
Growth always leads to stake dilution and this is why we don't see family controlin any of the big American companies - GM, Citicorp, GE. Professional managers run the show.
If one were to see Cyrus Mistry as likely boss for the next two decades, he is more likely to see a reversal of the Ratan Tata era: a gradual reduction in group shareholdings.
The Tata conglomerate will have to be held together by force of culture and values, not shareholding power alone.
Cyrus will probably have to go back to the JRD style of functioning where strong CEOs will have to be empowered to grow.
Find latest and upcoming tech gadgets online on Tech2 Gadgets. Get technology news, gadgets reviews & ratings. Popular gadgets including laptop, tablet and mobile specifications, features, prices, comparison.
Business
The urgent need is not a truce between the Tata and Mistry camps but a revelation of what really went wrong at the group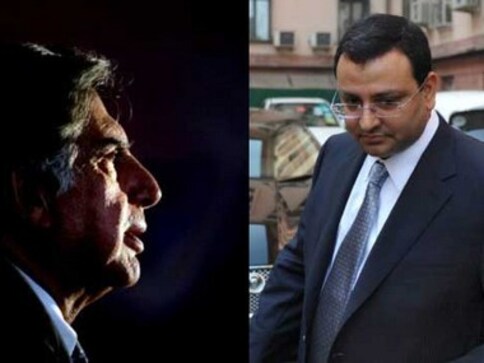 Business
In its statement, the Tata Group has admitted to interfering with the operations of the Tata Sons Board.
Business
Less than a month after the Supreme Court stayed an order reinstating him as Tata Sons chairman, Cyrus Mistry has moved the apex court seeking removal of many anomalies in the NCLAT order, saying his family deserved more relief from the tribunal