'Who broke the law?' Cohn says in defending Wall Street's role in crisis
By Anna Irrera NEW YORK (Reuters) - Gary Cohn, the former economic adviser to U.S. President Donald Trump, gave a ringing endorsement of Wall Street bankers on Monday, arguing that borrowers were just as responsible for the 2007-2009 financial crisis as lenders and ridiculing rules intended to make the system stronger in its aftermath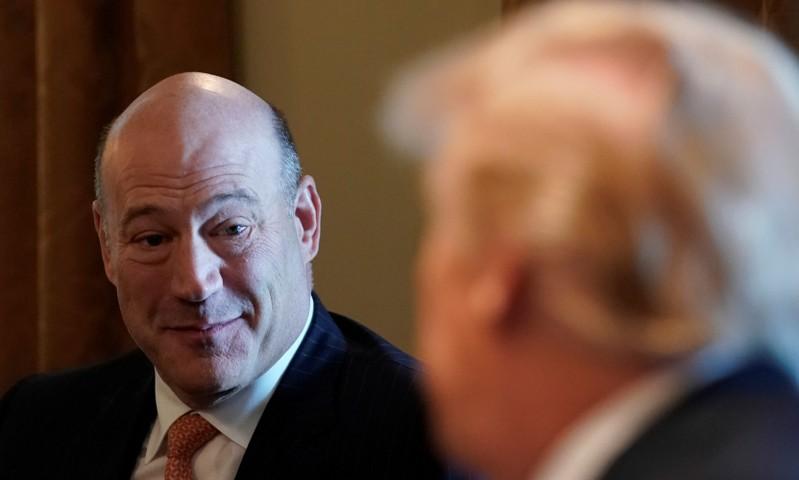 By Anna Irrera
NEW YORK (Reuters) - Gary Cohn, the former economic adviser to U.S. President Donald Trump, gave a ringing endorsement of Wall Street bankers on Monday, arguing that borrowers were just as responsible for the 2007-2009 financial crisis as lenders and ridiculing rules intended to make the system stronger in its aftermath.
In a wide-ranging conversation at an event hosted by Reuters Breakingviews that was pegged to the 10-year anniversary of Lehman Brothers' collapse, Cohn's comments mostly tracked the sentiment of Wall Street bankers and other wealthy Americans who have felt unfairly maligned for the mortgage market's collapse and the economic downturn that ensued.
Once the No. 2 executive at Goldman Sachs Group Inc , Cohn argued that no top bankers should have gone to jail for their role in the crisis because they did not necessarily do anything illegal, despite what populist movements like Occupy Wall Street have demanded.
"Who broke the law? I just want to know who you think broke the law," said Cohn, before noting that former Lehman Chief Executive Dick Fuld lost a big chunk of his net worth when his company filed for bankruptcy.
He also said JPMorgan Chase & Co CEO Jamie Dimon would be a "phenomenal" choice for president.
He criticized Elizabeth Warren, a prominent Democratic Senator who often attacks big banks, for using a simplistic measure of industry profitability and said rules that were part of the Dodd-Frank reform package have only solidified big banks' competitive position.
"We haven't ended 'too big to fail,'" Cohn said. "We made rules and regulations that made (the big banks) bigger. Congratulations."
Since leaving the Trump administration in December, Cohn has been spending time with his family and exploring business opportunities, he said.
(Reporting by Anna Irrera; Writing by Lauren Tara LaCapra; Editing by Lisa Shumaker)
This story has not been edited by Firstpost staff and is generated by auto-feed.
World
BAGHDAD (Reuters) - Rockets hit near U.S. forces and contractors in Iraq on Wednesday, including an air base north of Baghdad and a military base at Baghdad International Airport, the Iraqi army and security officials said. The army reported at least three rockets hit Balad air base, where U.S
World
By Silvia Ognibene and Silvia Aloisi FLORENCE, Italy (Reuters) -Italian police have arrested a Chinese couple accused of running a leather goods business which exploited immigrant workers it employed to make handbags for a Burberry supplier, according to an arrest warrant seen by Reuters. Tax police in Florence said in a statement that the two Chinese nationals were arrested on Wednesday as part of an investigation into alleged labour exploitation and tax fraud and that restrictive measures had been imposed on two other family members, including a ban on them leaving Italy
World
WASHINGTON (Reuters) - The United States on Wednesday blacklisted four Nicaraguans, including a daughter of President Daniel Ortega, as Washington warned it would continue to use diplomatic and economic tools against members of the leftist government engaged in repression. The U.S. State Department called on Ortega to release detained presidential candidates as well as other civil society and opposition leaders arrested over the past week in what Washington called "an increasing wave of repression." "There are costs for those who are complicit in the regime's repression.