White House's Kudlow says Trump not demanding Fed policy change
By Jonathan Spicer WASHINGTON (Reuters) - White House economic advisor Larry Kudlow said on Wednesday that U.S.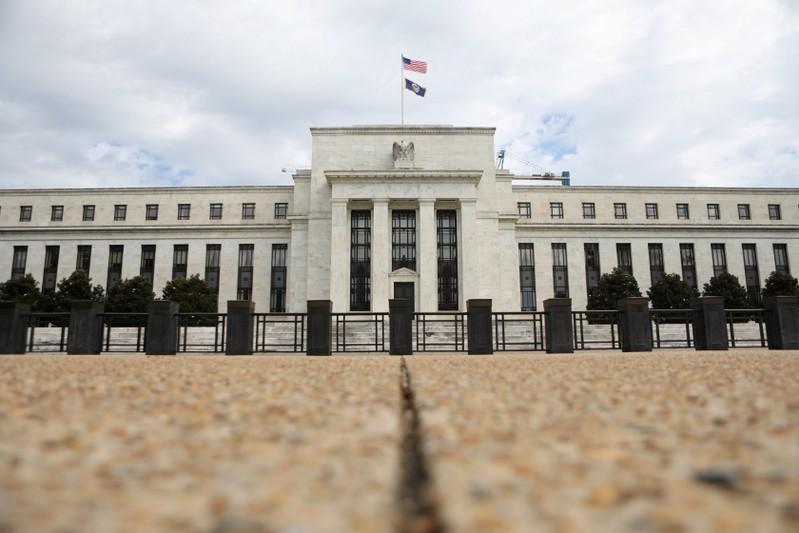 By Jonathan Spicer
WASHINGTON (Reuters) - White House economic advisor Larry Kudlow said on Wednesday that U.S. President Trump was not demanding a policy change at the Federal Reserve after Trump heaped more criticism on the Fed on Tuesday, calling rising U.S. interest rates his "biggest threat."
In what has emerged as a pattern recently, the administration official sought the day after Trump's comments to tamp down the unusual presidential criticism of the U.S. central bank, saying that Trump actually largely agreed with the Fed.
"He is not interfering with their independence," Kudlow said Wednesday morning on the Fox Business Network, the same television channel used by Trump.
"He is not going over there to tell them to change their plans or their strategy."
While the Fed is politically independent and its policymakers have almost uniformly signaled they intend to keep tightening monetary policy in the face of record low unemployment and signs of inflation, some economists have warned that Trump's hectoring could eventually harm its legitimacy.
"A protracted battle over Fed independence would risk higher long-term interest rates through higher term premiums and higher inflation expectations, contrary to Trump's own objectives," Michael Hanson, head of global macro strategy at TD Securities, said in a note.
The U.S. central bank has settled into a gradual policy of raising its policy interest rate that began slowly in late 2015, and is expected to raise rates again in December and next year. Minutes of its September meeting, when it last raised rates to 2.0-2.25 percent, are to be released later on Wednesday.
Last week, Trump criticized the Fed twice, saying it was restraining credit so swiftly that it threatened the country's economic health. The president has called the Fed "crazy," "loco," "ridiculous," and "too cute."
Past U.S. presidents have been reticent to criticize because Fed independence is seen as important for economic stability.
But Trump on Tuesday said he was "not happy with what" Powell is doing. "Let me use a nice term: he's being extremely conservative," he said on the Fox Business Network.
"My biggest threat is the Fed because the Fed is raising rates too fast," Trump said. "I put a couple of other people there I'm not so happy with too, but for the most part I'm very happy with people."
Trump added he is not trying to oust or blame Powell, whom he appointed to replace former Chair Janet Yellen. The president also appointed two of the three other policymakers on the Fed's powerful Board of Governors, Randal Quarles and Richard Clarida.
The Fed independently makes policy decisions but regularly reports to Congress. Recent data has been in line with its portrait of a strong economy that has a "remarkably positive" outlook, Powell said on Oct. 2.
Fed officials have generally not directly responded to Trump, though Chicago Fed President told a Flint, Michigan audience last week it was "unusual" for a president but "fair" to question how much to raise rates.
Republican U.S. Representative Jeb Hensarling, who is set to retire as congressman and chairman of the House of Representatives Financial Services Committee that oversees the central bank, said Trump "clearly has his own style."
But "I don't think the fact that he has publicly criticized the Fed, in any way shape or form, is going to impinge upon (its) independence," he told Reuters.
(Additional reporting by Ann Saphir, Lisa Lambert, and Mohammad Zargham; Editing by Clive McKeef)
This story has not been edited by Firstpost staff and is generated by auto-feed.
Find latest and upcoming tech gadgets online on Tech2 Gadgets. Get technology news, gadgets reviews & ratings. Popular gadgets including laptop, tablet and mobile specifications, features, prices, comparison.
Business
By Howard Schneider WASHINGTON (Reuters) - A rebounding stock market and massive federal aid payments pushed the net worth of U.S. households back to pre-coronavirus levels in the second quarter, the Federal Reserve reported on Monday, with savings accounts and equity portfolios both rising sharply despite the pandemic
Business
By Rodrigo Campos NEW YORK (Reuters) - Stocks across the world hit their lowest in seven weeks and other risk assets sold off on Monday on concerns over renewed lockdown measures in Europe and Britain, as well as the United States' inability to agree on fiscal stimulus that would support millions of unemployed. Oil prices fell nearly 5%, the dollar rallied and an index of emerging market currencies fell by the most in six months. The MSCI world equity index , which tracks shares in 49 countries, touched its lowest since Aug.
Business
By Rodrigo Campos NEW YORK (Reuters) - Stocks across the world hit their lowest in seven weeks and other risk assets also sold off on Monday on concerns over renewed lockdown measures in Europe and Britain, as well as the United States' inability to agree on fiscal stimulus that would support millions of unemployed. Oil prices fell more than 3%, the dollar rose against a basket of peers and an index of emerging market currencies fell by the most in six months. The MSCI world equity index , which tracks shares in 49 countries, ended at its lowest since Aug