India's job growth lowest since 2009: Where are the jobs PM Modi?
This is the slowest pace of new jobs being created since 2009, Prime Minister Narendra Modi needs to answer why.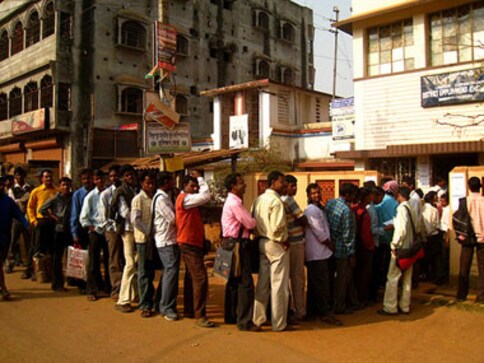 New Delhi: Job creation has been suffering under the Modi Government and fresh data released by the Labour Bureau shows the extent of worry on this count. So, even as the country's GDP growth continues to be healthy and predictions of above-average rainfall this year bring some cheer, the bad news on the jobs' front needs the government's immediate focus. A jobless growth does not help anyone. As per the Bureau, no new jobs were created but there was actually a decline of 20,000 jobs across eight labour intensive sectors in the December quarter of 2015.
Remember, the September quarter of the same year had added 1.34 lakh new jobs across the same eight sectors and was still the slowest quarter in the previous six years (barring 2012 where quarter wise data was not available). Now, with the December quarter data in, the total number of new jobs created across the eight sectors between January-December 2015 stood at just 1.35 lakh. This is the slowest pace of new jobs being created since 2009.
Here's some easy math for grasping the enormity of this slowdown in jobs under the NDA: The Modi government took charge in mid-2014 and for that full year, 4.93 lakh jobs were added across these eight sectors. So job addition in the first full year of this government fell to just a fourth of 2014 and was only a tenth of the growth seen in 2009, when the UPA was in power.
BN Rai, All India president of the Bhartiya Mazdoor Sangh, pointed out that no government policy has been visible till now to arrest workforce reduction and generate new jobs. He said there has been a consistent demand from BMS for a National Employment Policy but the government has not been heeding to these requests. A recent examples of job destruction, according to Rai: The closure of beedi making units for the last one month on pictorial warnings' issue which is affecting 24 lakh workers. Remember, this is the BJP affiliated workers' union and its disillusionment with the stance of the Modi government on job creation.
Earlier this month, Niti Ayog vice-chairman, Arvind Panagariya, had pointed towards a fabulous opportunity for job creation in India, saying China is slowing down. Wages in that country remain abnormally high and labour is becoming increasingly scarce. Ideally, Chinese industry should be looking towards cost effective Indian manufacturing with abundant and cheap labour to get its mojo back. Will the Chinese opportunity be seized by Indians? Panagariya admitted that job creation remains one of the biggest challenges for the NDA government and then went on paint a rosy picture of the possibilities the Chinese slowdown has created for the Indian job market. He said that an average Chinese worker draws about Rs 5 lakh per annum in the manufacturing sector, which is obviously making Chinese manufacturing unviable. He also mentioned specific industries like clothing and footwear which are looking to set up manufacturing plants outside China because of labour issues.
As per the NSSO data which is available till 2011-12, roughly half of India's population (49 percent) is engaged in agriculture and Panagariya said he suspects there was a "fair bit of underemployment in agriculture too". He went on to say that even when it comes to industry, firms with less than 20 workers in the unorganized sector employ almost three fourths (73 percent) of the total manufacturing sector workforce though these firms account for only 12 percent of the manufacturing output in India (as per the 2011-12 data).
A K Padmanabhan of CITU said regardless of what government's own jobs' data showed, there had been a serious loss of jobs in the engineering, automobiles and even textile sectors. He cited the examples of Tirupur and Bangalore to bolster his contention that textile sector has seen stagnation in jobs for many months now, adding the powerloom sector to this list. This goes contrary to the quarterly data by the Labour Bureau where maximum job creation is shown in textile and IT/BPO sectors.
"Unless the purchasing power of people increases, exports increase, how can the job situation improve? Government speaks of green shoots but on the ground, job creation is dismal," Padmanabhan said.
During the second term of the UPA government from 2010 through 2014, far more jobs were created in the first nine months each year, across the eight sectors this survey tracks. In the first nine months of 2010, 6.58 lakh jobs were added; in 2011 this number was 7.04, 2012 full year was 3.22 lakh and 2013 nine months it stood at 3.36 lakh. In 2014, the nine month period saw 3.76 lakh jobs being created but a quarter wise breakdown shows the largest number of jobs were created between April-June at 1.82 lakh and then job creation kept declining to 1.58 in the July-September quarter before falling off to 1.17 lakh in the last quarter of the calendar year.
It must be mentioned here that this is by no means a comprehensive or even widely representative sample of jobs being created across the country, even though the survey tracks some labour intensive industries like textile, jems and jewellery, IT/BPO and automobiles. And the government needs to map joblessness as well as creation of new jobs with a wider sample. But still, this is the only latest data available.
A new headache for the government could be the slowing funding in the fast-paced e-commerce sector. Here again, job losses are happening and could accelerate further. Rai of BMS said 1.25 crore new jobs were expected every year and this was a promise successive governments made. It is obvious that the reality is nowhere near this number.
also read
Explainers
Elon Musk's brain-computer interface company Neuralink has received approval from the FDA to conduct its first in-human clinical study. The firm wants to put coin-sized implants into human beings, which will allow people with paralysis regain motor function, restore vision, and treat brain diseases
Explainers
A shortage of over a dozen drugs has forced cancer treatment centres in the United States to switch medication for patients and even delay care. Experts say America is going through a 'public health crisis' and a rethink of the entire market for generic drugs is needed
Explainers
A new survey published in The Lancet Diabetes & Endocrinology journal estimates that over 11 per cent of people across India suffer from diabetes. Experts say diabetes is no longer a disease of the affluent and those in cities and warned that patients are getting younger and younger