The start-up industry has caught the attention of Prime Minister Narendra Modi who announced Start Up India, Stand Up India in his Independence Day speech to promote entrepreneurship.
The start-up industry has made a strong pitch for a comprehensive plan from the government to lift the industry to the next level of growth, resolve the bottlenecks on funding, ease of doing business and change in regulations, top industry leaders said.
In 2014, start-ups employed over 65,000 people and this number is expected to rise to 250,000 in 2020. According to the Nasscom Startup Report 2015, India is among the five largest startup communities in the world with the number of start-ups crossing 4,200, registering a growth of 40 per cent, by the end of 2015.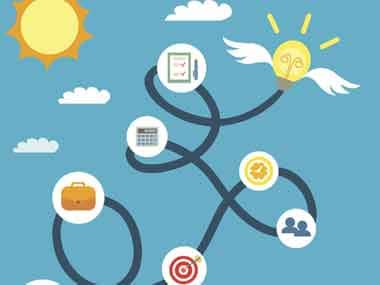 The Indian eco-system is robust as the figures show. Year 2015 has been a landmark year of the Indian start-up ecosystem with India ranking third globally. Recently releasing a Nasscom-Zinnov report Start-up India - Momentous Rise of the Indian Start-up Ecosystem, R Chandrashekhar, president Nasscom said that three to four startups were "born every day, and nearly five billion dollars of funding coming in 2015. The emergence of the Unicorns that is the over billion dollar valuation privately held companies...have created a lot of confidence."
The start-up ecosystem has thrived despite the system. The oft-voiced complaint continues to be the difficulty of doing business in India.
Firstpost spoke with a slew of people connected with the start-up industry and asked them their suggestions on what would improve the start-up ecosystem.
BVR Mohan Reddy, Chairman, Nasscom; Paula Mariwala, Founder and co president, Stanford Angels and Entrepreneurs India; Anish Jhaveri, Co-Founder, Oliphans Capital – an early stage investment firm; Gurpreet Singh, Co-Founder, Browntape -- Cloud-based inventory management startup; Vikas Malpani, Co-Founder, CommonFloor;  Nischal Puri, Managing Director, Brandis Manufacturing and Marketing Pvt. Ltd. – an apparel manufacturing company; and Gaurav Sinha, Co-Founder and CEO of Firsthandle – an app which helps offline merchants to target consumer within a pre-defined radius.
Ease of doing business: India ranks a dismal 130 in ease of doing business ranking compiled by the World Bank. The government's single objective should be to facilitate ease of doing business in India, say entrepreneurs. The government needs to address delays in incorporation, employee stock options, lack of initial funding, cumbersome foreign exchange documentation and access to external commercial borrowings.
Access to capital: That India ranks third globally is no thanks to the government. It is very difficult to start-up in India, say start-up founders. The banking industry is risk-averse. The Indian banking system does not offer capital to any start-up whatsoever unless you are a giant like Flipkart. You need capital and debt for any business to survive in the right proportion. It is important that the government puts up a mechanism in place that will classify start-ups as a priority sector like the agriculture sector and then start-ups will be able to avail bank loans without security. The question is: Will the RBI governor and the Sebi chief wake up and be pro-active to the start-up sector? The government  should come out with a scheme that offers a decent sum for someone to start-up. If the government provides early capital, then it will become easy for star-ups to go for Series A funding. Access to capital can be more transparent and structured. The funding system should be fast-tracked. It does not make any sense to get a loan after 18 months of applying for it, said investors.
Set up a committee of industry experts: A committee should be set with successful entrepreneurs and technocrats who can commercialise technology. Presently, innovators are risk-averse to new technology.
Incentivize start-ups who do innovative research: Recognise tech-enabled innovation. There is no recognition from the government so far and no incentives too.
Simplify Companies Act: The Company Law as it exists now is draconian. There are a lot of compliances to be met with. Compliances itself is a good measure, but the government should look at what stage or phase the company is in and decide on different regulation accordingly. This will foster entrepreneurship.
Support for technology and development: Start-ups need support for technology and development. Government should foster co-operation and access of government institutions to enable research and development.
Define tech-driven start-ups: A government official mentioned on Monday that the action plan would include a definition of start-ups and incentives for them. Innovation should be the key to qualify as a start-up unit, the official said, adding, start-ups have to be technology-driven. The term technology-driven must be explained by the government, say investors and start-up founders. Disruption cannot happen only through technology or the Internet. Many see the `technology-driven' phrase as the `biggest' flaw in the government's action plan for it is not fair to give special incentives to technology driven start-ups only.
Go beyond Tier II and III cities: Employment will be generated in small towns and villages if start-ups are given concessions to set up units here.
Promote social sector start-ups: If the government were to give some incentives to promote start-ups in the social-sector, then the products/services offered by them would be affordable to those at the bottom of the pyramid, believe some investors.
Make it easy to patent: Even if you have innovation, it is very expensive to patent ideas in India. The government should think of ways and means to make it economical to patent in India.
Updated Date: Dec 31, 2015 10:52:52 IST