Water-less car wash: Pune brothers' Green Salute aims to reduce water wastage
As part of its service, the Green Salute team comes on electric bikes,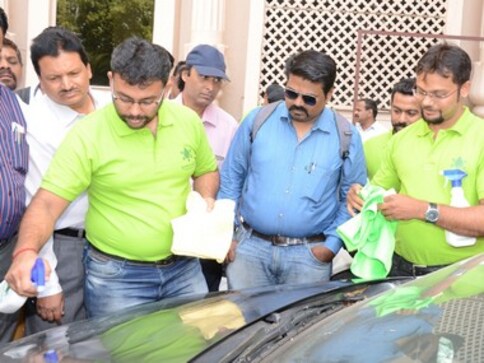 At a national symposium it was revealed that India's current per capita water consumption is at 150 liters a day. The country is expected to suffer persistent water shortage by 2020 with the per capita accessibility of water coming down to less than 1,000 cubic meters, as per a research paper.
One source of water wastage is vehicle washing and this number is set to soar as more vehicles get on the road. Pune alone will add 30 lakh private vehicles by the end of 2016, making it the fifth-largest city in India in terms of vehicle population. Assuming 10 liters of water is needed on an average for a single car wash, the wastage of water is humongous -- nearly 150 lakh liters of water every day.
Ninad Dhok, 37 and Akshay, 32, brothers and technocrats -- Ninad is a mechanical engineer and Akshay a hotel management graduate, have been working on innovative ways to address water conservation. They launched Green Salute putting in their own investments of Rs 15 lakh in May, 2016.
"Over the last three months, we have been running a pilot of Green Salute service in limited areas of Pune with 1,100 sessions of car wash and over 60 regular customers. We were able to save 16,000 litres of water," says Akshay Dhok, Co-Founder and COO, of the start-up's pilot experience.
This technology and methodology of water-less car cleaning is not new to developed nations and has been in existence for over decades, says Dhok. "We wanted to bring the same revolution in India and want everyone here to adopt the water-less care cleaning methodology and give up the obsession of using water for cleaning cars," he says.
In India, there are already a a few companies who have been doing water-less cleaning of cars. However, Dhok claims that Green Salute is the only one in the car care space that offers it as a regular service.
How does it work
The start-up uses a liquid spray that has advanced surfactants, emulsifiers and lubricants to remove dirt particles and hold them away from the surface. It is then wiped off with a special microfiber towel to give a shine to the vehicle. Each car that opts for the service will be given a fresh microfiber towel daily.
Green Salute is a prepaid doorstep service which is activated through the mobile app. Once activated, the start-up sends trained and verified cleaners who clean the vehicle and tag it (with a time stamp). As soon as the vehicle is cleaned, the consumer gets a message on the app that the car has been cleaned.  "By doing so, we are creating complete accountability, transparency and automation in the process of daily car cleaning through the mobile app," says Dhok. Customers can also ask for an on-call car service.
The price points for the service vary from Rs 599 monthly for hatchbacks and Rs 799 for large cars. This fee includes 15 exterior and 2 interior cleaning sessions valid for 37 days. Further customization is available depending on the individual's need.
As part of its service, the Green Salute team comes on electric bikes, says Dhok. It also plans to plant a tree for each vehicle enrolled through this initiative and has tied up with NGOs to help in the tree plantation expedition on hills in and around Pune.
Future plans
The start-up, which is now focused on the western part of Pune, will cover city of Pune post the monsoons. In 2017, the start-up plans to expand operation in two cities – Bangalore and Mumbai or Bangalore and a tier two city.
It expects to service 5,000 cars by next fiscal and generate revenues of Rs 20-25 lakh.
"Our aim is to change mindsets and make water-less car cleaning method popular in India. The biggest achievement for us would be to create an awareness among people to respect water and adapt this methodology," adds Dhok.
also read
India
Union Minister Nitin Gadkari said introducing flex-fuel engines will help farmers and also boost the Indian economy.
India
In a bid to move away from petrol and diesel vehicles, India is pushing for the adoption of flex-fuel vehicles, which will use locally-produced ethanol.
Auto
This is likely to come in as a mandate from the Indian government soon