(This is an updated version of the analysis of Punjab National Bank earnings, adding other banks' numbers.)
At least three public sector banks (PSBs), Central Bank of India, Allahabad Bank and Dena Bank posted huge losses in the October-December quarter on account of a sharp increase in bad loans, while Punjab National Bank (PNB), India's second largest state-run bank, logged a significant fall in its profit. Bad loans are loans, where recovery is overdue more than 90 days.
PNB reported gross non-performing assets (NPAs) of 8.47 per cent for the December-quarter. This is the highest level of bad loans the bank has recorded at least in 11 years. High bad loans result in high provisioning, the money every bank need to set aside to cover their future losses, which more than doubled for PNB to Rs3776 crore in the third quarter from Rs1468 crore in the year-ago quarter. As result, the net profit of the bank plunged 93.4 per cent to Rs51 crore in the third quarter, compared with Rs775 crore in the corresponding period in last year. This is arguably one of the worst quarterly results of PNB in recent years.
Take a look other banks' numbers.
Central Bank of India logged a loss of Rs 836.62 crore for October-December 2015-16, against a profit of Rs 137.65 crore in the third quarter of the previous fiscal with its GNPAs rising to 8.95 per cent of the gross advances during the quarter, as against 6.2 per cent year ago. Similarly, Dena Bank reported a loss of Rs 662.85 crore for the third quarter as against net profit of Rs 76.56 crore in the same quarter last year, after it witnessed its GNPAs jumping to 9.85 per cent from 5.61 per cent in the year-ago period. Allahabad bank's loss stood at Rs 486.14 crore for the third quarter, hit by 6.40 per cent GNPAs (from 5.46 per cent) and subsequent provisions.
What we are seeing here is just an indication of the deeper stress the banking system with the problem aggravated due to a prolonged economic slowdown. Even large private sector banks, such as ICICI Bank, have felt the pain of rising stress in the banking system. ICICI Bank registered a sharp increase in its GNPAs to 4.72 per cent of total loans in the quarter as compared with 3.77 per cent in the preceding quarter and the 3.40 per cent in the year-ago quarter.
Here again, the bank had to set aside higher chunk of money to cover provisions on the bad loans, which put pressure on its bottom line. As Firstpost highlighted the other day, the story of other large banks, especially public-sector banks, couldn't have been more different as seen in the earnings of Allahabad, Dena and Central Bank results. Other PSU lenders, which are yet to announce earnings, too may not tell us a very different story.
How did the problem worsen?
The NPAs on bank balance sheets didn't happen overnight. There is a mix of factors including laxity in apprising creditworthiness of a borrower for years on end, government's directed lending through state-run banks, using state-run banks for the roll out of government's populist schemes and the misuse of banking system by politically connected crony promoters to their advantage. What we see today is a result of all this. When banks went on a lending spree in 2010-2013 period, the assumption was there will be a sharp economic recovery that will justify their actions. But, that recovery hasn't happened yet, putting a whole lot of loans at risk.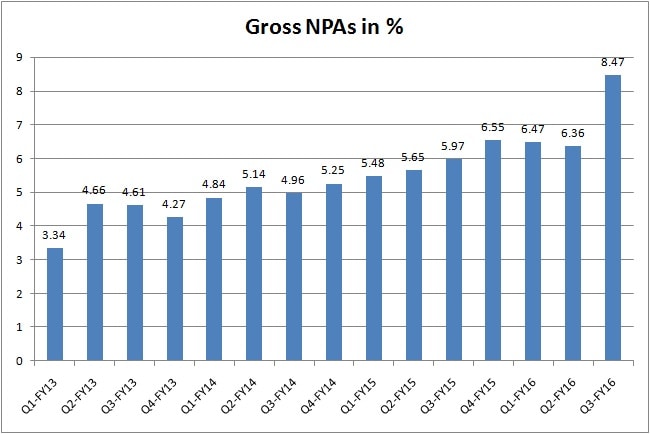 As Firstpost pointed out in a recent article, it wouldn't be an exaggeration if one says that India's state-run banks are on the verge of a crisis. Over 90 per cent of the total bad loans of Indian banks (currently stands over Rs 3,00,000 crore) is on the balance sheets of these entities. Their restructured loan portfolio would be nearly double this amount, if one goes by industry estimates. These two categories together, termed as stressed assets, would constitute around 11-12 per cent of the total bank loans given.
Also, there is a risk of existing restructure loans turning bad if economy doesn't do well as expected. Many loans, especially in infrastructure sector, which bank conveniently pushed to the restructured basket to avoid turning bad loans, might return to haunt in that case. This is one reason why RBI governor, Raghuram Rajan, stipulated a deadline of March, 2017 for banks to clean up their bad loans and state the problem today and do not postpone for tomorrow.
Though the Reserve Bank of India (RBI) and the finance ministry have consistently maintained that bad loans in Indian banking system is not at an alarming level, the stress that is emerging from bank balance sheets, especially that of state-run banks, is indeed a serious problem for finance minister, Arun Jaitley, considering its multiple implications on requirement of capital and banks' ability to further lend that is critical for economic growth.
Burden on the fisc
In turn, this would make allocation of capital to state-run banks a complex process for Jaitley, who has so far allocated Rs70,000 crore for state-run banks and has asked them to find funds from the market for about Rs1.1 lakh crore. The consensus estimate of capital these banks would require in the year to 2019 is at least Rs2.4 lakh crore when the Basel-III norms will take effect. Also, the capital requirement can change if bad loans shoot up beyond estimates. For every Rs100 loan, banks need to set aside Rs15 if the loan turns bad.
The government, which owns majority stake in these banks, will have to work out ways to face this 'capital' shock in the years ahead or, at least, let these banks go private and fend for themselves. One thing is sure. Managing the sarkari banks is going to be a much more difficult affair for Jaitley—one more headache for the lawyer-turned-politician as he prepares to unveil the Union budget for 2016-17.
Data contribution by Kishor Kadam
Your guide to the latest election news, analysis, commentary, live updates and schedule for Lok Sabha Elections 2019 on firstpost.com/elections. Follow us on Twitter and Instagram or like our Facebook page for updates from all 543 constituencies for the upcoming general elections.
Updated Date: Feb 10, 2016 11:42:35 IST