Vivo Pro Kabaddi League 5: Why sponsors are paying and playing willingly
With sponsorship revenue up by 320 percent a slew of new advertisers, 12 teams and prize money of Rs.8 crores, it's going to be an exciting 13 weeks of Vivo Pro Kabaddi League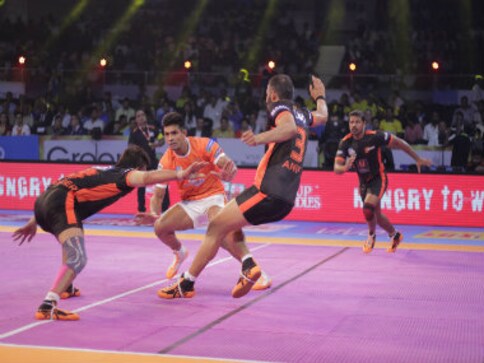 In 2014, Season 1 of the Pro Kabaddi League had no sponsors. Season 5, that began on Friday, has nine. Title sponsor Vivo has reportedly signed a Rs 300 crore deal for five years with the league. Associate sponsors - Gillette, TVS Motors, AMFI (Association of Mutual Funds of India), Bajaj Electricals, Indo Nissin, Lux Cozi, Castrol and USL have paid between Rs 12-15 crores each according to industry sources.
Ask Star India, how sponsor interest increased this time around and their response is simple. "Kabaddi has been clearly established as the number two sport in the country after cricket," said Anil Jayaraj, EVP Star India, in an email response.
While the channel hasn't confirmed it, we hear, the amount buys the associate sponsors 75 seconds of advertising, a presence in the promotional advertisements that run on the 55 group channels, plus some Aston bands and vignettes when the matches are being aired.
Unlike last season, where the matches were also shown on Star Gold that has a deep rural reach, this year the broadcast will happen on the Star Sports network, the recently launched FTA channel Star Sports First, Star Sports 1 (Tamil), Star Suvarna Plus (Kannada), Star Maa Movies (Telugu) and Hotstar.
With ten second spots selling at an average of 1.5 lakhs, media buyers say at this cost, the rates are lower only than IPL and Kapil Sharma's show.
Each match has roughly about 3000 seconds of inventory and with more than 50 percent of the inventory sold, Star India is already in a good place. Had it not been for demonetisation and GST, Vivo Pro Kabaddi League 5 would have been an easier sell.
RIf the brand keeps up its marketing push, rating agency, India Ratings and Research expects the phone maker's market share to increase by 40 percent by next year. The attraction for the brand has been PKL's popularity with the youth. At a press conference, Kent Cheng, CEO, VIVO India, is reported to have said, "Youth are our biggest target audience and PKL is the right platform for the same."
TVS Motor Company that is continuing its association with the league says that kabaddi captures the "sweet spot between the classes and masses". Aniruddha Haldar, Vice President – Marketing (Scooters), TVS Motor Company, said in an email response, "the Pro Kabaddi League has brought a homegrown sport into the spotlight by giving it an innovative premise thus capturing the imagination of everyone across the length and breadth of the country".
With sponsorship revenue up by 320 percent a slew of new advertisers, 12 teams and prize money of Rs.8 crores, it's going to be an exciting 13 weeks. In season 4, the league notched up 100 million impressions. This season, the expectation is to surpass that number. In terms of competition, there's nothing else on television to touch it.
While Star India has managed to make its money this time around, the teams however aren't flush with cash yet. Out of 12 teams, only a few seem to have cash sponsors. Sandip Tarkas, CEO, Bengal Warriors, says, "People haven't fully realized the exposure the sport has. In many small towns, the reach is in fact more than IPL. The sponsor interest is much more than last time but for my team, I've restricted myself to internal brands. If you look at the numbers Repucom, an AC
Nielson company, has put out, the exposure gained from advertising on the front and back of player t-shirts is worth Rs 15 crores."
Puneri Paltan has managed to rope in some new sponsors. In addition to Force Motors that is the team's principal sponsor, they have got Syska LED as associate sponsor and Kirloskar and Maxo as co-sponsors. "The overall value as far as sponsorship money goes, has gone up by 150%. We're confident of closing a few more deals in the next couple of days," says Kailash Kandpal, CEO, Puneri Paltans.
For the teams however, revenues from ticket sales can be significant. One match with 2500 seats could ring in about Rs. 20 lakhs and with every team guaranteed at least six matches in their home state, that's at at least Rs. 1.2 crores in revenue.
For the teams to become more attractive to sponsors, individual players will need to command a price. A sponsor needs to believe that having a player endorse his brand is going to make an impact. "At the moment, player recognition and recall are both low. Once the matches are over, player recall drops a bit" says Sandip Tarkas. So while the league may have established itself, the teams and players are going to need some more time.
Entertainment
Jeethu Joseph on OTT: 'The future of all film industries, especially Malayalam film industry, is going to be good thanks to OTT. This is just the beginning'
Entertainment
'One of my biggest motivations while working on Escaype live has been my meetings and interaction with Siddharth Kumar Tewary', says Siddharth who plays the role of a content moderator in the series.
Business
Sushil Modi said the Centre and states have simultaneous powers to legislate on GST and the Constitution does not envisage a repugnancy provision. GST council must work in a harmonious manner to achieve a workable solution