Vistara receives Rs 20 billion capital infusion from Tata Sons and Singapore Airlines to expand operations
The latest investment comes at a time when Vistara is planning to expand its operations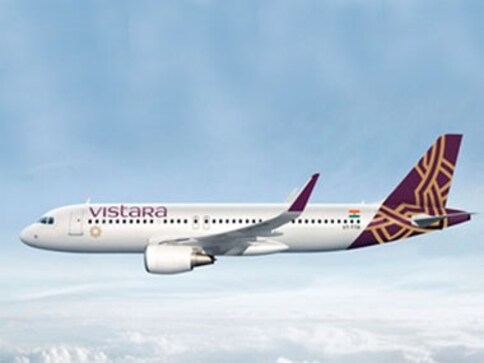 Full-service carrier Vistara, a joint venture between Tata Sons Ltd and Singapore Airlines Ltd, has reportedly received a capital infusion of Rs 20 billion from its parent companies, according to a media report.
The latest investment comes at a time when Vistara is planning to expand its operations. With this infusion, Tata Sons Ltd and Singapore Airlines have invested over Rs 38 billion in equity into the joint venture to date, according to Business Standard.
The report said the Rs 20 billion fund infusion will help Vistara in pre-delivery payments to Airbus and Boeing.
In September, Vistara said that the tough operating conditions -- high jet fuel prices along with a weak rupee -- will not impact plans to launch international operations slated for the end of 2018.
According to the airline's Chief Executive Leslie Thng, the airline plans to reduce expenditure by inducting technology-enabled solutions in the non-safety, services or customer facing aspects of its operations.
Further, the company plans to re-negotiate contracts, once it expands operations and inducts more aircraft.
In July, the airline had placed firm orders for six Boeing Co 787 jets and 13 Airbus SE A320neos valued at $3.1 billion at list prices, as it looked to add more domestic flights and launch international routes later this year.
Vistara competes with Jet Airways and low-cost carriers IndiGo and SpiceJet that have plans to grow their international operations to offset a highly competitive, price-sensitive domestic market.
"India's position as the world's fastest-growing domestic aviation market and its impressive growth in air passenger traffic that has more than doubled over the last decade makes us confident of our aggressive plans for domestic expansion and international foray," Thng had said in July.
There is huge potential for international travel from India, where the domestic aviation market has grown about 20 percent annually in recent years.
Only 0.3 percent of the 1.3 billion population currently travel abroad for a holiday every year, a fraction of the estimated 100 million Indians who could potentially afford to do so, according to an analysis of household income by aviation consultancy CAPA.
CAPA expects Vistara to place another large widebody order within the next 1-2 years and also expects InterGlobe Aviation's IndiGo to pursue an "aggressive international strategy" by soon announcing a large order.
With inputs from agencies
Business
Passengers will have to shell out at least 15 per cent more for air fare after oil companies raised the price of Aviation Turbine Fuel by a record 16 per cent. ATF makes up half of the operational costs of airlines in India
India
The SpiceJet incident on Sunday when a Delhi-bound plane caught fire mid-air owing to a bird strike has once again put the focus on the Patna airport. Experts have repeatedly called the Jay Prakash Narayan International Airport dangerous owing to its short runway and an open abattoir
India
IndiGo Airbus A320neo (VT-ITB) returned to Guwahati airport, due to a suspected bird hit after takeoff. It was flying from Guwahati to Delhi