Utkal Express derailment: Why Suresh Prabhu should speed up Railways' track renewal, investments
After the Utkal Express tragedy, media reports indicated that 346 accidents have happened since Minister Suresh Prabhu took over Railways
New Delhi: Do we need bullet trains or just safer trains, even if they run slower? Saturday's horrific accident which claimed over 20 lives and injured scores of others as the Puri-Haridwar-Kalinga Utkal Express derailed near Muzaffarnagar has again brought into focus the safety record of the Railways. And the painful truth is this: the Railways has little to spend on annual track renewal, an activity which keeps tracks healthy and could prevent frequent derailments. Besides this, glaring shortage of safety personals across functions while in a majority of train accidents, negligence of Railway staff has been the primary reason.
Let us look at each of these problems. First, derailment. Derailments account for a bulk of train accidents in India. And from the data made available publicly till 2015-16, the Railways was spending inadequately on track renewal, thereby possibly putting hundreds of lives at risk.
Data provided by the Railways Ministry in Rajya Sabha earlier this month show derailments accounted for 81 percent of casualties in train accidents last fiscal, up sharply from just about 30 percent in 2015-16. It is obvious then that derailment is the Indian Railways' biggest safety headache after deaths on unmanned level crossings, India Today report said. After the Utkal Express tragedy, media reports indicated that 346 accidents have happened since Minister Suresh Prabhu took over Railways, quoting sources, but this has not been independently confirmed. But it is still pertinent to find out why do trains derail this frequently in India? According to a white paper of the Railways published two years back, financial constraints hinder annual track renewal. Put simply, this means there is not enough money going around for planned track renewal and this could be the one big reason passengers' lives are at risk during train journeys.
Now, here are some numbers to show what the Railways has been doing about this critical activity called track renewal. According to the 12th report by the Parliamentary Standing Committee on Railways, the Railways kept the lowest track renewal target for 2016-17 in the last six years at just 1500 km and consequently allocated the least amount of funds for this crucial activity in as many years, at Rs 4,000 crore. In 2015-16 the target was 2500 km with budgeted expenditure of Rs 4,300 crore. The white paper quoted earlier states that the Railways has a network of total track length of 1,14,907 kilometres. Of this, on an average 4500 kilometres of track should ideally be renewed annually. However, due to financial constraints the progress of track renewals is constantly coming down for the last six years.
In his reply on derailments, Railway Minister Suresh Prabhu said in Rajya Sabha earlier this month that in the last 3 years till FY17, there were 206 consequential train derailments in which 333 persons lost their lives. "The number of casualties in train accidents is essentially fortuitous and not strictly susceptible to comparison. The reason for the loss of lives is primarily on account of 6 major passenger train derailments in the past three financial years in 2014-15, 2015-16, 2016-17."
He also assuaged fears of inadequate investment on safety saying this fiscal, 'Rashtriya Rail Sanraksha Kosh' (RRSK) has been created for financing critical safety related works with a corpus of Rs 1 lakh crore over a period of five years. In Budget Estimates of 2017-18, a provision of Rs 20,000 crore has been made under RRSK. With the Utkal Express tragedy fresh in our minds, will mere fund allocation prevent accidents, unless utilization is done speedily and for the right purpose? Besides inadequate track renewal, the second factor which has possibly led to the Utkal Express tragedy, and has been the reason for many such mishaps in the past, is the human element.
Type of Accident
2015-16
2016-17
Number of Accidents
Number of Persons killed
Number of Accidents
Number of Persons killed
Collisions
03
01
05
05
Derailments
65
36
78
193
Manned Level Crossing Accidents
06
12
0
0
Unmanned level Crossings Accidents
29
58
20
40
Fire
0
0
01
0
Miscellaneous
04
15
0
0
Total
107
122
104
238
The standing committee has also noted in its report that more than half of all train accidents happen due to lapses of railway staff. "Out of 69, 71, 85 and 78 rail accidents during 2012-13, 2013-14, 2014-15 and 2015-16 respectively, 46, 51, 60 and 54 accidents were respectively on account of the failure on the part of the railway staff. The faults of railway staff in such cases include carelessness in working, poor maintenance cases, adoption of short-cuts, non-observance of laid down safety rules and procedures. The most serious form of accidents involved in such cases is collision and Signal passing at Danger (SPAD) for which particularly loco-pilots are responsible." a Business Standard report said.
This piece quotes locals at Khatauli who were accusing the railways of gross negligence. According to them, workers repairing the tracks left midway because of heavy rains, leaving equipment on the tracks. To worsen matters, the local railway station manager claimed he had no idea of the work carried out on the tracks. In the process, the train driver was not alerted to the danger. So obviously, the human element plays a strong hand in disastrous train accidents. In the case of Utkal Express, unofficial maintenance activity without warning to train operators could have been avoided had the Railways followed its own laid down procedures.
The third factor in Saturday's crash and many such previous incidents could well be the severely short staffed railway safety function. As on April one last year, there was a shortage of more than 16 percent in the safety staff strength sanctioned by the Railways at various levels. This translates to a shortage of a 1.22 lakh personnel across various safety functions!
In the last 64 years, from 1950-51 to 2015-16, though the traffic of both passengers and freight over the Railways network has increased by 1,344 per cent and 1,642 per cent respectively, the route kilometres has grown only by 23 percent. Put simply, this means sluggish rail network expansion is nowhere near traffic growth. This has put undue burden on existing infrastructure leading to safety compromise and severe congestion. Out of total 1219 sections on the Indian Railways, 40 percent are running at 100 percent or above line capacity. The scale of under-investment in Railways over the years has resulted in severe congestion, drastically affecting not just the speed of trains but also becoming a major cause of accidents.
India
The minister's statement, which was laid on the table of the House, called the reports on the Pegasus scandal an 'attempt to malign the Indian democracy and its well-established institutions'
India
To make the movement of visitors easy, the three existing platforms have been connected to subways. The platforms will have a seating facility that can accommodate at least 480 people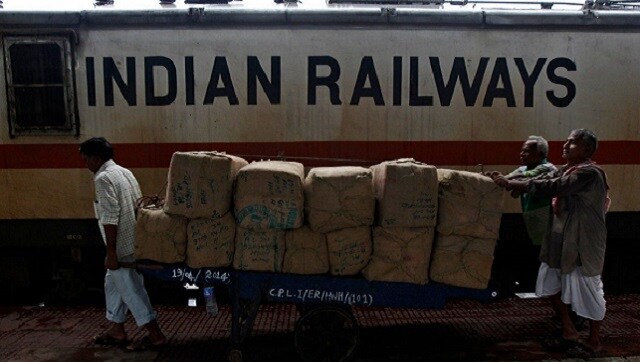 India
Only after the verification process, an individual will be able to book his or her ticket. However, this whole process will only take 50 to 60 seconds