US sports leagues could see $4.2 billion annually from legal betting -survey
By Hilary Russ NEW YORK (Reuters) - The four major U.S. professional sports leagues could reap a combined $4.2 billion annually as a result of legal sports betting, most of it indirectly from increased fan engagement, according to a casino industry survey released on Thursday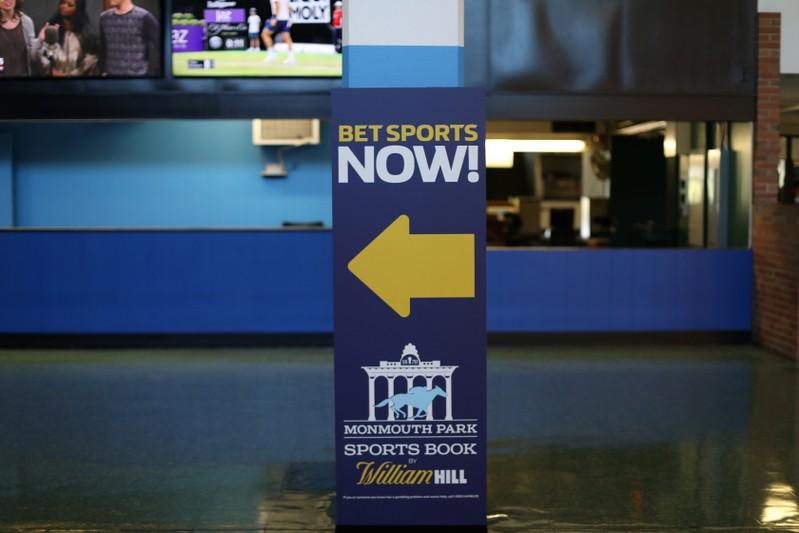 By Hilary Russ
NEW YORK (Reuters) - The four major U.S. professional sports leagues could reap a combined $4.2 billion annually as a result of legal sports betting, most of it indirectly from increased fan engagement, according to a casino industry survey released on Thursday.
The National Football League stands to make the most, with a projected $2.33 billion of additional annual revenue, according to the study seen by Reuters. The rest would go to Major League Baseball, the National Basketball Association and the National Hockey League.
The Nielsen Sports survey was commissioned by the American Gaming Association (AGA), which represents the casino industry. MLB declined to comment. The other three leagues did not reply to requests for comment.
The findings could add fuel to a long-simmering feud between the gaming industry and American sports leagues over whether to share revenue.
For years, the leagues fought states' efforts to legalize sports betting, arguing that it would lead to game fixing and ruin integrity.
But in May, the U.S. Supreme Court threw out a federal ban against sports betting, paving the way for any state to legalize, regulate and tax the activity.
Since then, the leagues have sought to glean a portion of the coming windfall. Leagues say legalization means they need to fund additional integrity measures, and that they deserve a portion of wagers because there would be nothing to bet on without their players, stadiums, and the games they put on.
Major League Baseball, for instance, has said it wants 1 percent of the total amount of money bet, as a so-called "integrity fee."
Lawmakers in New Jersey, the first major state outside of Nevada to roll out sports betting, flatly rejected that idea.
At last week's annual Global Gaming Expo in Las Vegas, tensions flared when Kenny Gersh, an MLB executive vice president, said during a panel event that the integrity fee should be called a "royalty" and that leagues had lowered their ask to just 0.25 percent.
"You want a cut of the revenue without any of the risk," shot back fellow panelist Sara Slane, the AGA's senior vice president of public affairs.
"We have to go through a regulatory process. We invest billions of dollars in buildings and our licenses," she said. "You want us to take that risk, pay you, and then you're going to benefit on the back end as well."
The AGA study found that $596 million of leagues' total increased annual revenue would come from gaming services spending on television advertising, $267 million from sponsorship deals with the sports betting industry and $89 million from data and video revenue.
But the bulk of the projected windfall would come if more fans, attracted by the appeal of being able to place bets, watch games and are drawn into stadiums. Nearly $3.3 billion is tied to those indirect revenues, including media rights and more merchandise and ticket sales.
For the NFL alone, indirect revenues could grow 13.4 percent to $14.8 billion of annual revenue, the report said.
The study has a margin of error of 3 percentage points and surveyed more than 1,000 adult sports fans and those who were self-identified bettors nationwide, asking how a national legal market would affect sports consumption habits.
The national market would need to include at least 100 million people for the leagues to fully benefit, Nielsen estimated.
(Reporting by Hilary Russ, Editing by Rosalba O'Brien and Bill Berkrot)
This story has not been edited by Firstpost staff and is generated by auto-feed.
Find latest and upcoming tech gadgets online on Tech2 Gadgets. Get technology news, gadgets reviews & ratings. Popular gadgets including laptop, tablet and mobile specifications, features, prices, comparison.
World
LONDON (Reuters) - Prince Harry and his wife Meghan have refunded British taxpayers 2.4 million pounds ($3.2 million), the cost of renovating their UK home, in line with a commitment they made after announcing in January they would step back from royal duties. The refurbishment of Frogmore Cottage, a house within the grounds of Queen Elizabeth's Windsor Castle west of London, had been criticised by some British media as too expensive. The repayment comes as Harry and Meghan, an American former actress, seek to forge new careers for themselves and attain greater financial independence.
World
FRANKFURT (Reuters) - Biotech firm BioNTech said on Monday it widened an ongoing pivotal global study of its COVID-19 vaccine candidate to include testing in its home country of Germany.
News & Analysis
COPENHAGEN (Reuters) - A rapid switch to electric cars to meet Denmark's ambitious climate targets will leave a massive gap in its finances, a government commission said on Monday.