Urjit Patel era begins at RBI: Here's what he said in the only public speech since 2013
In the only speech by Urjit Patel available on the RBI site, he has spoken on entrepreneurship and praised the Narendra Modi government abundantly on Make in India, ease of doing business, the promise of maximum governance and Jan Dhan Yojana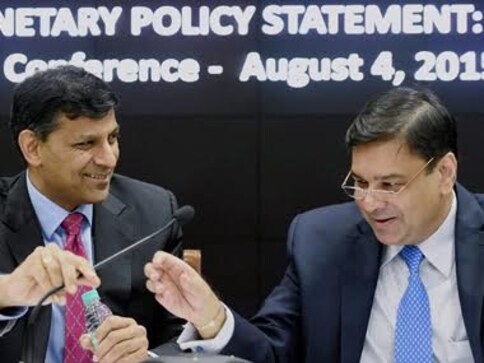 (This article originally appeared on 22 August 2016 and is being republished following Urjit Patel taking charge as RBI governor.)
Urjit Patel has always preferred the analogy of an owl, not a hawk or a dove as media typically refers the central bank, to describe the Reserve Bank of India (RBI). Patel, Prime Minister Narendra Modi's pick for the post of RBI governor after Raghuram Rajan, can be better described as an unassuming, silent owl. In his three-year's (Patel took charge as deputy governor on 11 January, 2013) term as one of the four deputy governors of the RBI, Patel has hardly spoken in public platforms (the RBI site shows just a single speech of Patel).
For the media and outside world, access to Patel has been mostly limited to the bi-monthly monetary policy pressers. Even there, Patel has weighed his words so carefully to limit his views only to what he is expected to speak on — monetary policy, inflation and the RBI's views on the fiscal issues.
The only exception to this Patel pattern was when he once made a speech at a private function in January 2015. Patel then spoke on entrepreneurship and praised the Narendra Modi government abundantly on its various initiatives — Make in India, ease of doing business, the promise of maximum governance and Jan Dhan Yojana, sounding more like a finance ministry official than a central banker.
A few quotes from the speech are worth a re-look now:
i) "The national objective to make India a global manufacturing hub and a substantive part of international supply chains. The "Make in India" vision/strategy is apposite and provides a much needed "focal point" to inculcate durable competitiveness in key sectors of our economy."
ii) The stress on improving India's ranking in the "Ease of Doing Business index". This provides a measurable gauge to determine how we progress. The repeated commitment and associated ground-level changes already taking place towards deepening "Policy-driven" governance (and less government) is mission critical in this context.
iii) Uncertainty has been lifted in key sectors like coal and spectrum.
iv) The "Jan Dhan Yojana" scheme implemented almost wholly by our public sector banks, whereby 100 million bank accounts have been opened for those who were unbanked, is unequivocally a "game-changer". It provides an unprecedented scaffolding and a spring board for meaningful financial inclusion and, concomitantly, substantial financial deepening of our economy.
Patel concluded his 806-words speech by quoting a participant at the inaugural session of that year's Vibrant Gujarat Global Summit: "India will be a bright spot in an otherwise mediocre global economic outlook".
In short, the only public speech (available on the RBI site) made by Patel was mostly an endorsement of Modi government's policies and initiatives. See this in comparison with the frequent criticism from outgoing governor Raghuram Rajan on various government schemes, including Make in India and Jan Dhan Yojana during his tenure.
Rajan also questioned the accuracy of the GDP numbers, the chest-thumping on the world's 'fastest growing economy' status and made enemies in government with his 'one-eyed King' and 'Hitler' remarks. It's not rocket science to understand why Patel is any day a more preferred, comfortable candidate for PM Modi and someone whose line of thought goes in sync with that of the government. Having said that no one can question Patel's commitment to his job as deputy governor after he took charge at RBI in January, 2013. Besides the above speech, there is no real evidence to prove what are Patel's thoughts on Modi government's policies and ideology.
Besides this, Patel has also proved why he is critical to be the central bank's top brass in these times when there is a radical shift happening in the monetary policy structure of the country. He is the one who wrote the narrative of the consumer-inflation focused inflation-fighting strategy that has worked well to bring down inflation in the economy from double digit levels to about 6 percent. It was based on Patel's panel recommendations that Rajan initiated his inflation fight strategy. The government showed its acceptance to Patel's inflation strategy by accepting the 4 percent (plus or minus 2 percent) target till 2021. So, seen in this backdrop, Patel has emerged as an obvious winner from a list of a dozen potential candidates before PM Modi.
Handling the Rajan's succession was also a politically sensitive issue post the Subramanian Swamy-Rajan saga that grabbed the attention of the world media and raised questions on the Modi government's approach to safeguarding the central bank's independence. Also, it needed to find someone worthy to take over the baton from a world renowned 'rock star' economist.
Patel has won the war on perceptions and emerged as Modi's favorite. What lies ahead for him as the RBI governor?
There are two key challenges for Patel -- continuing with the inflation battle and taking ahead the banking sector reforms, mainly the clean-up of non-performing assets (NPAs) in the banking sector. Both have political implications and can turn out to be tough tasks for Patel as he wears the governor's cap.
On the inflation-front, though the government has agreed to a 4 percent target, it may not have unending patience to tolerate high interest rates in the economy. If the upside risks to inflation picks up substantially in the coming time, the RBI may prefer to continue on pause mode for a longer-than-expected period which may not be necessarily acceptable to the government. And what could worsen things for RBI is that in the proposed joint monetary policy committee (MPC), the government may have a strong upper hand, curtailing RBI's role.
With Patel's elevation, the post of the deputy governor in charge of the monetary policy is vacant and the government can fill in someone who agrees with its views. That would mean in the 6-member panel (three each from both side), the government will have an invisible upper hand that could complicate things for Patel on the policy front. Remember, some of the RBI governors who joined from the government (for example D Subbarao), with a perceived government's man image, had to lock horns with the North Block later on various policy issues. Under Rajan's shadow, Patel didn't have much problem but he may have to travel the same road being the new face of the central bank.
On the banking sector clean-up too, things may not be easy for Patel. The large-scale digging out of NPAs (following Rajan's March 2017 deadline to complete the task) has eroded substantial capital from public sector banks' coffers, resulting in a much bigger burden on the government which owns 70 percent of the Indian banking system through state-run banks. The cronies and crooks that looted the Indian banks so far too have been irked by the sudden jolt. How Patel will handle this pressure and take the bank clean-up exercise to its logical end is something one should wait and watch.
Thirdly, Patel may have to face some new issues too. According to reports, the government wants to tap the central bank's funds to recapitalise public sector banks.
The RBI has a total equity of 32 percent of its assets and the government wants to draw this fund, which is a combination of contingency funds, capital and retained earnings, to bail out the cracked balance sheets of state-run banks.
The  leadership of RBI, under Rajan, seemed to have reservations about this move since it perceives that a strong corpus of contingency funds with the central bank is crucial for the country in the long term. Even more critical, infusing these funds in sarkari banks may prove to be a dangerous idea in the long term since the issues of these lenders are more on account of operational inefficiency and not just capital shortage. The government should instead privatise these banks and let them compete in the free market. How Patel will respond to such a situation is worth watching.
The point here is this: Patel has so far managed to be in the good books of the Modi-government. But, in the new role there are many big hurdles that await him.
You can read Patel's entire speech below:
Biz 130115 Bsc Sp Hur by Firstpost on Scribd
World
With its public funding drying up fast amid serious stigma of a strong left-liberal bias, the BBC has been trying to break ground into hitherto not-so-seriously explored markets, such as India
Business
The prime minister said the Budget, to be presented by Finance Minister Nirmala Sitharaman on Wednesday, will strive to fulfil people's hopes, aspirations and also boost the hopes with which the world is looking at India
World
After his wide-ranging talks with Sisi, PM Modi said the two sides were unanimous in their view that terrorism is the most serious security threat to humanity and that they agreed that concrete measures are needed to end cross-border terrorism