UK borrowing to fall, opening way for end of austerity: Hammond
By William Schomberg, David Milliken and Andy Bruce LONDON (Reuters) - British finance minister Philip Hammond announced a fall in the country's expected borrowing needs between now and the mid-2020s as he began his final budget speech before Britain leaves the European Union. After a steady improvement in Britain's once giant budget deficit, Prime Minister Theresa May said earlier this month that the government's austerity push was coming to an end, a message echoed by Hammond on Monday. But he has warned he would have to reverse the plan for higher spending in the event of an economically damaging no-deal Brexit in March, putting pressure on rebel lawmakers from May's Conservative Party to stop blocking her Brexit strategy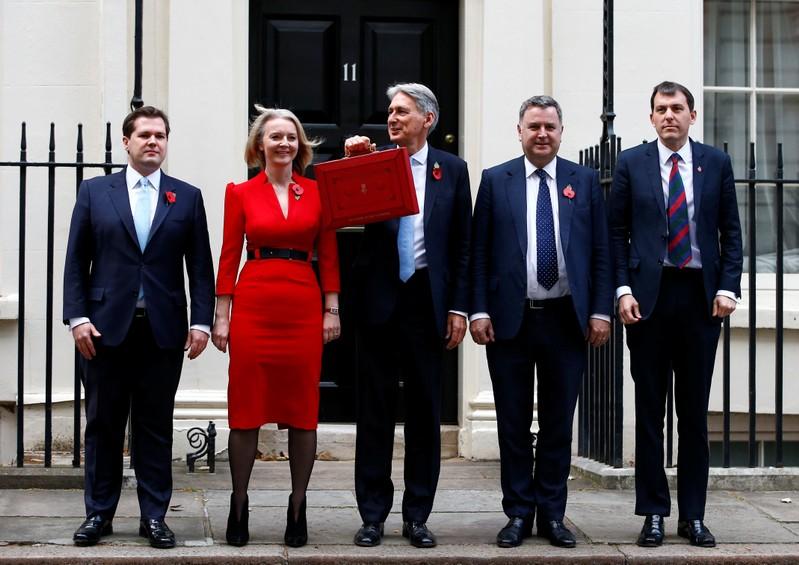 By William Schomberg, David Milliken and Andy Bruce
LONDON (Reuters) - British finance minister Philip Hammond announced a fall in the country's expected borrowing needs between now and the mid-2020s as he began his final budget speech before Britain leaves the European Union.
After a steady improvement in Britain's once giant budget deficit, Prime Minister Theresa May said earlier this month that the government's austerity push was coming to an end, a message echoed by Hammond on Monday.
But he has warned he would have to reverse the plan for higher spending in the event of an economically damaging no-deal Brexit in March, putting pressure on rebel lawmakers from May's Conservative Party to stop blocking her Brexit strategy.
Speaking in parliament on Monday, Hammond said the budget deficit was set to stand at 1.2 percent of gross domestic product in the current financial year, down from a forecast in March of 1.8 percent.
"When our EU negotiations deliver a deal, as I am confident they will, I expect that the 'Deal Dividend' will allow us to provide further funding," he said. "The hard work of the British people is paying off. Austerity is coming to an end."
In total, borrowing was forecast to be 18.5 billion pounds lower between now and the 2022/23 financial year than in the March forecasts by the independent Office for Budget Responsibility which underpin the budget..
Hammond and his predecessor George Osborne have made fixing the public finances their priority.
The budget deficit has fallen from almost 10 percent of GDP in 2010, thanks in large part to big cuts to spending for a range of government departments and a squeeze on welfare payments for working-age recipients.
But Hammond is likely to struggle to meet his target of wiping out the deficit altogether by the mid-2020s if he does not raise taxes, economists have said.
By the 2023/24 financial year, the deficit was expected to be 0.8 percent of GDP, Hammond said.
He has also set himself a target of bringing down public debt, which has doubled as a share of GDP from before the financial crisis as the government borrowed heavily.
Hammond said the OBR's forecasts showed debt as a ratio of GDP was due to fall each year.
The OBR raised its forecasts for economic growth for next year to 1.6 percent, compared with its prediction of 1.3 percent made in March. The 2020 growth forecast was raised less sharply to 1.4 percent and maintained at 1.4 percent for 2021.
(editing by David Stamp)
This story has not been edited by Firstpost staff and is generated by auto-feed.
Find latest and upcoming tech gadgets online on Tech2 Gadgets. Get technology news, gadgets reviews & ratings. Popular gadgets including laptop, tablet and mobile specifications, features, prices, comparison.
World
By Jeff Mason WASHINGTON (Reuters) - U.S. President Donald Trump, facing the possibility of a cash crunch, said on Tuesday he would spend "whatever it takes" of his own money to finance his 2020 presidential campaign against Democrat Joe Biden if he had to
World
By Lisandra Paraguassu BRASILIA (Reuters) - Brazilian House Speaker Rodrigo Maia said on Tuesday that lawmakers are currently finalizing the text of a bill targeting those that finance "fake news" attacks on social media sites, adding that it could be voted on by the end of this year. The draft of the Brazilian bill was approved in the Senate on June 30, but the lower house created a working group to suggest modifications. Those changes will be finalized in two weeks, Maia said
World
DUBLIN (Reuters) - Ireland plans to allow the reopening of all pubs on Sept. 21, dropping a ban on bars that do not serve food, a senior minister said on Tuesday.